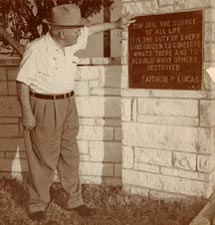 Faithon P. Lucas, a Greek immigrant, arrived in the United States in 1906 with his wife and seventy-five cents in his pocket. They moved to the Dallas area in 1910 and, with a group of partners, started Lucas B&B Café in 1911 in the Old Imperial Hotel at 105 South Akard Street in downtown Dallas. In 1923, Lucas bought out his partners, renamed the place Lucas B&B, and became known as Papa Lucas, the Mayor of Akard Street. It was open 24-hours a day. To keep up with the demand for food, Lucas decided to grow his own. We suppose it's fair to honor him as the greatest farm-to-table restaurant operator in Dallas history.
In mid-1953, the family moved Lucas B&B to "Lucas Corner" at 3520 Oak Lawn near Lemmon Avenue where it remained until it closed in June 1989. While the restaurant remains foremost in Dallas' memory—the iconic sign still remains in front of the Pappadeaux Seafood Kitchen that operates on the site—many people have forgotten about the ambitious farm Lucas created.
Lucas, who grew up farming, purchased close to 1,500 acres in Mesquite in 1929. He paid $28 per acre for some of the toughest top soil in the area. Neighboring farmers snickered at the bold move and the high price Lucas invested. It didn't take long for the skeptics to change their minds about Lucas. His old-country techniques which involved soil conservation turned the property into one of the most productive farms in the area.
George Lucas, one of Faithon's three sons, graduated from Texas A & M in 1936. He joined his father and together they took the gullied, clay-soiled ground and turned it into 1,426 acres of pond-terraced, fertile farmland. By combining old country techniques with new knowledge, they proved to unbelieving neighbors the soil could be restored. The Dallas Agriculture Club named Faithon Lucas Farmer of the Year in 1952.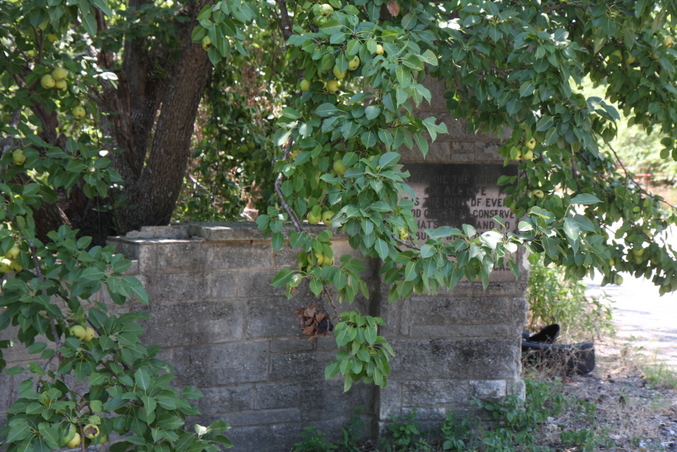 In its prime, the farm held over 4,000 hens, 1,000 fruit trees (pear, peach, apple, plum, apricot), 750 pecan trees, and 500 meat and dairy cattle. Lucas employed 25 men (including 4 master butchers) between the processing plant and the farm. He was a hands-on operator showing up each day at 2:30pm to inspect the sprawling business that included a packing house, poultry farm, dairy farm, ice cream plant, and bakery (remember those pies?). You can view some old pictures here.
The farm, located on the south end of Mesquite (annexed in 1954) was also a destination for Dallas home cooks who made the drive to stock their refrigerators and freezers. Customers would drive to the end of Lake June Road and follow the black and white "Lucas Farm" signs.
Early last year, Amy Severson and I drove out to Lucas Farms. The property is no longer a working farm and it has been under consideration for a housing development since the late 90s. There's a website with a map showing a rough outline for the project, but negotiations between the family and developers have stalled.
We pulled up to the gate of the property just south of Bruton Road. Pear tree branches cascaded over the old stone wall entrance. We pulled them aside and found the plaque mounted on top which reads: "Top soil, the source of all life. It is the duty of every good citizen to save what's there and to rebuild what others destroyed."–Faithon P. Lucas.
The gate was open so we drove down the long pear tree lined driveway where we were astounded to find many of the old buildings still standing. It was like an abandoned ghost town, but it was easy to see how the place was neatly arranged and once full of life. And it was sad to stand in that space and imagine it as a planned residential community.
I reached out to Jeff Armstrong, manager of planning and zoning in Mesquite. "It's pretty much still intact with the exception of the 25 acres at Cartwright Road and Faithon P. Lucas Boulevard that Walmart bought," Armstrong says. "The development has kinda faded for now. The owners and various developers who've had interest in it just haven't come to an agreement that works for everybody."
Developers are entitled to build 3,000 homes on the property. "We thought we had something pretty serious about a year ago, but it didn't work out," Armstrong says. "There are some people kicking some tires around out there, but that's about all I can say about it now."
Call us old fashioned, but the gently rolling hills and pristine farmland would make a beautiful urban farm with deep roots to the past. Who needs another Walmart or more cookie cutter houses? Somebody please build something we can be proud of.
The History of Dallas Food is a continuing series researched and written by Nancy Nichols and Amy Severson. Check out some of our other stories: The Woosie, The Golden Pheasant, La Tunisia, Prohibition in Dallas, The Amazing Mrs. Ida Chitwood, How the Dallas Farmers Market Came to Life, and The Legend of Eltee O. Dave and Dave's Barbecue. 
Get the SideDish Newsletter
Dallas' hottest dining news, recipes, and reviews served up fresh to your inbox each week.