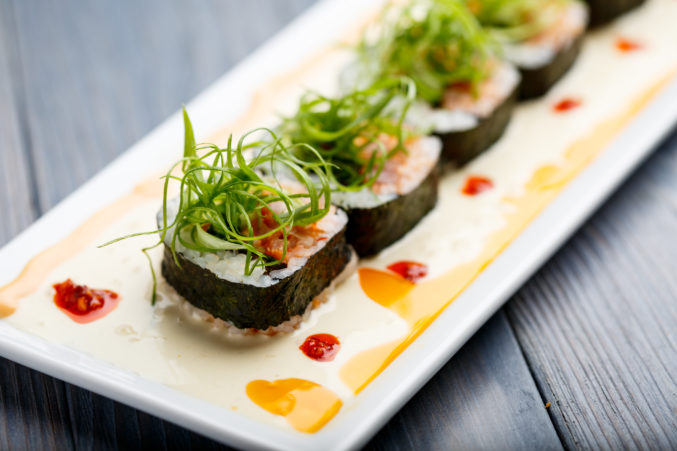 First Look: Kabuki Japanese Restaurant at the Galleria
The California-based newcomer fits its niche.
Don't confuse this with a tiny izakaya. A team of sushi chefs in stark whites welcomes you with a synchronized greeting. ("Welcome to Banana Republic" rings in your ears; the transition is seamless.) The 18th branch of California-based Kabuki Japanese Restaurant opened at the Galleria in early November, just in time for holiday shoppers. It's the first branch in Texas. We offer them our finest retail palaces; they offer us a Disneyland of plates.
You know the drill: Shoppers set down their bags from Nordstrom and Abercrombie and take in the menu, a large, laminated booklet with color photos and a two-page spread devoted to specialty rolls. There is the veggie rainbow roll, the unagi roll decorated to look like a dragon's head, the hamachi sake box layered like an eccentric cake, and the cilantro albacore roll: cream cheese and tempura shrimp with shaved red onion and cilantro vinaigrette. Classics they're not, but they have flair.
The menu, in general, is a Japanese smorgasbord—steamed buns and hot rock beef; gyoza and sesame chicken; poke tuna and oyster shooters. They offer happy hour and lunch specials and kale salad. (Did I mention that most of the other branches are in California?)
On a late December evening, sushi chefs were preparing great plates of sushi and sashimi with roll after colorful roll. Meanwhile, miso soup came in a version thick with strands of enoki mushrooms and slivers of shiitake—a comforting classic with a brush of elegance. Yes, they may have uni pasta—udon noodles in a creamy sauce like a Japanese version of Alfredo. And "krab," which the menu helpfully glosses as imitation crab.
But I will say this. Not every place warms the nori (seaweed) sheets that wrap their handrolls. It may seem a small thing. But the fragrant toastiness completes the perfect handful of warm rice and cool fish. It only takes a second, really—a quick flick—but it makes all the difference. Not every place does this. But Kabuki does. Which is no surprise, really.
So if you're not going for the full roll extravaganza and the menu overwhelms, I suggest a post-shopping spicy tuna handroll. It may not be glitzy, but it's good.