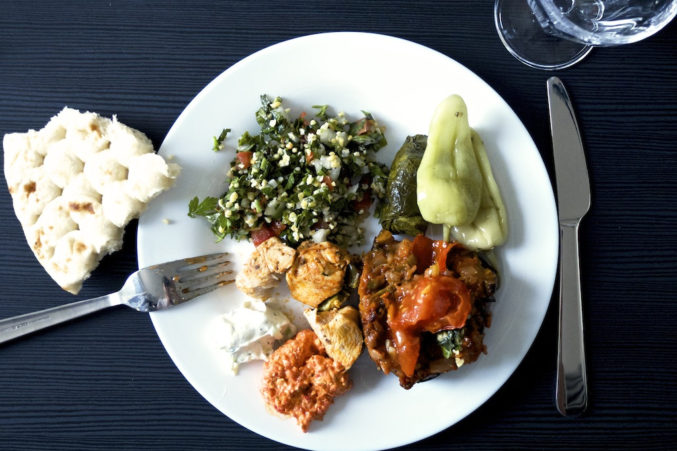 Zåtar Lebanese Tapas & Bar Opens Tonight in Deep Ellum
Wine, cocktails, hookah ... and an inventive menu.
I'm excited about a place opening tonight in Deep Ellum, and here's why.
We're not unfamiliar with falafel and hummus, with dolma and shwarma and the delights of skewered and grilled meats. But we haven't until now had any Middle Eastern food of the kind that I've been ogling as I keep an eye on Zåtar Lebanese Tapas & Bar's Facebook page, a teasing obsession that has led to—finally—catching a glimpse of the full menu that will debut tonight.
It took time. In early spring, they were posting instructions on Facebook to stay tuned for a summer opening. "Coming soon!" they said. For months. In June, they were announcing that halloumi cheese and watermelon Caprese would be our go-to summer salad. In July, they were laying ornamental tile; in August, painting mandalas. We know the many-tentacled beast of construction project delays. I like to think the wait was because they were grooming their list of Lebanese wines and putting the finishing touches on arak cocktails that use as their base the anise-flavored liquor that's common to Syria, Lebanon, and Jordon. (Not easy to pair. How many ouzo cocktails have you seen? Exactly.)
Zåtar comes to us courtesy of a co-owner and manager with a long industry resumé and a chef who worked at Qariah, which served standards like tabbouli, hummus, babaganoush and entrées that came over beds of rice. It closed on Greenville Ave. in 2014. At Zåtar, the menu is more inventive, more modern.
In general, I'm glad to see another Middle Eastern restaurant, and one that's dialing in on Lebanese cuisine, in the vein of contemporary-but-still-traditional.
The offerings—and accompanying price points—are centered on small plates, the Lebanese equivalent of tapas: mezze, which come both cold and hot, alongside offerings of wraps and house specialties. Fatteh—fried pita chips, chickpeas, garlic yogurt, and toasted pine nuts—sounds like a dish I had in Istanbul. I want to dive into the beet hummus and red pepper muhammara, but also the betenjian al-raheb, grilled eggplant with pomegranate molasses, and bite into whatever hot wonder they're working with their variation on kebab karaz, meatballs with spices and sour cherry. For dessert, knefeh, a sort of cheesecake with a semolina crust and orange blossom syrup. You'll be learning new words. And I would imagine it will be important to try the man'ousheht zatar, the flatbread with zatar and olive oil. But you figured that. The spice blend is in the name.
Who knows what will come of it. But one thing I can say. It's the most exciting—and authentic—Middle Eastern menu I've seen in a while.