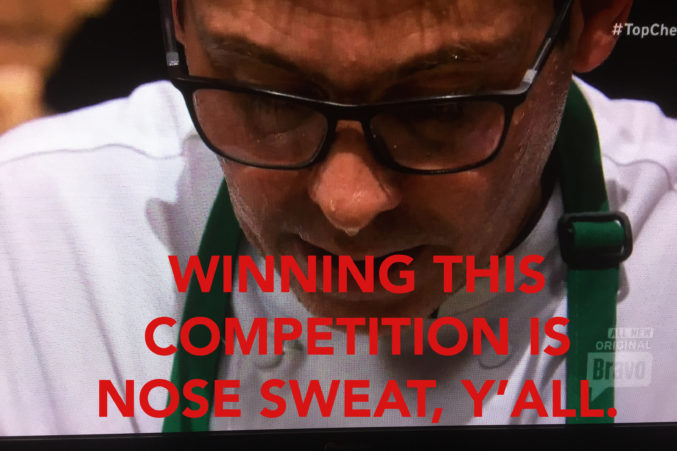 Teddy Bear Tesar Survives Another Episode of "Top Chef"
We stab our ears and hope for Real Tesar to show up sooner rather than later.
If you've watched Top Chef since the first season like I have (Remember when Katie Lee Joel was the host and we didn't have Padma's red dresses as pairings for the food? Remember "This isn't Top Scallop?" Remember the "I Have a Culinary Boner" shirts? OMG, remember "Hootiehoo?"), then you know it's time to brace for The Fall.
Like any Bravo reality show, you watch the first couple of episodes to get your bearings and pick a favorite, and now, in Episode 3, you start watching for explosions, train wrecks, tears, and blood. It's time for Michael Bay to show up and blow up a dang soufflé. I'm ready for M. Night Shyamalan to bust up in here and freak us out with some figments-of-my-imagination ghost peppers. Let's bleed some blood already, people.
The producers know this is why people watch. It's 100 percent why John Tesar is on this show again. When producers add Tesar to the mix, they know full well that they're adding an incredible setback grenade to each chef's full-time life on the show. He's just there to slowly break everyone. Not only do the chefs have to deal with ridiculously short timelines and unbelievably difficult ingredients—now they have to deal with Tesar being there, too, constantly giving them a hard time and calling them out for not knowing how to prepare potatoes.
Essentially, it's giving the chefs a toddler they have to parent while they cook. A toddler who has an innate ability to break their concentration and spirit, throw fits at any given moment, and also happens to make a freaking amazing chili lobster. Which he will tell you about at length. And the worst part is, you can't deny it. It's a freaking good chili lobster. And he's not even your toddler, so you can't parent him because he'll just say, "You're not the boss of me!" Or he'll call you "bro." He's the most. Annoying toddler. Of all time.
But Tesar stayed kinder and gentler (read: boring) this episode. His interviews were full of one-liners built for commercial montages: "At this point, everyone's equal." "It's either win Top Chef or pack your knives and go." "If you want spice, I left it on the side for you." I stab my left eye out, because this show is turning into an episode of Calliou.
During the Elimination Challenge, the teams have to create a 7-course progressive meal featuring radishes in every course. Someone says "Go radish or go home." And Padma did not have a wardrobe malfunction.
Half of the audience changes the channel to watch the NFL instead.
At the end of the episode, Tesar stays and someone who was Not Tesar goes home while everyone says, "Your dish was super great and we hate to send you home!"
It was like a Hallmark Card for a new holiday called "Everyone's a Winner in My Book." I hate this. Where the hell is my slow motion octopus vs. kale fight scene, John Woo? What happened to the moment you promised me where one of the chefs loses it and goes all stabby, stabby on an unassuming halibut, Stephen King? Nobody even cried this episode. Not one chef tear. UGH.
I'll end with this: Tesar (I know you're listening), you may be trudging along kindly right now, and it is probably great for your everyday life to turn a new leaf and be nicer in general. I get that. But, we need TV Tesar. And we need him now. So, I'm Beetlejuicing you: Tesar, Tesar, Tesar.
If you don't show up soon, you and I both know the ratings of this show will tank. And if they tank, nobody will be paying attention to you for at least 24 hours. You can't handle that. We both know it. Just posting every day about how there are more tickets to sell to your Spoon pop-ups is not what you want your news feed to look like. It's time to Hulk out and Tesar Smash some hopes and dreams.