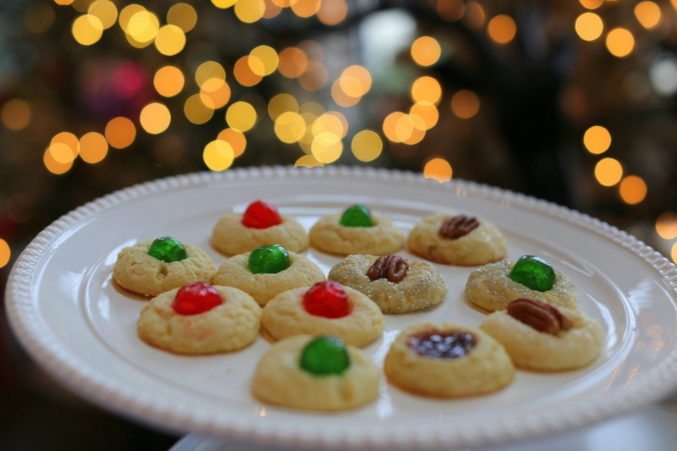 Make This Now: Christmas Cookie Recipe By Mynetta Cockerell
Dallas chef and baker Mynetta Cockerell has been baking these cookies for over 50 years.
Mynetta Cockerell is a veteran baker in Dallas. She's been a kitchen manager or chef at a long list of restaurants that includes Andrew's, Marty's Gourmet Shop, Parigi, Pinot's, Chelsea Corner, The Bronx, and Dream Café. "I really learned to bake at Dream Café because we baked everything from hamburger buns to bread every morning," Cockerell says. "I had to do it because bakers are like painters. They drink at night and then don't show up to work the early morning hours it takes to do their job."
When Cockerell was a young girl growing up in Forney, Texas, she hung out in the kitchen of her mother's City Café. One of the cooks, Alberta, took Cockerell under her wing and taught her how to make tea cakes. Mynetta became obsessed with making tea cakes. Alberta and Cockerell also made Christmas cookies. Cockerell doesn't remember where the recipe originated, but when she was in high school, Cockerell wrote it down on a lined piece of paper. She pulls it out every year to make these classic cookies.
Cockerell is not directly affiliated with a restaurant, but she's never been busier. She takes wholesale and retail orders from faithful customers and restaurants such as Parigi and Stocks and Bondy. She's an elegant baker when she needs to be, but deep in her heart she's a traditionalist. Cockerell shares her recipe for Christmas cookies. She prefers them with just the candied cherries, but confesses they are easily cheffed up by adding cocoa, jam, or other fancy fillings. I bet Alberta would be proud to know Cockerell is still baking the cookies they once baked together decades ago.
Cream Cheese Cookies by Mynetta Cockerell
Makes about 7 dozen cookies
1 cup Butter
1 3-ounce package Cream Cheese
1 c. Sugar
1 Egg Yolk
2 ½ c. All-purpose flour
1 tsp. vanilla extract
Candied cherries or pecan halves
Cream butter and cream cheese. Slowly add sugar, beating until fluffy. Beat in egg yolk. Add flour and vanilla and mix well. Chill dough for at least one hour. Shape dough into 1-inch balls and place on a greased cookie sheets. Gently press a cherry or pecan into each cookie. Bake at 325 degrees for 12 to 15 minutes.