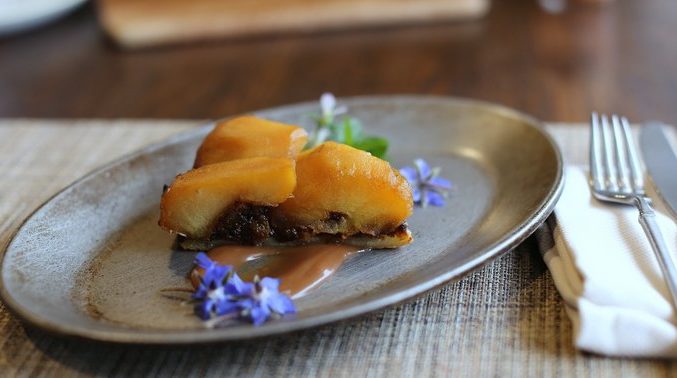 Eat This: Chef Graham Dodds' Mincemeat Tarte Tatin at Wayward Sons
Sink your teeth into this must-try holiday snack.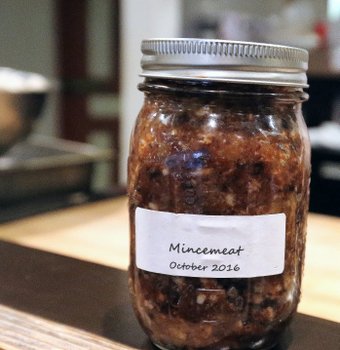 In October, I attended the Trinity Audubon Center's Songbird Supper, where the chef this year was Graham Dodds. The entire evening was a study in all things lovely and bucolic that ended with owl calls. But what I couldn't get out of my mind was the teeny tiny mince pies that finished the meal. It was all I could do not to squirrel one or two away. Okay, fine, I absconded with one of the spice-laced morsels and had it with ice cream sometime later.
Still unable to get them out of my head, I called Dodds as the season ushered in sugar plum fairies and choirs in the Arts District sang of gooses getting fat.
This is exactly the time for a proper, bonified mince pie, the candied-peel-studded, fruit-and-spice-stuffed, brandy-steeped pastry that has, in the course of its history, at times gone by the name "Christmas pie." It's a staple in England, as common a pie filling as pumpkin or pecan here.
Would Dodds share his recipe? I asked. Yes, he would (see below). He was, in fact, running a special at Wayward Sons that he's now placed on the dessert menu: a Tarte Tatin with mincemeat snuck in between the caramelized apples and buttery crust, and homemade goat's milk cajeta and ice cream on the plate.
Dodds' mother makes the mincemeat using her own grandmother's recipe, then ages it in Mason jars, where it gets boozily fragrant and wonderful. From there, Dodds works his magic.
Try the Old World treat while it's on the menu. Or use the recipe below to make your own mincemeat at home. (Some ingredients may require an online order or a trip to The British Emporium in Grapevine). Fill your kitchen with holiday smells. Let the boozy mixture sit. Next year, make pie.
Recipe courtesy of Graham Dodds. "This was my great grandmother's recipe," he writes in a headnote.
Mincemeat
1 Lb currants
1 Lb raisins
1 Lb sultanas (golden raisins)
1 Lb suet
1 Lb apples (2 lbs whole apples should yield 1lb peeled and cored)
1 Lb sugar
1/4 lb mixed peel, cut in small pieces (Note: Mixed peel is a British thing, a mixture of glazed and candied citrus fruits. You can buy it at the British Emporium in Grapevine. Central Market has high quality peel. You can also make your own.)
4 tsp mixed spice
4 tsp cinnamon
2 tsp ginger
3 sherry glasses of rum, or brandy (rum preferred)
Cut the raisins, sultanas, currants and peel by putting fruit and peel into food processor (one cup at a time) and running for several seconds until fruit is cut.  Place in mixing bowl. Add sugar, spices and rum. Grate suet and apples in food processor; add to fruit. Spoon into dry, clean one-pound Mason jars and cover. Stays preserved in jars for a long time (years).  I use last year's mincemeat to make mince pies.
Makes 6 x quart-sized jars mincemeat.
[Note: If you want to attempt working it into a Tarte Tatin, by all means, carry on! A few recipes to get you thinking: here, here, and here.]