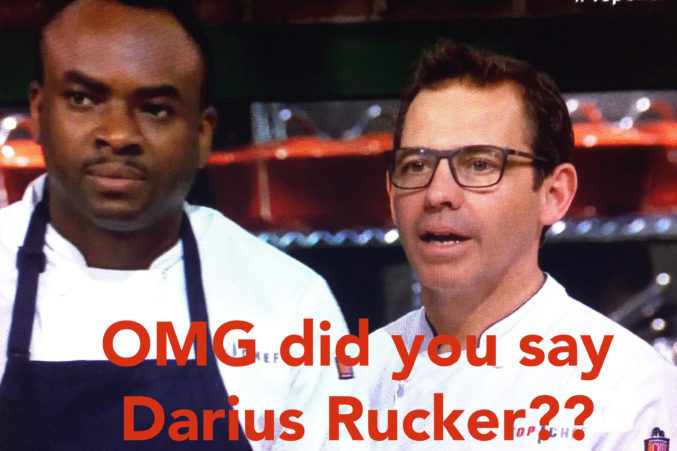 BREAKING: Name-Drop Tesar Shows Up on Top Chef.
Our second-favorite Tesar has arrived. And it's fantastic.
FINALLY. A beautiful glimmer of John Tesar showed up on this episode of Top Chef. For a moment, SweeterGentlerKinder Tesar left and we got a glimpse of good ol' Name Drop Tesar.
Name Drop Tesar is, in my opinion, the second best Tesar (Second only to Hulk Smash Tesar, who breaks egos with his mean-laser-words and stompy hands). I believe Name Drop Tesar was born in an effort to show media-types and chef-types how connected and talented Tesar was in the chef scene before Tesar was enough of a name himself. Now, Name Drop Tesar shows up a nervous tick that bloggers eat up like a 365-day dry-aged food boner.
During this episode, the chefs find out that they're going to have to be up all night smoking whole hogs. For Darius Rucker. That's right, folks: Hootie Actual Blowfish is going to be the judge this time on Top Chef. I, for one, couldn't be more excited. Hootie And The Blowfish was the first tape I ever owned. I'm not saying I was good at buying music, but I am saying I know every word of that first album. The dolphins make me cry, too, Hoot. They make me cry a lot.
In an attempt to prove to his teammates that they are going to win this whole hog-smoking challenge simply because he is on their team, Name Drop Tesar steps in. "I've spent the last two years with best barbecue guys in the world. Aaron Franklin, Adam Perry Lang." He's so tired, his body has kicked into autopilot and he's stuck in a name-drop loop. You can just hear it start and he just can't stop it. He was practically like, "Hometown Barbecue. Billy Durney. D'Angelo. Angelica Houston. M. C. Hammer. Anthony Weiner. Anthony Hopkins. Shopkins. Shopping. Whole Foods. Canned tomatoes. I'm a winner. I'm winning. We will win this challenge. Truffles. Mr. T. I know Mr. T. And the whole A Team. I had sexual relations with the A Team."
As they show him name-dropping from 1:00 a.m. until 1:30 a.m., Brooke, another chef on the show, says, "It's one thing to stay up two straight days cooking a 150-pound hog, it's another thing to stay up all night with John. I really can't figure out what's more exhausting."
During the challenge, Tesar makes macaroni and cheese for Darius Rucker, and everyone is super happy about it. In fact, Tesar wins the entire elimination challenge with his smoked macaroni and cheese made with xantham gum instead of "AP flour."
If we can't have Angry Hulk Smash Tesar, I can live with more episodes of Name Drop Tesar. Watching the other chefs have to "yeah," and "uh-huh" him like I have to "yeah" and "uh-huh" my toddler when he gets stuck in a fart joke loop is so The British The Office uncomfortably wondrous to behold. When Tesar retires from the food world at 400 years old and works as a greeter in a Home Depot seasonally, I sincerely hope he keeps name-dropping. "I've known Aisle 4 for like ten years. We used to stage together." Name Drop Tesar, you're the best. I only wanna be with you. Ooo.