Food-friendly and delicious, the white wines of Italy are perfect with your holiday meals. From flirty Prosecco, to fruity Pinot Bianco and Pinot Grigio, to classic Soave and Grillo, these wines deliver freshness, flavor, and approachability.  Here are a few for holiday entertaining; a few were sent to me for editorial consideration.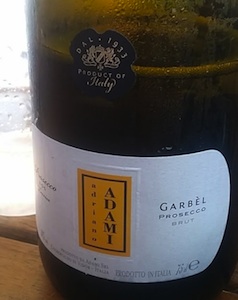 Prosecco styles can be off-dry to very dry. One favorite dry, Brut style is Adami. Vibrant wines of Adami showcase how Prosecco should taste. Adami "Garbel" Brut Prosecco DOC Treviso ($17) is textured, with layers of orchard fruit, melon, and honey. A perfect aperitif wine. If you're like me, and enjoy bubbles throughout a meal, try Adami Bosco di Gica Brut Valdobbiadene Prosecco Superiore DOCG ($20.) Though still quite crisp, there is depth in the wine from the addition of Chardonnay and prolonged lees aging, making it great for pairing.  Both are available at Pogo's.
In 1902 Giulio Ferrari established Ferrari Trento as a premium sparkling wine producer of wines made with Chardonnay and Pinot Noir, just like Champagne, from vineyards on the slopes and hillsides of Italy's Trentino region. Ferrari Brut is 100% Chardonnay from high elevation, mountain vineyards. Aged for two years on the yeasts, this is a creamy, slightly yeasty wine with stone fruit, and brioche. $25 at Pogo's.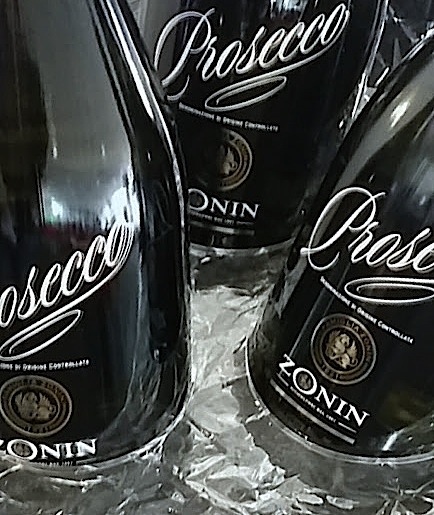 Zonin Prosecco delivers a quality sparkling, at affordable prices. Family owned and one of the largest and oldest producers in Italy,they run nine wineries in the country. They focus on Prosecco to celebrate the meaning of life, toasting friends and family. Their Zonin Cuvee Prosecco ($15) is made for celebrating. Zonin also introduced their Zonin Dress Code Collection, White, Grey, and Black which added a touch of either Pinot Bianco, Pinot Grigio, or Pinot Noir to the traditional Glera variety of Prosecco. The idea is to dress your plate with great taste.  Named for what the ripe grapes of each variety look like before harvest, the sparklers pair easily with food. The Zonin White melds with creamy pasta dishes. The Zonin Black is the ideal complement to rich truffle ravioli. $20 at Spec's.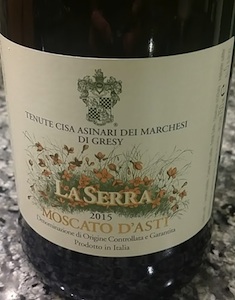 For a slightly sweeter aperitif, or to enjoy with fruit based desserts, Moscato from the hills of Piedmont will please. Marchesi di Gresy, best known for their stellar Nebbiolo based Barbaresco, also owns the small state in Asti, La Serra. From here, their Marchesi di Gresy Moscato d'Asti "La Serra" DOCG grows. Just 5% alcohol, the wine highlights nectarine, apricots, and soft herb notes. $16 at Jimmy's Food Store.
Alto Adige in Northeast Italy is one of the most beautiful places on earth, with snow-capped peaks and alpine meadows straight out of Sound of Music. Heavily influenced by neighboring Germany and Austria, their wines range from floral Gewurztraminer to light Pinot Bianco and, the ever-present Italian favorite, Pinot Grigio. Austria's signature grape, Gruner Veltliner, reveals complexity and character from the hills of Alto Adige. Abazzi di Novacella Gruner Vetliner, from the northern most region on the southern side of the Italian Alps, with elevations of almost 3000 feet above sea level, is a highly aromatic wine with citrus, honey, and herb notes. $24 at La Cave.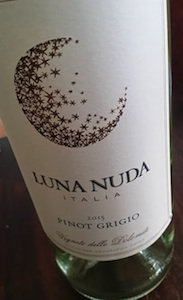 A perfect example of Alto Adige Pinot Grigio comes from Luna Nuda, from the fourth generation Giovanett family. With the name inspiration coming from the mystical influence of the moon on the region's vineyards, the vibrant, juicy wine is a go-to for entertaining. $15 at Goody-Goody.
Since the 1800's the Felluga family has led the Collio region of Italy in traditional winemaking while embracing modern technologies.  From the region's limestone and clay-filled soils, Marco Felluga produces their "Mongris" Pinot Grigio. Floral, spicy, and slightly more full bodied than some Pinot Grigio wines, this is a great wine to pair with fish, poultry, or pork. $18 at Pogo's.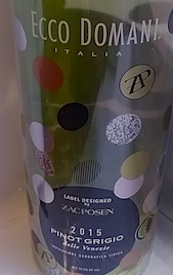 Italy is known for their fashion, which makes sense that famed fashion designer, Zac Posen, would be recruited by Ecco Domani to create a new, limited edition label for their well-priced Pinot Grigio. Posen received the inaugural Ecco Domani Fashion Foundation Award from the winery in 2002, building a connection with the brand that carries through today. $12 at Total Wine & More.
Soave and entertaining go hand in hand. This statement is especially true if you have one guest who loves Chardonnay and another that likes Sauvignon Blanc. Soave's Garganega variety is a nice balance between both. Pieropan Soave Classico DOC brings layers of lemon peel, almond and crushed stone to the palate, with a clean finish. $20 at Pogo's.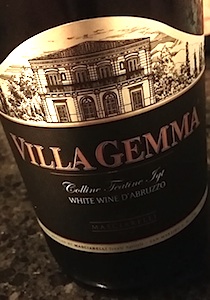 From the Abruzzo region north of Rome, white Trebbiano and red Montepulciano vineyards thrive. In 1978 Gianni Masciarelli established his Masciarelli Tenute Agricole in San Martino, Chieti Abruzzo. With mineral intense soils, varying elevations, and cooling influence from the Adriatic Sea, these varieties thrive with the 1,000 acres of Masciarelli vineyards at elevations from 750 feet to 1200 feet above sea level. Mascairelli Villa Gemma Bianco Colline Teatine IGT Trebbiano d'Abruzzo layers lilacs with golden apple and pear. $17. Available here.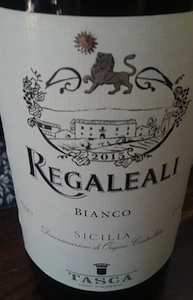 From Sicily, Tasca d'Almerita Regaleali Bianco blends three regional varieties, Inzolia, Catarratto, and Grecianico for a steely, bright, versatile wine that is perfect with appetizers, white fish or light pasta. $15. Available at Wine.com. Tasca Grillo Cavallo della Fate Sicilia DOC ($20) highlights another Sicilian variety, Grillo, with white peach, lemon peel, and apricot. Available at WineExchange.com.
Get the SideDish Newsletter
Dallas' hottest dining news, recipes, and reviews served up fresh to your inbox each week.