On weekend mornings, yogis come in from Sync yoga studio in the complex above. Kids cradle bright-colored six-ounce smoothies with names like Honey Beary and Clementine, and one corner of the dandelion-green walls displays tank tops patterned with fruits and vegetables. JuiceLand is so impossibly Austin, despite its location in Sylvan Thirty. Those tanks—you can imagine them on runners jogging around Lady Bird Lake. By closing time, after nightfall, a disco ball on the ceiling spangles the walls with diamonds.
Our outpost of the Austin behemoth, is, of course a place for juice: organic wheat grass shots and smoothies with dragon fruit and maca, papaya and kelp.
But the thing no one mentions is that the cold-case, more inspired than your average smoothie shop, is a trove of healthy to-go items, a sort of crunchy-hippie-vegan deli case. Fall into JuiceLand and you could stay here all day.
There's a vegan taco salad with walnut chorizo and cashew queso. And cashew cream on a quinoa salad with pistachios and apricots. And bright green tabbouleh topped with hummus and Kalamata olives. I'm currently addicted to a quite wonderful tangle of zucchini noodles, bright with lemon and topped with pesto that's plenty basil-y, made with pumpkin seeds and sundried tomato. The ingredients are surprisingly vibrant and the flavors thoughtful. A Thai breakfast wrap's orange wrap goes well with the red curry hummus inside that uses coconut milk, galangal—the real-deal ingredients. A hummus trio's beet hummus is pretty in pink, with gluten-free crackers (seeds and a mix of sorghum, garbanzo bean, and rice flours and sea salt).
Bottled juices and nut-milk based drinks are good, too, like a watermelon refresher with chia seeds and green apple, or the cashew-milk golden chai that's velvety, turmeric-spiked, and sweetened with dates.
One thing in the case made me stop and take note in the first place, because it's not something you see everywhere. It's manna bread, a sort of cake-like bread of sprouted wheat kernels and dates. This one comes as the Manna-wich, with a filling of pecans and coconut oil, cacao nibs, goji seeds, agave, vanilla, and cinnamon. Like a kind of decadent ice cream sandwich in a very raw-food kind of way.
Take it with a grain of salt. This from the person who flashed on the durian smoothie. Because durian. And spirulina. But really, it's worth a try. Any time of day.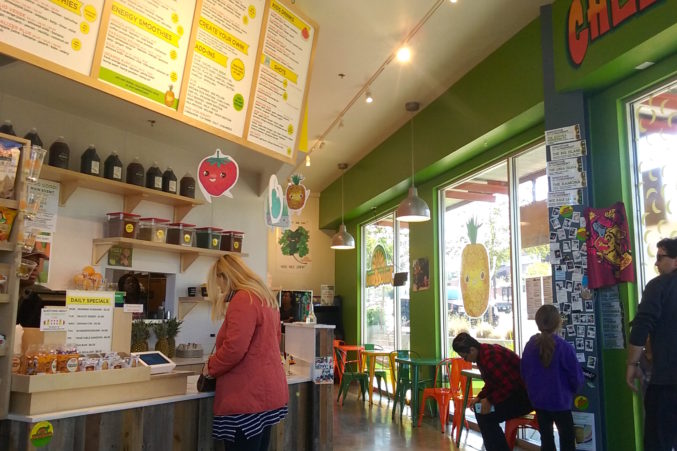 Get the SideDish Newsletter
Dallas' hottest dining news, recipes, and reviews served up fresh to your inbox each week.