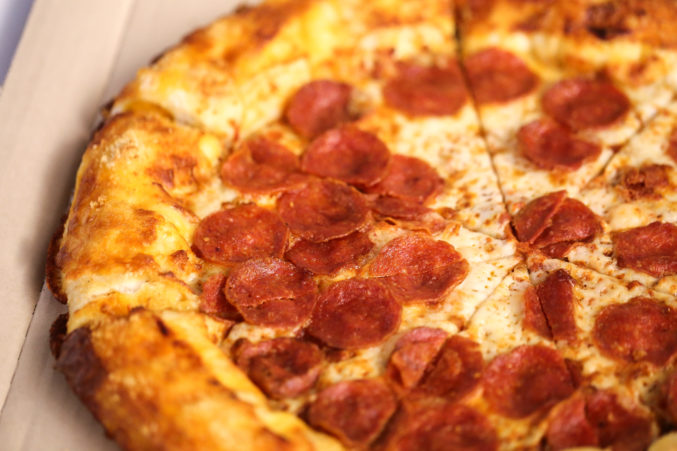 We Tried Pizza Hut's New Grilled Cheese Pizza, Here's What We Thought
What did D Magazine staff think of the gimmicky pie?
Pizza Hut has done it again. The mega-chain released its new, gimmicky grilled cheese Stuffed Crust® pizza on September 19. Obviously we needed to try it. (OK, I used this as an opportunity to order the pizza without feeling guilty for my actions. What? It was "research.")
The pizza arrived an hour late, and lukewarm. I'm not sure if this affected the quality of the pie. Probably. But after one slice, my stomach was full, and my heart was left feeling hollow. Why did I do this to myself? Why did I do this to my co-workers?
The Stuffed Crust®, a tepid blend of school bus yellow cheese (mozzarella and cheddar to be exact), didn't taste like a grilled cheese sandwich. Sweet and garlicky dough encased the rubbery goo like a bad klobasnek. I'd take Pizza Hut's goofy, over-the-top hot dog pie over this any day. And a can of SPAM dumped onto a flour tortilla, smothered in ketchup before that. But hey, I like SPAM.
Here's what other D Magazine newsroom staffers had to say:
"The pizza itself is like a buildup for the crust. Eating it feels like being in the ocean and spotting a wave that's about to crash into your face. That being said, the pizza is sweet and tart and cheesy enough, not significantly different from any other Pizza Hut offerings. The crust…I dunno, man. It's got this cheese baked on top that feels a little like overkill and looks a lot like burnt-orange plastic wrap. And then the cheese on the inside somehow flakes? It tastes really processed. The Stuffed Crust just tastes like melted string cheese. I'd stick with that. I also don't think I've ever typed 'cheese' more in a paragraph."
"The crust is a little sweet and the cheese inside tastes like Cheez Whiz. It's like attaching a bad kolache to the end of a mediocre slice."
"I really like the idea of combining two American favorites, but this pizza does not successfully do that. I actually peeled off the crust to enjoy the pizza. The cheese is thick and not particularly tasty. Stuffed crust is actually better than this, and I'm not a big fan of that either. Nice try, Pizza Hut, but I'll pass."
"There is, in fact, such a thing as too much cheese, especially when it involves a wad of barely melted, pasteurized American rammed into a garlic biscuit. I did enjoy the pizza up until I reached the stuffing. Toss the crust to the dogs."
"I hated myself after eating a slice of this. It could have been the lingering garlic-infused grease on my fingertips. Or perhaps it was because I looked directly into the processed cheese-lined crust after taking a bite. Hurts so good. This pizza could be one of those dirty little culinary secrets. Maybe you beckon it to your doorstep when you're alone, slightly intoxicated, and vulnerable. But make no mistake: you'd never parade this in front of your friends."
"It's pretty much flavorless, but what taste there is is like the very last thing sold at a concession stand at a basketball game, that's been sitting under a lamp."
"It's no DiGiorno, but it is delivery after all. Even heated up, the cheese doesn't have the kind of gooey, stringy quality advertised. But like, if you really like cheese, and cheese covered bread isn't enough for you, this is a suitable meal."