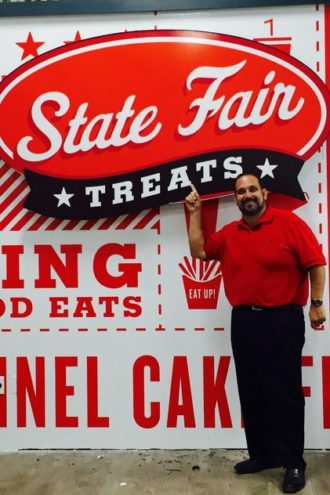 Everyone's talking about the restaurant bubble in Dallas right now. First, it was some chick named Nancy Nichols calling Dallas restaurants "boring." Then, Beth Rankin moved to town and started worrying about us. And just the other day, Leslie Brenner had to chime in.
Well, I'm here to comfort you. I'm telling you right now:  Everything's gonna be just fine. All these sky-is-falling Chicken Littles are freaking out over nothing. This town has a boatload of awesome chefs, and a bigger boatload of opportunities for anyone who wants them.
I mean, have you seen Plano lately? It's getting super farm-to-turnt up there. Tim Byres is bringing the kickass smoke, Omar Flores is bringing the delicious farting pants, and now it's time for Plano to make room for a third up-and-coming chef: Isaac Rousso, recent winner of the coveted Most Creative award at the State Fair of Texas Big Tex Choice Awards for his Cookie Fries, who is opening his first of many State Fair Treats restaurants in the Walmart on Coit Rd. in Plano.
That's right. Walmart. Because if there was one thing the people of Walmart were missing, it was on-a-stick food they could gum while they take a lazy stroll-browse down the inflatable seasonal yard art aisle.
Rousso's retro-themed dining experience will feature a 45-item menu celebrating the treats families enjoy every year when they make an annual pilgrimage to the fair. Plus corny dog wall art. Just give the man a million dollars and the title of Top Chef right now.
A press release from Rousso's team states that State Fair Treats restaurants will have a retro-themed dining experience that will feature "a 45-item menu celebrating the treats families enjoy every year when they make an annual pilgrimage to the fair." Plus corny dog wall art. Stephan Pyles has been itching for those Michelin stars, but I'm not sure how you beat all fried errythang. Maybe next year, Pyles.
Fair food goes with Walmart like chicken goes with nuggets. It's a no-brainer. A no-brainer that a genius deep-fried and dusted with powdered sugar.
If you're unfamiliar with Rousso, get familiar. Because he's about to explode. Forget molecular gastronomy. Throw your sous vide machine at the highway. Fair food is the next Everything. Rousso has been a finalist in the Big Tex Choice Awards for years, with previous wins for his Smoky Bacon Margarita, Deep Fried Cuban Roll, and the Fried Pop Tart. I'm not sure how he hasn't received a James Beard nomination up to this point, but there's no way they'll be able to ignore him now.
"Walmart was looking for a creative new food concept to energize high profile locations," explains Rousso. "During the State Fair of Texas, we have the opportunity to serve more than 2 million people during the fair's 24-day run. At our first Walmart location alone, we'll have the chance to see 1.5-2 million people per year." That means (at a minimum) there will be 2 million more fried things going into bodies per year. Feel good about it, Dallas. Restaurant bubble shmestaurant bubble. Isaac Rousso is just getting warmed up.
The soft opening of the State Fair Treats location is scheduled for September 20th in Plano at the Walmart on 425 Coit Rd. If you're not there, you're not anywhere. Rousso has multiple DFW locations scheduled to open in Walmart during the coming year, with plans to open locations nationwide. Ready yourselves.
Get the SideDish Newsletter
Dallas' hottest dining news, recipes, and reviews served up fresh to your inbox each week.