Scottish novelist and poet, Robert Louis Stevenson noted the phrase "wine is bottled poetry" in his tale, Silverado Squatters. And though he took the reader to Napa Valley in post-Gold Rush days, the thought can easily be carried over the mountains from Napa to Sonoma where some of the finest poets in the world came together under the grand tent at Chateau St. Jean winery in Sonoma to sip and toast.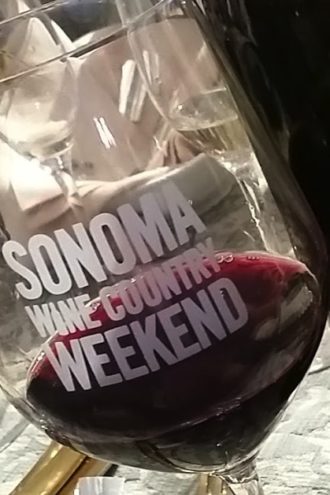 Over the course of a weekend celebration winemakers and vintners from one end of Sonoma to other came together a few weeks ago for the Sonoma Wine Country Weekend, a partnership between Sonoma Valley Vintners & Growers and Sonoma County Vintners, led by the delightful and always smiling Jean Arnold Sessions. I had a chance to attend this year as a guest of the event.
An annual event, typically taking place over the Labor Day holiday each year, the Sonoma Wine Country Weekend features three days of tasting, including the elaborate Taste of Sonoma at MacMurray Estate Vineyards, Sonoma Harvest Wine Auction at Chateau St. Jean, Sonoma Starlight at Francis Ford Coppola Winery, and an assortment of intimate and exclusive winery lunch and dinner parties at multiple locations throughout Sonoma County. A grand celebration, bringing together many of the 400+ wineries in the region, all for good. Over than $24 million has been invested in Sonoma County's future from proceeds from the events since the inception of the celebration.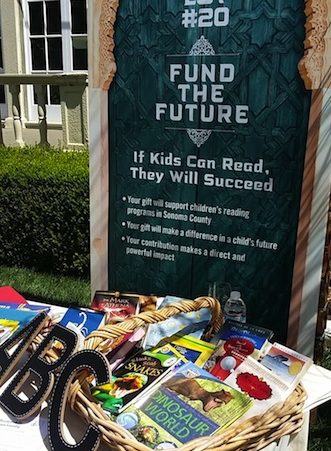 Though multiple charitable organizations throughout the region benefit from the event, there is a particular focus on literacy of children within Sonoma.
Over half of the kids in school in Sonoma County are not able to read at their grade level, particularly some of the youngest. From the studies conducted, the region has realized that if you can't read at your grade level by 3rd grade you will have a very difficult time ever catching up.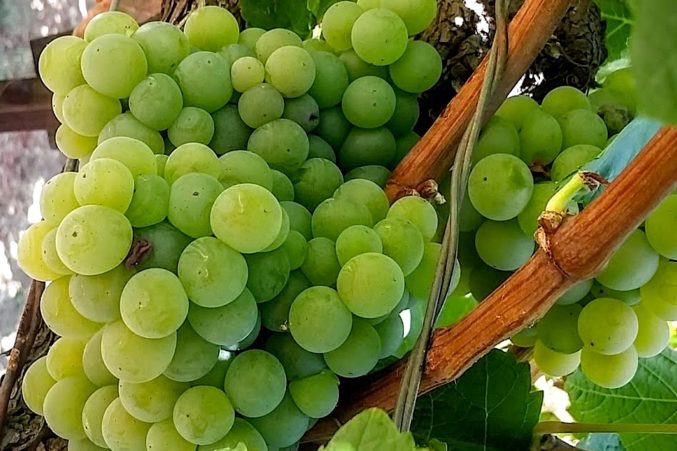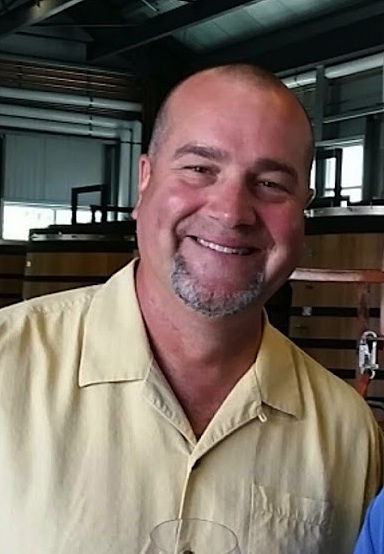 In speaking with Honorary Wine Chair for this year's event, Dan Kosta of Kosta Browne Winery, he noted that the inability of kids in Sonoma to read will hurt the entire region, as the kids of Sonoma are the future and, "if you can't read you can't succeed."
The great thing though, as the focus on literacy has been in place for the region the past few years, is today the region is seeing change. Kids are learning to read through special in-school and after-school programs, parents are participating in the development and growth of their children, and progress is being made. With this year's record breaking attendance and funds raised, the work to help will progress exponentially.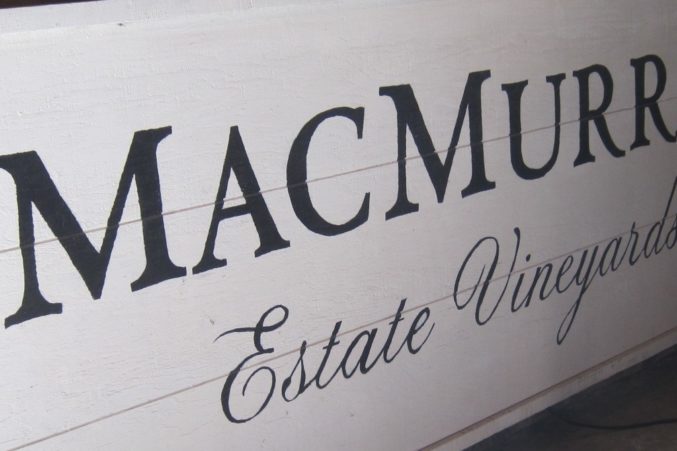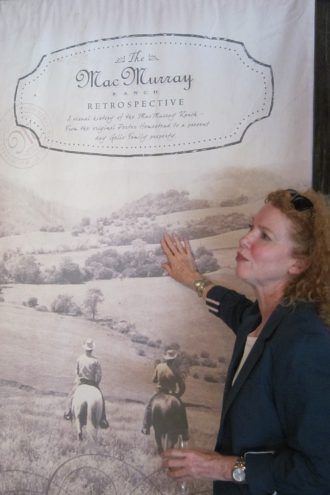 And, it is a great party. Attending the whole weekend festivities would be ideal, but if you have limited time and only one day to play in Sonoma, the annual Taste of Sonoma event is worth the flight out to the region. Over 200 wineries attend, along with 60 chefs from the region, toasting and tasting together under grand white tents at MacMurray Estate Vineyards.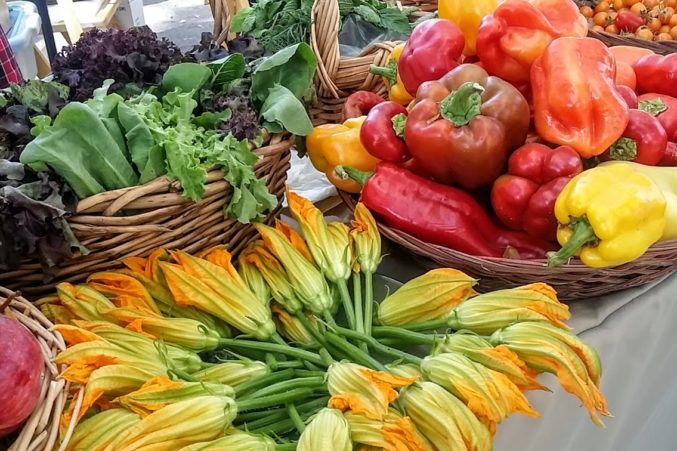 When you arrive guests are greeted with bubbly made in the traditional method from Sonoma's Gloria Ferrer, followed by a warm and loving hug from brand ambassador of MacMurray Estate, Actress/Activist and Screenwriter, Kate MacMurray, daughter of Actor/Rancher Fred MacMurray who had originally purchased the expansive 1500 acre property in the early 1940's. Joyful, knowledgeable and gracious, Kate stayed on to help share the story of the ranch and winery after her family sold the property to Gallo Family Wines in the 1990's. The love and passion Kate has the wine, the estate and her father, will make you a lover of MacMurray wine within the first sip.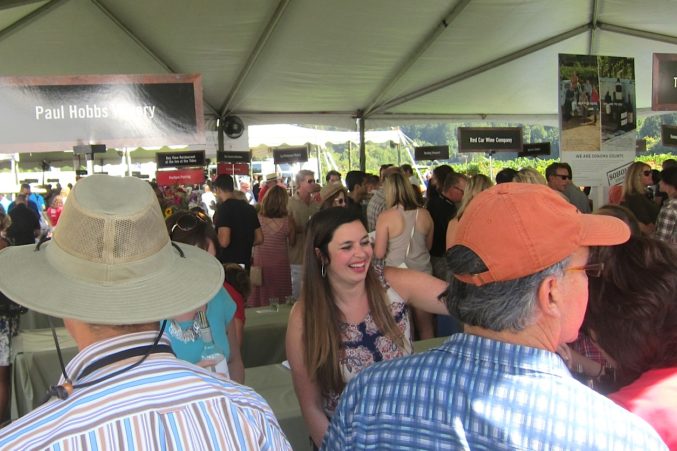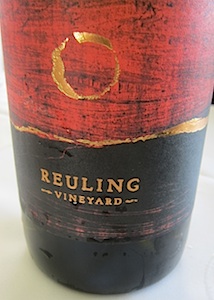 Once inside the celebration Sonoma County helps their guests work their way through the expansive region by setting up individual tents for each sub-AVA within the County. lf you like Cab you visited the Alexander Valley tent with Jordan and Silver Oak; if you like Zin you went to Dry Creek with Sbragia; if you like Chardonnay & Pinot you went to Sonoma Coast and Russian River, with standouts like the stellar Reuling Chardonnay, Fulcrum Pinot Noir, Crossbarn by Paul Hobbs Cabernet Sauvignon and anything from Landmark & MacRostie.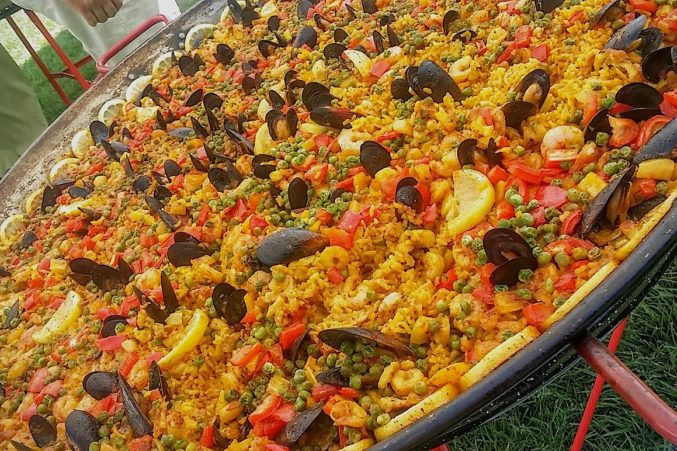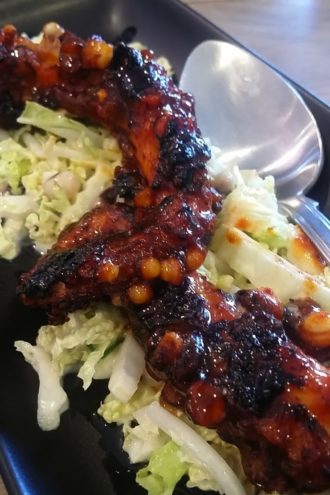 Add in a slew of local chefs offering tasting plates; demonstrations and discussions from top Sonoma Chefs, like Honorary Chef Chair, Mark Stark and his wife Terri, owners of Stark Reality Restaurants including their newest concept, Bird and The Bottle and Healdsburg favorite, Willie's Seafood Bar; a farm to table culinary experience from Jackson Family Wines featuring produce from their expansive Kendall-Jackson Estate Garden, that supplies not only the winery with tasting plates for pairing lunches and dinners, but also restaurants throughout the region, with fresh produce from their sustainably farmed 2.5 acre garden, including 3500 different heirloom tomato plants, the star of their annual Heirloom Tomato Festival, and my personal mecca.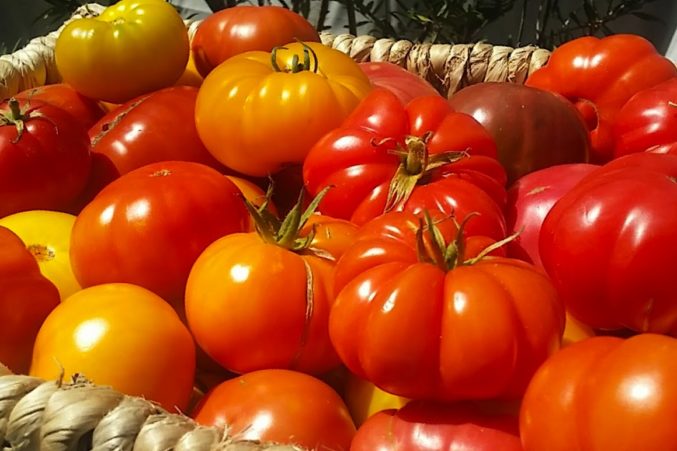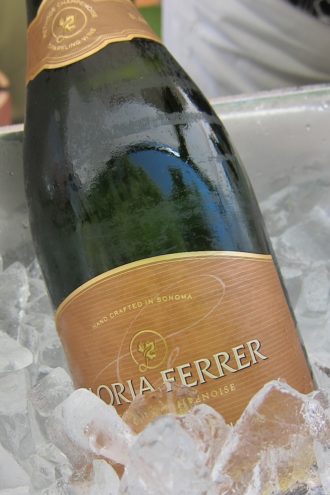 This is how to truly get a feel for Sonoma and everything it has to offer. Keep in mind, Sonoma is three times as large as Napa Valley and so trying to drive from one end of the other in one day, like you can do in Napa, would be almost impossible, especially if you then wanted to also stop and tasting, have a bite, enjoy a glass.
To be able to taste a sparkler from Carneros, then a Pinot Noir from Petaluma Gap, then a Pinotage from Fort Ross and Cab from Alexander Valley, all within steps of each other with the winemakers pouring was a treat, to say the least. The lovely backdrop of the historic ranch estate completed the experience.
The culmination of the Sonoma Wine Country Weekend was the Sunday Harvest Wine Auction event, taking place at Chateau St. Jean under (thankfully air conditioned) tents, but the kick off to Sunday happened Saturday night after "Taste of Sonoma" with an auction preview party at Ram's Gate Winery in Carneros.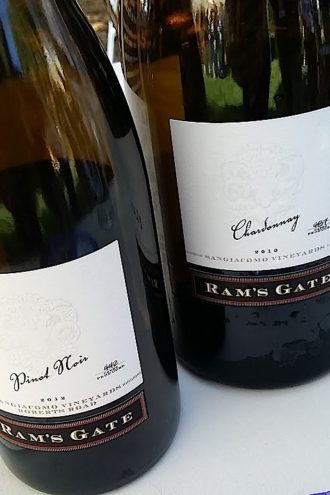 This is the first year the ultra-premium winery has hosted the preview, but for each enthusiastic attendee, we are hoping it won't be the last as it was one of the most beautiful backdrops for the night. The winery, built at the entrance to the Carneros AVA was designed by award-winning architect Howard Backen, with the goal to bring the outside in showcasing the beautiful natural elements of the landscapes.
Add in the high quality, single vineyard, tiny production Chardonnay and Pinot Noir wines from Sonoma, including their Ram's Gate Carneros Estate vineyard, and you have the perfect recipe for enjoyment.
I have been a fan of their wines for some time, and now after visiting the gorgeous winery, it will be at the top of my list for repeat visits when traveling to the region as it embodies the quality, luxury and passion you expect from a premium wine region, with a welcoming, comfortable spirit.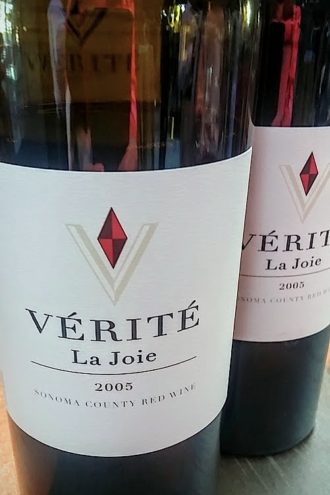 Though it was difficult not to just enjoy the magnums of vintage library wines that Ram's Gate was pouring throughout the event, there were a few other stand outs of the night, most notably from Pierre Seillan and his lovely wife, Monique, pouring their 2005 vintage Sonoma County Verite La Joie. I am a fan of Pierre and his quality wines from Bordeaux, Italy and Sonoma, and recently traveled to Chianti Classico to visit him at Tenuta de Arceno, home of his Arcanum and Valadorna wines.
Of everything poured at on this night, and throughout the entire weekend event, this was by far the standout. And, even with 10 years on it now, it could easily age another 10. Beautiful, elegant and balanced Cabernet Sauvignon wine from Sonoma County, filled with layers of black fruit, smoked herbs, pencil lead and tobacco with structure, texture and great character. The wine is available through allocation via their website.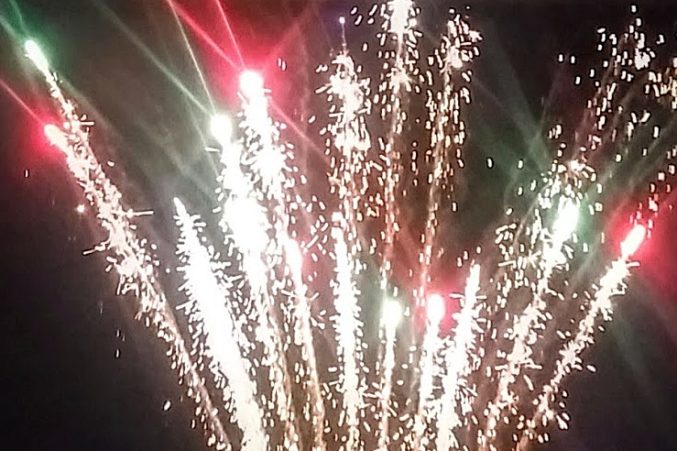 Sunday's Sonoma Harvest Auction Event at Chateau St. Jean transformed the region into Marrakesh, with a plethora of belly dancers, a live camel, music and merriment, all with the goal to do good. We had the pleasure of joining our charming friend, Jean Charles Boisset, of Boisset Collection and Co-Chair of last year's event, at his Buena Vista Winery table near the front. And from the start the JCB No. 69 Sparkling Wine was flowing, along with a sparkler from Buena Vista. Agoston Haraszthy, founder of Buena Vista in 1857 in Sonoma, and recognized as being the Father of California viticulture, and six children. His third son, Arpad, spent over two years in France learning sparkling wine production, later becoming the first to introduce Méthode Traditionelle sparkling wine into California winemaking with his Eclipse Sparkling Wine.
Today's Buena Vista La Victoire Brut Champagne pays tribute to his legacy. Crafted in Champagne the lively sparkler is filled with lemon-lime citrus notes, toasted cream and brioche notes, available via their website.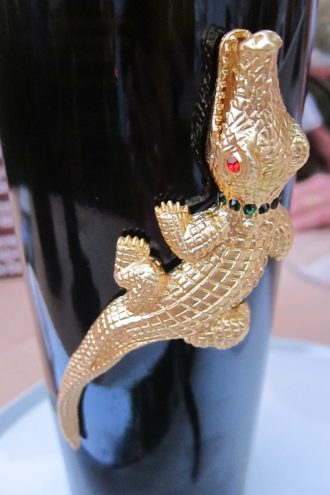 Jean Charles was also debuting a new wine to the Boisset portfolio, "The Revenge," adorned with a golden alligator with red eyes. This small production premium Cabernet Sauvignon wine should be available via their websites by the holidays.
As the auction got into full swing, and bids were rising higher and higher, the key lot for the day came up for bid, the "Fund the Future" lot to help raise money directly to help the kids of Sonoma read. Most of us have been to some sort of auction or another, and the fun part of an auction, live or silent, is bidding with the chance to win a prize and enjoy some sort of experience. This auction lot wasn't that, instead it was simply asking the people of Sonoma, winemakers, vintners and guests, to raise their paddle to help their community.
And, Sonoma did not disappoint. From high bids given by Dan Kosta on behalf of Kosta Browne Winery and Friends and Supporters of Kosta Browne Winery, Joe Anderson and Mary Dewane of Benovia Winery, Gina Gallo & Jean Charles Boisset, Gallo Family Wines & Boisset Collection in honor of Margrit Mondavi, and The Jackson Banke Family, Jackson Family Wines, each donating $250,000.
Their generous donation, along with dozens of other enthusiastic supporters, made the final tally for the "Fund The Future" lot was $2.7 million, up significantly from the previous year's bid of $1.9 million, and making up over half of the total amount raised for the auction and weekend events, which came in right around $4.6 million. To see so many people, generously giving to their community, not for a prize or an experience, but truly to help each other warmed the hearts and minds of all in the room, and made for one incredible celebration.
The Sonoma Wine County Weekend event will change some venues and dates next year, so bookmark their website now and sign up for the newsletter to get information on when the weekend will take place in 2017. And, bravo to all involved on showcasing the beauty and hospitality of the region, the wine and food, and people. Can't wait for next year.
Get the SideDish Newsletter
Dallas' hottest dining news, recipes, and reviews served up fresh to your inbox each week.