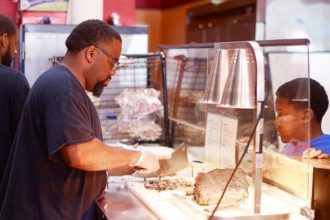 The cover story for the October issue of D Magazine spotlights the best barbecue in Dallas. It was a collective effort. Eve-Hill Agnus, Catherine Downes, and I divided a list of 30 or so spots and conquered it over a six-week session. Then we sat down to rank them. Easy peasy, right?
Since the issue hit the newsstands, I've gotten a lot of feedback. Most of it was positive, but because the subject was feisty, many folks were concerned about our ranking or asked why their favorite joint wasn't rated higher. Concerned is putting it lightly.
First let me address the most-asked question. Many of you are aware of the fact that I have eaten a gluten-free diet for almost two years. Luckily most meat served in barbecue restaurants is "legal" for my lifestyle, but much of the food considered in our scoring process is glutinous to the maximous.
Did I eat it? Yes. I did not eat mounds of macaroni and cheese, but I ate it. And, at the risk of sounding like a martyr, I paid a heavy price for doing so. I could, if asked, qualify as a spokesperson for Imodium. That would make my mother proud. Did my going off the gluten-free wagon negatively affect the outcome of our rankings? I don't think so. I've been eating local barbecue since Catherine was a toddler and Eve was teething on Brie in France. So to all of you who have a problem with this situation, here is my email—[email protected]
Is Pecan Lodge the best barbecue in Dallas? Yes, I believe it is. That said, I will say that on any given day I could substitute any of the other top five on our list—Lockhart Smokehouse, Meat U Anywhere, Slow Bone, Cattleack BBQ—as an equal to Pecan Lodge. The best brisket I stuffed into my mouth was at Meat U Anywhere in Grapevine. The other meats there failed in comparison. I can still taste the beef short rib at Cattleack BBQ. It's a thing of beauty.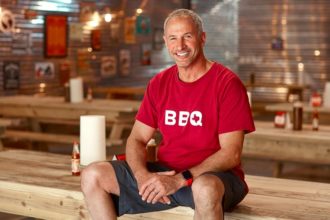 How did we rank them? As empirically as possible. We devised a sheet with categories for meat, sides, desserts, and extra credit points for things such as home-made pickles, wine lists, music etc. We used a 0 to 100 point system. We calibrated our taste buds by eating together at Pecan Lodge as we figured they would be the place to beat. At every stop we tried brisket, sausage, and ribs. In the final tally, we doubled the meat scores before adding the others. There was barely a point separating the top 5. What a great barbecue scene we have in Dallas.
It was a remarkably difficult job to rank these fine establishments especially when you realize that most of them are new to the scene. Our old faithfuls such as Meshack's, Baby Back Shak, and Odom's stood tall.  I'd also like to point to newcomer Top 5 BBQ in DeSoto. We ranked them 8 with a bullet. Go fast.
That's the back story. If you've got a question or have a place we missed, we're all ears. With the exception of the new roll of charred fat around our waists and the pink smoke rings in our eyes.
Get the SideDish Newsletter
Dallas' hottest dining news, recipes, and reviews served up fresh to your inbox each week.