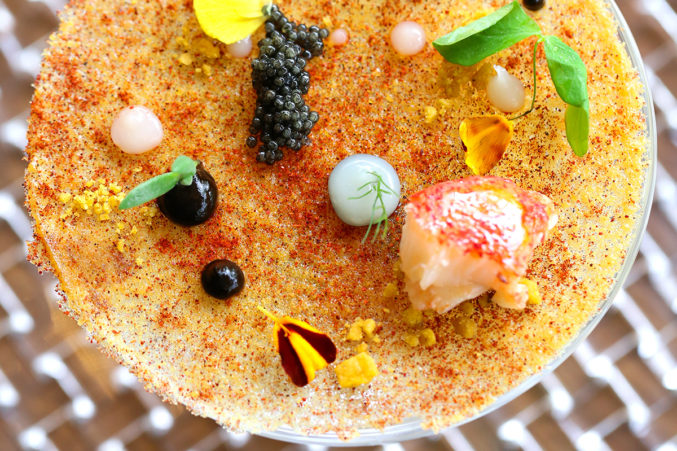 From the Dining Critic's Notebook: Flora Street Café
Because not every detail can make it into the review.
The September issue of D Magazine features a Newcomer review of Flora Street Café. Here, as a side dish, are a few archival notes for your perusal, including musings on a mailbox.
As you approach Stephan Pyles' new restaurant in the Arts District, Flora Street Café, you may notice a mailbox. It's an ordinary mailbox, the kind you might pass by without paying it any particular heed. Scan the street, though, and you'll find it's an anomaly. The Crow Collection of Asian Art's gift shop has its mail delivered to the main museum desk. Ditto the other museums and performance halls lining the broad, quiet stretch. No one receives correspondence in something resembling the receptacle you check while juggling grocery bags when you arrive home.
I happen to know the story behind that mailbox.
On one of my early visits to Flora Street Café, I overheard manager George Majdalani narrate what struck me as a slightly—and wonderfully—madcap saga, particularly for a dining establishment with Flora Street's cachet. This was in the early days of the restaurant's opening. They had no liquor license (and were therefore doling out complementary glasses of some very good wine). And they were receiving no mail—a situation Majdalani had attempted to remedy by running after the mail carrier, whom he apparently knew from his and Pyles' long tenure at Stephan Pyles restaurant only a few blocks away. "It's me. You know me. This is our mail. I promise. We've just moved." So ran the conversations, it seems. Nothing doing. Inquiries were made to relevant persons at the United States Postal Service and the pronouncement came down: set up a mailbox.
And so the anomaly, planted among the trees and shrubs and grasses that mark the border between the restaurant and the street. The outlier makes me smile each time I pass it.
Zac Crain recently posted what may be the most whimsical and poignant post ever composed about a mailbox. Consider this mailbox missive No. 2. It is also a testament to Majdalani, whom I don't mention in my review of Flora Street Cafe, but who brings warmth and grace. He is one of the gems in the profession—at once courteous and sincere. Case in point: another evening, another anomaly, two small children in a restaurant where, in all my visits, I saw no others. They sat with their parents, perched at a linen-draped table in the small back room just off the main, elegant dining room. In the older boy, Majdalani may have seen the next generation of diners. (The boy displayed an interest and discernment of palate that was, admittedly, both adorable and uncommon.) He emerged from a tour of the kitchen, where he had apparently acquired a fresh cookie (one does, I think, have to be eight years old and culinarily precocious to be spontaneously offered tours and cookies). He placed the cookie on the table, carefully folded into a napkin, when he returned. He'd apparently seen enough to know that it might be advisable to hold off on the cookie and save room for dessert.