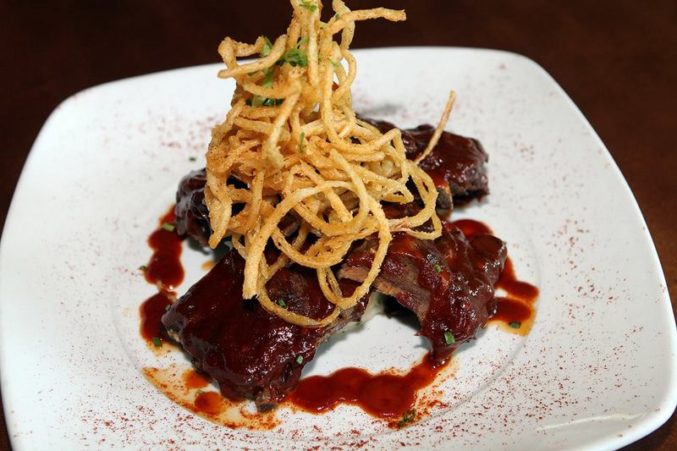 DFW Restaurant Week 2016: Food and Wine Pairing Winners Announced
Secret food and wine pairing contest results are announced.
While you are busy chowing down on food during DFW Restaurant Week, member of the Dallas chapter of the American Institute of Food and Wine (AIWF) are sneaking around tasting all the pairings prepared by are chefs. Not really. Restaurants present menu items paired with wine to a panel of six to eight culinary professionals. The judging is blind. First place winners receive a $2,000 scholarship from AIWF D/FW to be used toward expenses and tuition to attend a class of their choice.
One 2 One Restaurant in Frisco took First Place for 2016. Executive chef Juan Garcia and wine director Amy Cole submitted a watermelon salad with arugula, mint, pistachios, Kalamata olives, and feta drizzled with Serrano lime vinaigrette which they paired with a Riesling from Columbia Valley as a first course. The picture above is the second course: wild boar ribs, chive mashed potatoes, crispy onions, cream corn, and barbecue sauce which they paired with a Mouton Cadet from Bordeaux.
Kenichi chef Ken McCullough and wine professional Richard Torres took second place.