Labor Day weekend has traditionally been the end of summertime fun, but it doesn't have to be. A tasty cocktail at 5 p.m. is always on the menu in Dallas, anytime of year. Here are a few fun, refreshing and always delicious options to enjoy today, tomorrow, and always. (A few selections were sent for editorial consideration.)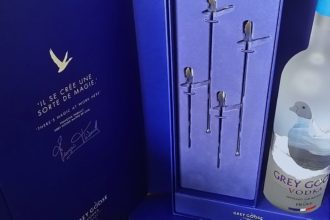 Is there anything better than a simple martini with an olive, stuffed with blue cheese if you prefer? Often, when creating cocktails with fruit juice bases I am not too particular about the kind of vodka, as long as it is a quality product. But, for a cocktail where the spirit truly shines, like in a simple vodka & soda, gin & tonic, sipping tequila, the quality of the spirit is the only thing that really matters. With a clean and simple martini Grey Goose must be the go to, and the premium spirit has created a great gift package to make creating your favorite martini that much easier, available now through the holiday season. Grey Goose Holiday Limited-Edition Gift Pack. The limited-edition gift pack includes the signature Grey Goose bottle 70 CL, two bespoke stirrers, and two olive picks. Available on ReserveBar.com for $30.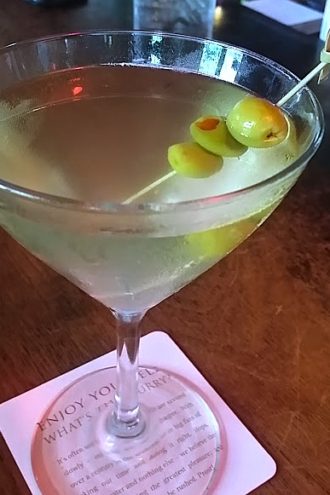 Grey Goose Bespoke Martini
5 oz Noilly Prat Dry Vermouth
2 oz Grey Goose Vodka
1 dash orange bitters
Preparation: Add ingredients to an ice filled shaker and shake until very cold. Strain into a martini glass. Garnish with an olive.
We do love our tequila here in Texas, and this is one area you always want to have a product produced with great quality (because there is nothing worse than bad tequila, except maybe bad scotch.) Luckily, Tequila Herradura never disappoints, whether you are enjoying their floral, fresh and clean Herradura Silver, earthy Herradura Reposado, or even their toasted toffee, caramel and orange filled Herradura Seleccion Suprema Extra Anejo aged for 49 months, making it the ideal sipping tequila.
Their cocktail friendly Herradura Silver is aged 45 days in American oak barrels before bottling, the perfect amount to add a hint of spice to the floral, herbal notes of the spirit. Since 1870 Casa Herradura has been hand harvesting and estate bottling their 100% blue agave tequila from mature plants grown on their Jalisco, Mexico estate. The result, the ideal base for your favorite margarita.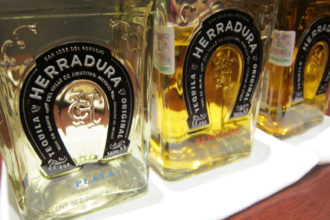 La Fortuna
2 parts Tequila Herradura Silver
1 part fresh lime juice
½ part agave nectar or to your taste
1 part Pomegranate Juice
Preparation: Combine ingredients in an ice filled shaker and shake until very cold. Strain over fresh shaved ice. Garnish with a lime, and if you like, a fresh mint leaf or two.
The use of fresh herbs and fruit in seasonal cocktails adds depth and layers of flavor to any drink. For a twist on a mint julep add freshly muddled peaches, or refine your Bourbon with floral notes of St. Germain elderflower liqueur with freshly muddles blueberries.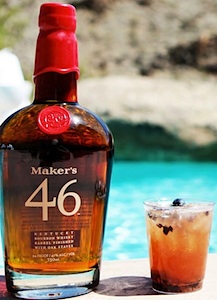 Blueberry 46
2 parts Maker's 46 Bourbon
1 part St-Germain Liqueur
10 fresh blueberries
5 fresh mint leaves (optional)
Preparation: Muddle the St.-Germain and blueberries, and if adding mint, together in a glass. Add ice and the Maker's 46™ Bourbon. Shake vigorously for 10 seconds. Strain into a chilled martini glass. Garnish with fresh berries.
The perfect summer into autumn cocktail incorporates barrel aged rum from with fruit filled, fresh apple liqueur from Germany, Berentzen Apple Liqueur made with sun-ripened apples. If you are more a fan of spiced rum, swap the aged rum for a stellar cocktail with Sailor Jerry Spiced Rum, perfect for your adventures to the harvest pumpkin patch or on Halloween night.
Apple-Daiquiri
1.5 oz Golden Aged Rum like Brugal Anejo
1 oz Berentzen Apple Liqueur
.5 oz Lime Juice
1 dash Aromatic Bitters
Preparation: Combine ingredients and shake heartily with ice, then strain over crushed ice.
In honor of how well our American athletes did this year in the Summer Olympics, a cocktail to toast their triumphs and success.
Knob Creek American Champion Old Fashioned
Crafted By Celebrity Chef Michael Symon
1 ½ Parts Knob Creek Rye Whiskey
Ginger Beer
½ Part Lemon Juice
¼ Part Green Chartreuse
6-8 Mint Leaves
Preparation: Combine all ingredients (except ginger beer) in a bar tin with ice and shake well. Strain into a chilled Collins glass, top off with ginger beer and garnish with a single mint leaf.
I love the flavor of Deep Eddy Vodka Real Lemon and Real Grapefruit. Instead of being cloyingly sweet the refreshing vodkas taste like the fruit they are meant to, making them the perfect base for something as simple as a vodka soda, or an infusion with fresh mint, berries or fruit.
Blackberry Basil Smash
2 ounces Deep Eddy Real Lemon Vodka
5 blackberries
5 fresh basil leaves
½ ounce simple syrup (optional)
Club soda
Preparation: Add berries and basil to a shaker and muddle, then add ice, vodka and syrup (if you are using, I think the flavor of the vodka stands on its own and doesn't need the additional sugar, but mix to your taste.) Shake and strain into a rocks glass. Top with soda.
With the end to summer I often think ripe tropical fruits, like mango, pineapple and guava, may go away as well. Luckily, we can always enjoy a bit of the tropics with Plantation Pineapple Stiggins Fancy Rum infused with Victoria Pineapple, both the rinds and fruit, creating a balanced, fruit filled and delicious rum. Inspired by the favorite drink of Reverend Stiggins, a character in Charles Dickens' Pickwick Papers, the rum was named"Best New Product" at the 2016 Spirited Awards at Tales of the Cocktail in New Orleans earlier this summer.
Stiggins' Swizzle
Created by Michael Goldman, Maison Ferrand
2 oz. Plantation Pineapple Rum Stiggins' Fancy
1 oz. Fresh lime juice .5 oz. Ginger Peppercorn Syrup*
1 tsp Maraschino Liqueur
Preparation: Swizzle all ingredients with crushed ice. Top with crushed ice and garnish with mint sprig, Angostura Bitters and Peychaud Bitters.
*Ginger Peppercorn Syrup
2 cups Pure Cane Sugar
1 cup Water
1/4 cup Fresh Ginger
6 Peppercorns
1 teaspoon Salt
Preparation: Simmer all ingredients for 10-20 minutes. Strain and cool.
Another fruit infused cocktail, that adds the fun of bubbles to the party melds fresh melon, I used cantaloupe but honeydew or watermelon would also be delicious, SKYY Infusions Vanilla Vodka and Prosecco, I used La Marca as the fruity palate is great for mixing with cocktails. The result, the perfect poolside summer cocktail that can be enjoyed for Sunday brunches well into the fall.
Summer SKYY
1 part SKYY Infussions Vanilla Vodka
1/2 part Midori
1/8 cantaloupe melon, rind and seeds removed, chopped
1/3 cup ice
Top with La Marca Prosecco
Preparation: Add ice, melon, vodka and Midori to a blender and blend until smooth. Pour into a coup glass. Top with Prosecco.
Mescal lovers know that the spirit is the ideal base for any cocktail, adding just a hint of smoke to floral and fresh aromas and flavors, and this one couldn't be easier.
Montelobos Picador
2 parts Montelobos Mezcal
1 part Fresh Lime Juice
½ part Simple syrup
Preparation: Combine ingredients over ice and shake well. Serve over fresh ice in a rocks glass with a salt & black pepper rim and orange slice.
Get the SideDish Newsletter
Dallas' hottest dining news, recipes, and reviews served up fresh to your inbox each week.