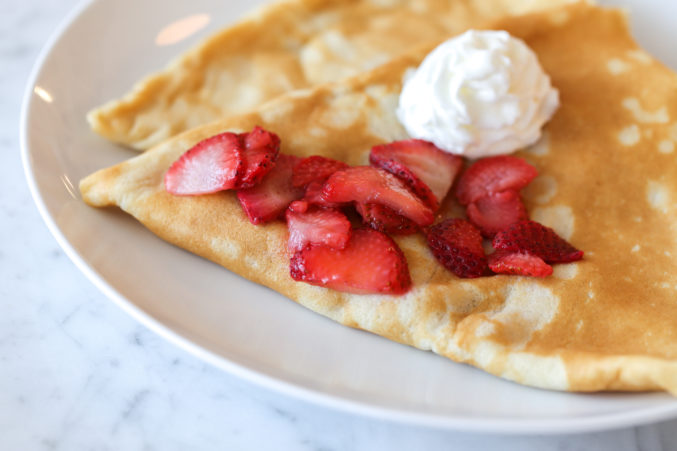 First Bite: Whisk Crepes Cafe
The small Sylvan Thirty spot offers a good taste of France
Whisk Crepes Cafe opened last October in Sylvan Thirty courtesy of owner Julien Eelsen, a Left Bank Parisian who, after various peregrinations, landed in Dallas with a notion to make crepes. A properly made crepe is a thing of beauty. And if there's one thing I adore, it's the rarer find: galettes, the savory buckwheat-flour crepes that are a staple from the wild and rugged North-Western tip of France, Brittany, where you'd want to pair them with cider crisp and sparkling, served by the bowl. (Eelsen is expanding his cider list; he had to look into importation and distribution.)
A fully garnished galette might come folded over fillings, often so a sunny side up egg shows in the middle. Buckwheat flour imparts a flavor that's slightly nutty and earthy. The batter needs time to rest, flour, water, salt, whole milk, a bit of butter, and eggs combined for 36 hours, which allows it to mature and develop so the finished crepe has the tiny bubbles, the distinctive crispy edges, the coveted "lace" effect. It can take months to a year to master the hand-turn, the "tour de main" that paints smooth moon shapes on the griddle. As with dosa-making, I'm always impressed with the gesture; it's not as simple as it seems.
Whisk Crepes has matured since its opening. Eelsen's degree is in business, this venture a career change, and there was a learning curve, though he knew crepes well of course, had grown up making them, the specialty an absolute French staple.
When I went in early visits, his galettes' buckwheat flavor was spot-on, but the batter was sometimes stiff, the result dry. They could still sometimes be lacier. But they've arrived at a good, happy place.
Order at the counter, where someone young and wearing braces may take your order. The place, with its blond wood and airy feel, is a lovely place for a casual Friday-night date—a few shared crepes and a glass of rose. From the seasonally updated menu, you might choose the goat cheese and arugula, or smoked brisket with queso fresco and jalapeno. "I don't live in France, I live in Texas. I want my crepes to reflect that," Eelsen says. There may be no truer classic than the French ham, Gruyere, sunny side up egg option. Or ratatouille. The shakshuka galette they've newly added was wonderful one recent evening, with a smoky shakshuka with tomatoes, feta, cumin, and an egg. Simple build-your-own options are are good, too, with choices like eggs, grilled onions, smoked turkey. Cheese here means the house combination of Cheddar and béchamel. For a slight upcharge, my go-to is Gruyere and mushrooms, the add-on worth it to savor the good taste of Gruyere.
Sweet crepes (they're eggier, richer, and use wheat flour, not buckwheat) might come billowing with whipped cream and Nutella. Simple butter and sugar—or lemon and sugar (again, if I have my druthers)–are classic. I love the poached pear crepe with an elegant napping of house-made caramel. You'll find people drifting over from Ten ramen, next door, where no desserts are served. It's a nice symbiosis in this complex with twinkling lights that's becoming increasingly inviting as businesses fill out and places like Whisk bring a human flow.