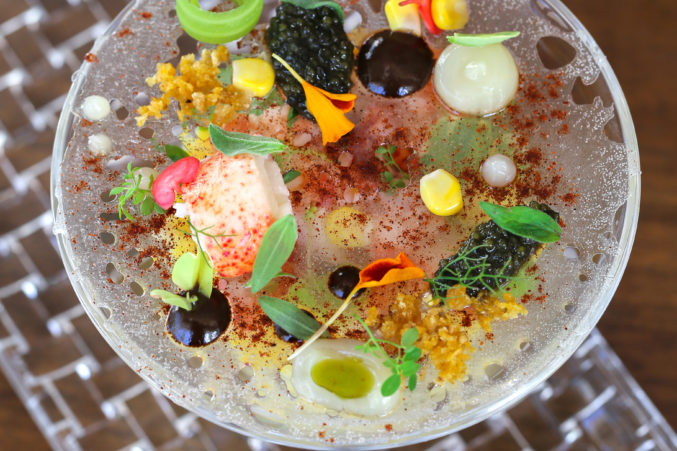 Eat This Now: The Lobster Tamale Pie at Flora Street Café
This dish has quickly become a bestseller and staple at Stephan Pyles' new restaurant.
From the August issue of D Magazine
The lobster tamale pie has quickly become a bestselling dish and restaurant staple at Stephan Pyles' newly opened Flora Street Café. "The inspiration for the dish is my tamale tart from Routh Street Cafe," Pyles says, referring to his groundbreaking first restaurant. "Some people call it Tamale Tart 2.0." The deconstructed tamale is served in a dazzling Nachtmann Bossa Nova crystal martini glass. The $28 dish is a work of art and almost too beautiful to eat. Almost.
LOBSTER
The tamale is topped with butter-poached Maine lobster, black garlic purée, pickled corn, and paddlefish caviar sourced from Tennessee.
CUSTARD
In the base of the glass, sweet corn custard sits atop a "liquid" tamale made from guajillo chile-flavored nixtamal.
GREENS
The herbs, micro greens, and floral blossoms on the tamale pie come from Promise of Peace Garden in Dallas and Grow It Forward Farm in Edom, Texas.
CHILE AND CAVIAR
An isomalt circle dusted with ancho chile powder is placed around the rim of the glass. It is topped with more caviar, seasonal flower petals, herbs, and preserved lemon purée.