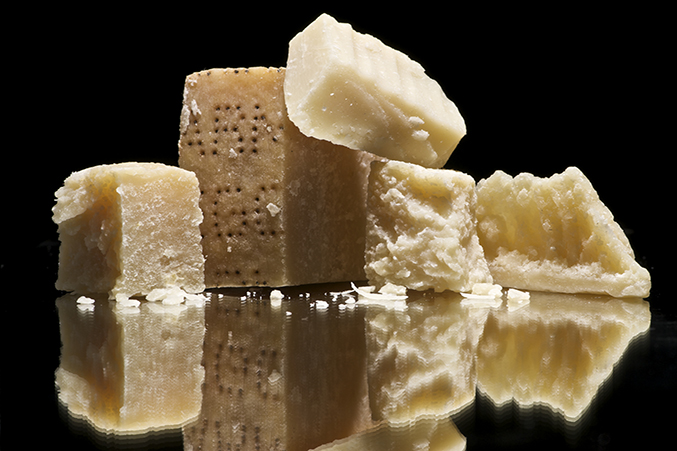 Do This: Scardello's Parmesan Wheel Cracking
For all those who dream of cheese.
Saturday at Scardello Artisan Cheese, the star of the day was 85 pounds, two years old, and cheesy.
Perhaps, like me, you've watched the episode of Netflix's Chef's Table in which Italian Michelin-starred chef Massimo Bottura unveils his Five Ages of Parmigiano Reggiano in Different Textures and Temperatures, a dish of singular culinary fixation whose inspiration you see him tapping and tasting along with the cheesemaker while he tells you how uniquely perfect is this cheese. Perhaps, when the cheesemaker scored the rind with his knife and wedged in the stubby knives that would ease apart the massive wheel that cleaves into two golden halves, you wished you could inhale the aroma and taste a shard, pineapply and caramelly and savory and more fragrant than you've ever tasted it.
If so, or even if you just have a passing curiosity for all things cheese-related, you'll be interested to know that this is something you can experience at Scardello's (think of it as Emilia Romagna via Oak Lawn)—that the shop, in fact, cracks into a fresh wheel every two months or so, which is about how long it takes them to go through one. Over the weekend, I joined the 15 or so who gathered around to watch as owner Rich Rogers cracked open a new wheel from his favorite producer.
The event takes place in the Oak Lawn shop's main room. Show up as spectator. Or, like the group of six that jumped up from their table, leaving their cheese boards and pressed sandwiches, join spontaneously. I find it nice that Scardello makes the event public, issuing an open invitation on their website. (Check there for the next wheel-cracking, which should fall in October.)
They'll tell you about Bonati, the small producer who makes their wheels, with his three herds of cows, his wooden paddles. They'll let you smell that powerful aroma. And then … they'll let you taste.