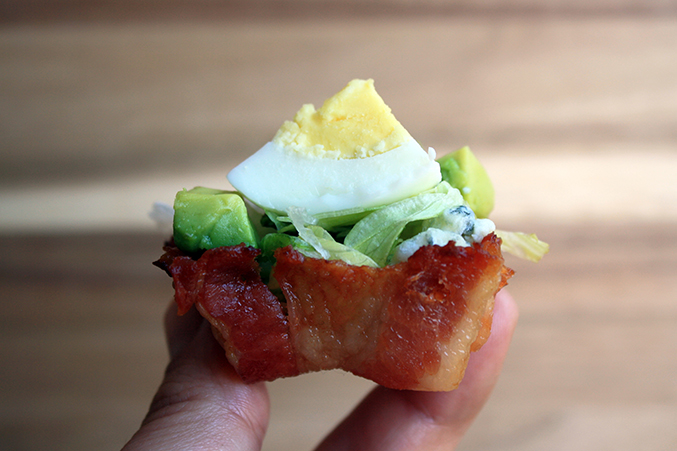 Dish Pirate: Next Door's Cobb Salad Bites
Want to enjoy the best that Dallas restaurants have to offer without ever leaving your home?
By Melissa Mackaly
Published in Food & Drink
August 2, 2016
3:30 pm
Want to enjoy the best that Dallas restaurants have to offer without ever leaving your home? Our new recurring feature, Dish Pirate, will help you bring the city's robust dining scene to your kitchen.
Dish Pirate: Next Door's Cobb Salad Bites
Inspired by chef Paul Niekrasz
After seeing these amazing little bites on Instagram for the past few months, I had to hop on over to Next Door in Uptown and check them out. Next Door, occupying the same space as previous tenants Three Sheets, is owned by the same folks as Avenu Lounge just a few doors down. Their menu is full of small, shareable items, like the Cobb Salad Bites. I love miniature food so I was of course already obsessed. Their bites consist of lettuce, blue cheese, and avocado stuffed into a tiny bacon bowl and topped with a quarter of a boiled quail egg. They are amazing and as previously mentioned, adorable.
I was super excited, and a little nervous, to try these at home but they turned out great! I didn't venture out for any quail eggs, as this is supposed to be an easy recipe, so I just used a small, regular egg. The bacon bowls are easy to assemble and listed in step-by-step instructions.
Recipe (Serves 8 at 2 bites each)
Ingredients:
2 eggs, hard boiled
16 slices of uncooked bacon
lettuce
blue cheese
avocado
Supplies:
2 mini muffin pans
non stick spray
Preparation:
1. Preheat oven to 375 degrees.
2. Turn muffin pan upside down and lightly coat with nonstick spray. Cut one slice of bacon into equal thirds. Crisscross the 3 slices over 8 of the upturned mini muffin cups. Lightly spray the inside of the cups on the other mini muffin pan and place on top of the other pan so that the bacon slices are compressed between both pans. Place pans on a baking sheet and bake for 20-23 minutes. Remove baking sheet from oven and let cool completely. Once cool, carefully remove the top pan and lift bacon cups off. Set cups aside.
3. While your bacon cups are baking, boil 2 eggs by placing them in a sauce pan, cover with water and bring to a boil. Once boiling, turn off the heat, cover and let sit 10 minutes. Run cold water over eggs, peel off shell and set aside.
4. Cut avocado into small chunks.
5 Toss lettuce, avocado and blue cheese together and set aside.
6. Cut boiled egg into 8 equal pieces.
7. Assemble cups by filling bacon bites with salad mix and topping with 1/8 boiled egg.
These are perfect for summer parties and picnic.