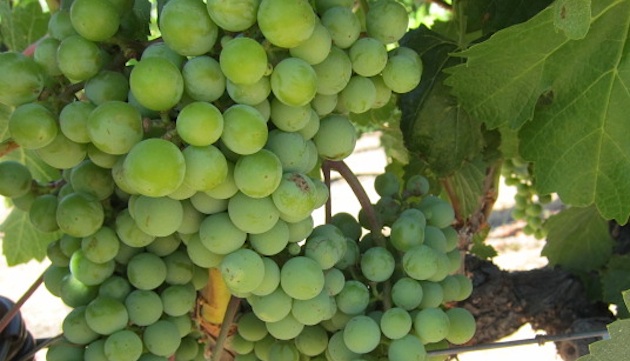 Summertime is here, which means plenty of travel in and out of Dallas with friends and family, evening barbecues, and afternoon pool parties. These wines are perfect for every sun-filled occasion. (A few selections were sent for editorial consideration.)
Excitement around quality Texas wines produced throughout the state continues to grow, and rightfully so as there are some stellar wines available, made right here at home, now. Pedernales Cellars Viognier, from fruit grown in Texas High Plains and South Plains, is filled with fresh mango, soft herbs, apricot, and peach flavors with a round and inviting palate that is perfect paired with creamy cheese or fresh shellfish. $17 at Pogo's.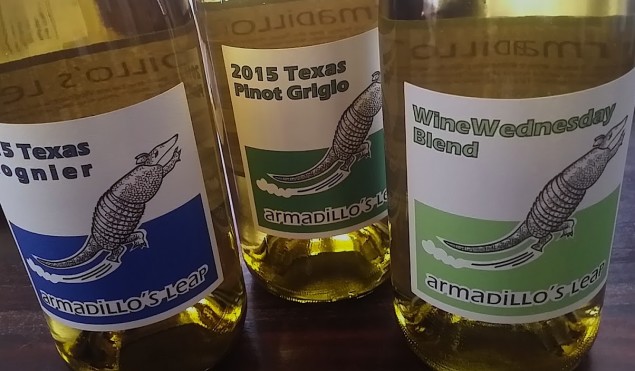 Sister winery to Pedernales, owned and operated by the Kuhlken-Osterberg family, is Armadillo's Leap, a fun, relatively new wine brand that is not to meant to take itself too seriously, producing very approachable, everyday style wines. Bonus, it also gives back with $1 of each case sold going to their designated charity, which this year is Westcave Outdoor Discovery Center , a 75-acre preserve located in Southwest Travis County, with a mission is "to inspire people to develop a lifelong practice of enjoying and protecting nature." Their Armadillo's Leap Wine Wednesday White is a blend of three varieties you don't usually see together, Muscat, Viognier and Pinot Grigio for a very fruity, juicy wine great for pairing with spicy Thai or Mexican food. Their wines are available via their Texas tasting room, located just outside Fredricksburg. Tastings are $10 for 6 wines, wine range in price about $15-$20 a bottle.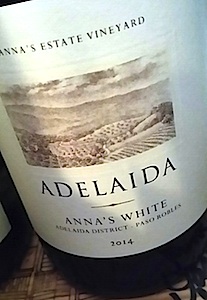 Another somewhat unusual blend is from the Adeliada District of Paso Robles, quite near the coast, from a winery bearing the same name. Adeliada Anna's White blends Grenache Blanc, Viognier, Picpoul Blanc and Roussanne together for a floral, stone fruit and citrus filled wine layered with honeysuckle, granny smith apple, tropical pineapple and guava notes. A beautiful, ripe fruit filled wine that is ideal on its own or with grilled lobster or spicy Thai style crab salad with chilies. $35, via their website.
Grenache Blanc and Clairette come together in a honey, golden apple and white flower filled Rhone Valley wine that is soft, inviting and well-rounded. Ferraton Pere & Fils Cotes-du-Rhone Samorens Blanc, from the northern part of the region, ensuring cool temperatures and the blustery Mistral winds keep acidity high, create an approachable wine that clearly has a sense of place, and great taste. $14, available at La Cave Warehouse.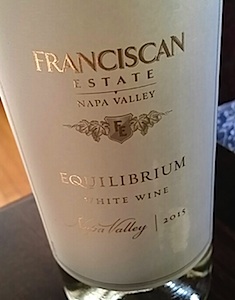 The varieties in Franciscan Equilibrium White Wine blend are perhaps not uncommon, but usually you don't find Sauvignon Blanc, Chardonnay and Muscat together. However, in this Napa Valley white wine they meld easily for a wine filled with soft herbs, lemongrass, ripe apple, melon and flowers. A special wine that is meant to be fun, unique and easy. $23, available via their website.
Not far from the Rhone, the Languedoc region in Southern France, Gerard Bertrand Picpoul de Pinet is a rather full-bodied white wine with layers of citrus, briny saltiness and minerality from the close proximity to the Mediterranean Sea, soft herbs, apple and pear. $14, available at Goody-Goody.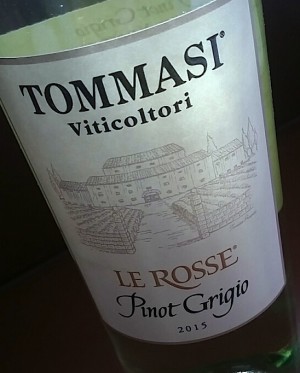 Pinot Grigio is often slightly juicier and riper than some Pinot Gris, as the climate of Italy is often warmer than that of the traditional Pinot Gris growing regions, like Alsace and Germany. However, the Tommasi family elevates their Tommasi Le Rosse Pinot Grigio, displaying an earthy, grassy and very fragrant wine from their estate vineyard in Valpolicella. Lively and balanced, with just the right amount of fruit, available for $14 at Spec's.
Along same juicy, fruity style, La Crema Pinot Gris from fruit grown in Monterey County is filled with ripe honeydew melon, fresh apple, lemon and orange blossom flavors with great acidity and brightness thanks to the cool Pacific coastal breezes keeping fruit fresh. $20, available at Total Wine.
Slightly more rustic and earthy, yet still filled with ripe fruit, FEL Pinot Gris, from Anderson Valley, melds wet stone and herbal notes with green apple, lemon and grapefruit notes for a balanced, clean and elegant white wine. $25, available via their website.
From Tuscany, Italy, Aia Vecchia Vermentino melds ripe golden grapefruit and lemon-lime flavors with grassy, herbal notes, making this a distinct, and delicious Old World style white wine filled with earthy character and great acidity. $12, available at Jimmy's.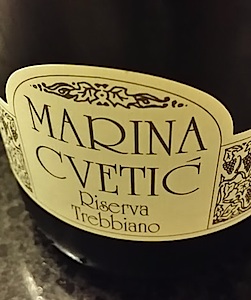 When we think of wines from Montepulciano d' Abruzzo we usually think red, however this beautiful Italian region can also produce elegant, refined and delicious whites from Trebbiano fruit. Mascaiarelli Tenute Agricole was established in 1978, with the first wines produced by Gianni Masciarelli in 1981 in the village of San Martino, known for their nutrient poor, mineral intense soils at various elevations. This backdrop is ideal for growing premium quality Trebbiano. Their Masciarelli Marina Cvetic Trebbiano d'Abruzzo Riserva, named for his wife, is one of the portfolio's premium wines, filled with crushed stone and mineral note, white flowers, honey and peach. Fresh and inviting, perfect for summer or anytime. $45, available here.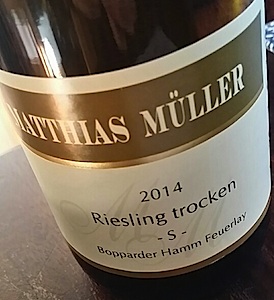 Dry Riesling is the darling of the wine world right now, especially among Sommeliers who can appreciate the approachable style and pairing ability of these flavorful, mineral intense and aromatic wines that often taste exactly like the soils they are grown in. Germany, in particular, shines in producing variety.
Through Wines of Germany, and a new wine importer/distributor here in Dallas, Traubenhaus owned by Texans Justin and his wife Jessica Bryan and Germany-based Paul Steinbach, I have tried several recently. If you are unsure about Riesling, as the labels can often be confusing, but know you would like the dry style of the wine, just looks for "troken" on the lable as that means "dry" in German.  Weingut Matthias Müller is in Spay in the Mittelrhein Region of Germany. The Müller family has been farming and making wine for over 300 years, with Riesling the staple variety of their vineyards. Their new release 2014 Matthias Müller Bopparder Hamm Feuerlay -S- Riesling Trocken is filled with white flowers, wet stone and intense minerality on the nose with fresh stone fruit on the palate from a classified vineyard tract with the VDP's highest classification, "grand." $35, with the new release becoming available on their website now.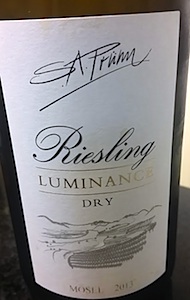 From the Mosel region with roots dating back to the 1156, and the current estate boasting vines over 100 years old, SA Prüm Luminence Dry Riesling is very fresh and vibrant, with racy tropical fruit, citrus and classic Riesling flavors. A perfect food wine for the summer to pair with anything from summer salads to creamy cheese. $24, available at wine.com.
I love a clean, crisp and grassy Sauvignon Blanc on a 100 degree day, especially one made well like Merryvale Napa Valley Sauvignon Blanc. Herbal, lemon-lime and melon notes fill the palate with the right balance of acid and fruit, and a refreshing, juicy finish. $28, via their website.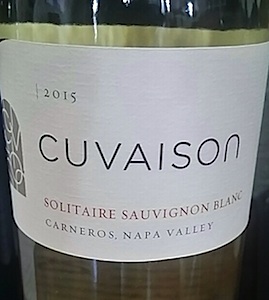 From Carneros, Cuvaison Solitaire Sauvignon Blanc from one block in their sustainably farmed vineyard is filled with white flower notes of orange blossom, day lily and honeysuckle with juicy grapefruit, grassy gooseberry and melon notes. Vibrant and inviting, $24 available via their webstie.
From Steve MacRostie, and his incredible winemaker Heidi Bridenhagen, MacRostie Dutton Ranch Chardonnay showcases the elegance and refinement of Russian River Valley fruit. Aromatic, complex and filled with juicy kiwi, tropical mango and apple. Very small production, about 400 cases, available for $46 via their website.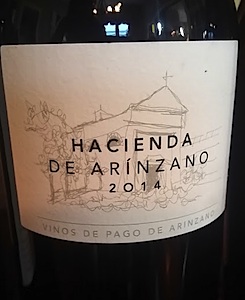 Spain isn't the region I would think of for Chardonnay, however thanks to the skilled touch of winemaker Manuel Louzada and the quality of the vineyards, Arinzano has proven the ability to create elegant, elevated wines. Arínzano is one of the few estates in all of Spain to be recognized with Pago status, a member of the Grandes Pago de Espana, an esteemed wine-growing association that promotes the culture of estate-grown wines from exceptional estates, becoming the first Pago in the North of Spain. Their Arinzano Hacienda de Arinzano White is 100% Chardonnay from sustainably grown heritage vineyards that date back to the the 11th Century. With 1 year in new and partially new French oak barrels the textured and creamy wine is filled with honey, almond and citrus, with stone fruit and cream on the finish. $20, via wine.com.
Very floral and tropical, small production Edna Valley Fleur de Edna celebrates the delicate notes of Wente clone Chardonnay from cool climate vineyards of California's Central Coast near the Pacific in San Luis Obispo. Steely minerality, honeysuckle and lemon leaves fill the glass of this winery favorite. Available via their website for $27.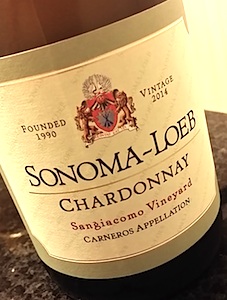 Making wine since 1990 from some of the most prized vineyards in and around Sonoma, Sonoma-Loeb specializes in Burgundian style wine, with California character. Their Sonoma-Loeb Sangiacomo Vineyard Chardonnay is very well rounded and ripe, with complexity and richness, while maintaining bright acidity. Tropical papaya, lychee and tangerine flavors fill the palate of the wine, finishing with spice, cream and toasted hazelnut. A Chardonnay that can pair with meaty dishes like a hearty pork belly or even a spice rubbed steak. $27 via their website; Pogo's carries a few of their other Chardonnay selections locally.
If a chilled glass of bubbly is your ideal on a hot summer day, a fruity Prosecco may be the perfect option for you. One consistent crowd pleaser is La Marca Prosecco, tasty on its own, add a few fresh summer berries or peach slices, but also the ideal base for your favorite brunch favorite like a Belini or Mimosa. And, available in both a traditional 750ml bottle size ($17), or individual 187ml ($6) for personalized sipping. Both widely available throughout Dallas.
Earthy and mineral intense, tasting like the soil the vines were grown in, Monte Carbonare Suavia Soave Classico DOC 100% Garganega is crisp, vibrant and clean with mouthwatering stone fruit and citrus notes, soft herbs, crushed stone and raw almonds. A perfect patio wine all summer long. Available here for $25.
Get the SideDish Newsletter
Dallas' hottest dining news, recipes, and reviews served up fresh to your inbox each week.