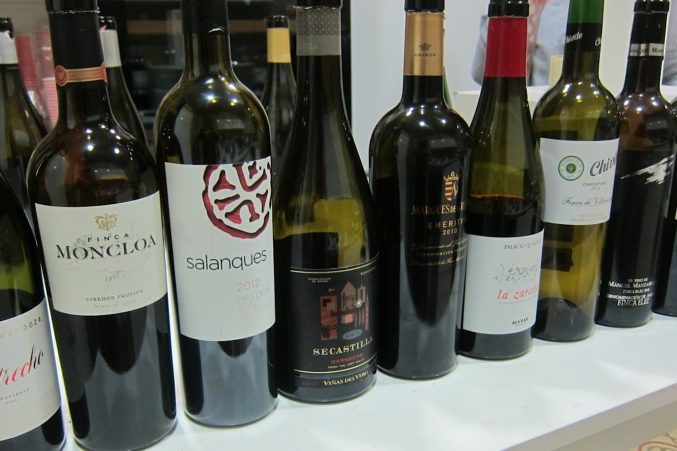 Wines from Spain can be misunderstood by many wine lovers, even though the Old World region has been producing wines for centuries and today, boasts some of the oldest vineyards still producing fruit in Europe.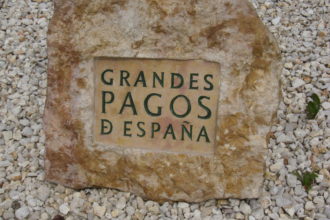 Red wines are big and bold, as sun-drenched vines of Tempranillo, or one of the many clones to the variety like Tinta de Toro and Tinto Fino, Garnacha, Carinena, Bobal and many more, deliver wine filled with ripe fruit flavors and often, gripping tannins. White wines can be fruity and juicy, but due to temperature spikes in some regions, without overnight cooling temperatures can create wines with big fruit and no acid. However, these wines can be truly delicious, especially those from a small distinguished group of growers that make up Grandes Pagos de España.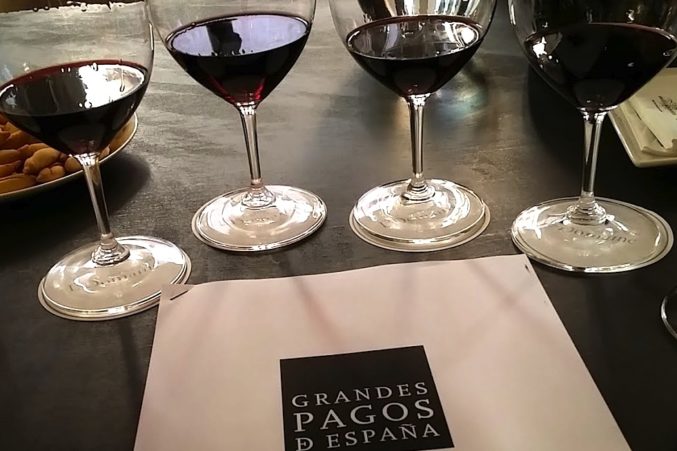 Grandes Pagos de España, or "Great Estates of Spain," is an esteemed wine-growing association that promotes the culture of estate-grown wines from exceptional estates. The wines produced are from Spaniards who truly respect their land and their vines, and who are committed to offering only the best from their vineyards. Over the years the organization has developed to currently include a membership of 28 wineries throughout the country that have reached a level of distinction for producing high quality, estate-grown wines from their respective D.O., or Denominación de Origen (Wine Appellations.)
I recently visited Spain, traveling as a guest of Grandes Pagos de España, visiting several of the regions in the north, including their wineries in the Toro D.O., Ribera del Duero D.O., Rias Baixas D.O., and Rueda D.O., seeing 100+ year old vineyards and learning about the unique soils their vines grow in.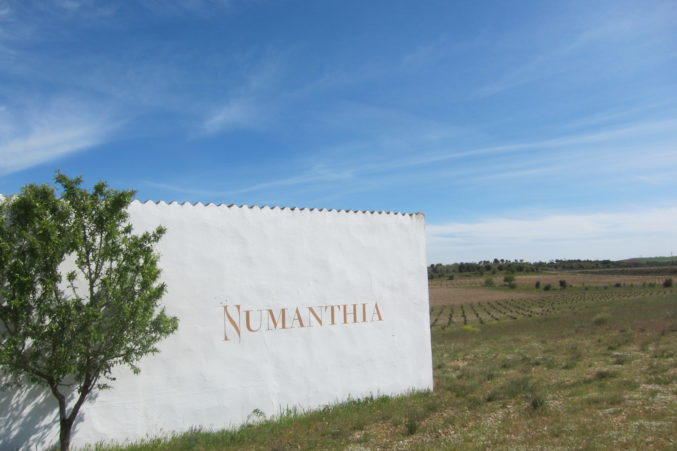 Several years ago I hosted a charity dinner that included the wines of Numanthia from the Toro D.O. region in the North. I had met with then winemaker Manuel Louzada and fell in love with the robust, earthy wines, the story and the region. I displayed pictures provided by the winery at that dinner, talking through the story of how vines can grow in dry soils filled with large rocks and stones in dessert like conditions to produce bold, powerful wines, yet with a delicate elegance. At the time, however, I hadn't seen the vineyards.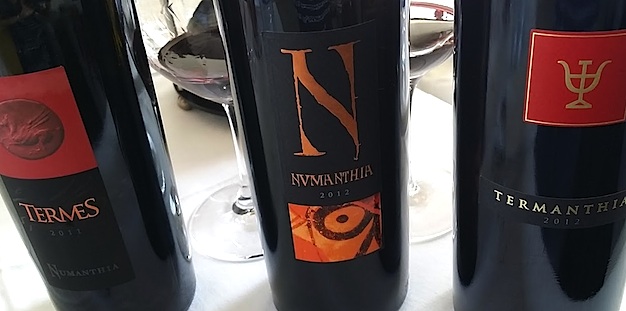 Stepping into the 100+ year old Tinta da Toro vines of Numanthia on my recent trip caused my jaw to drop and eyes to pop. Though I have traveled to various regions all over the world, and have seen beautiful, stone filled vineyards, like those made famous throughout the Rhone Valley, Portugal and parts of Washington, they did not compare to these. Rocky, rocky soils, filled with large and small stones on top of sand, on top of a bedrock of clay, these Toro vines are beautiful.
And, the grapes grown here, in the traditional bush vines without modern trellising, are small and highly concentrated. The winery and vineyards, nestled outside of the village of Peleagonzalo, that boasts a population of just around 30 people in the wintertime, in Valdefinjas, in the Province of Castile and León, caused me to wonder how before the turn of the last century someone knew this was the ideal place to plant a vineyard.
But vineyards have always been a part of the lifestyle here, as the name Numanthia dates back to the days of the Romans when villagers of the ancient village of Numanthia resisted attacks from the Roman forces in 134 BC, choosing to die instead of surrender, proving the strength and tenacity of the people of the region throughout history.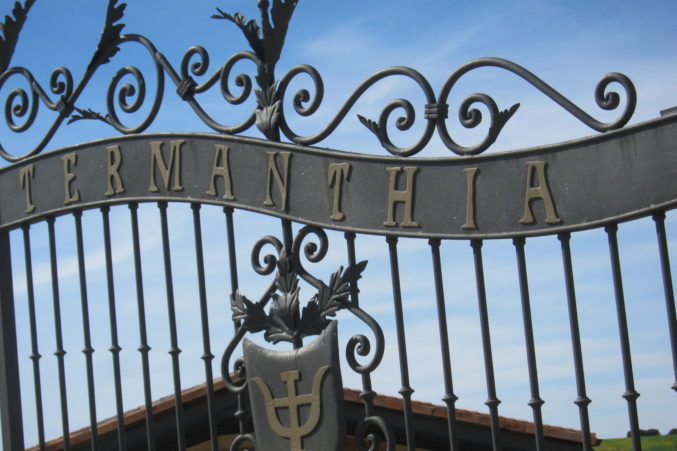 Now, these 100+ year old vines produce the premier wine for Numanthia, their Termanthia. Younger vines on the estate property, ranging 50-75 years, are used for Numanthia and the entry level wine, Termes, includes the youngest vines (around 15-30 years old) and is easily the most readily approachable upon release. However, if you have time to age the Termanthia, or even let it breath for an hour or two before enjoying, you are in for a treat as this is the ultimate expression of the best of the region. Blackberries, leather, graphite, truffle and earth that are intensely powerful, yet also elegant. The wines are meant to warm you during winter months, and pair with the beloved flavors of the region, hearty beef, lamb and pork dishes. Termes is available at Total Wine & More for $40; Numanthia is available at Sigel's for $60; Termanthia available at Pogo's for $230.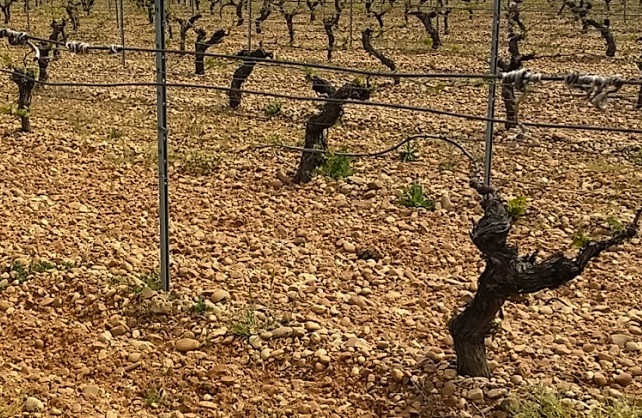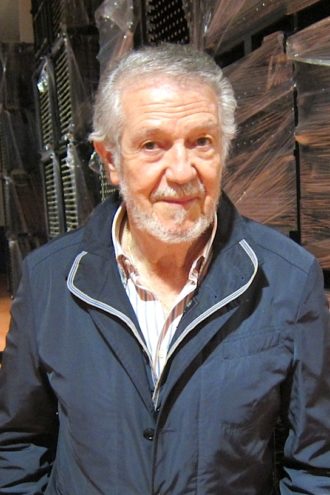 In 1978 Mariano Garcia set up his Bodega Mauro, named after his father, in Tudela de Duero, two years later the D.O. for Ribera del Duero was established and sadly the winery was just outside the boundary, on the southern edge. Garcia initially wanted be included in the D.O., as this would likely have helped the then small winery become more established both nationally and internationally, helping their marketing efforts.
The esteemed winemaker already knew what he needed to do to make a name for Bodega Mauro, he had spent the previous 30 years making highly acclaimed wines for Vega Sicilia. He knew not being an official part of the D.O. allows this stellar winery to define their own style, creating the kinds of wines he wanted to make while maintaining the highest quality standards. Garcia has spent the last almost 40 years producing some of the most well respected wines of Northern Spain with a fruit filled, powerful style that is unmistakably Spanish.
The Bodega Mauro 150+ acres of vineyards range in age from 5 to 100 years old, however their history dates back to the 1500's when the vineyards were exempt from taxes from the crown because of their superior quality. The wines tell the story of the land, with a minimalist approach, showcasing the limestone and clay filled, well draining soils and very hot summer days turning cold at night, to ensure hearty wines are kept fresh with balanced acidity and intense, earthy flavors.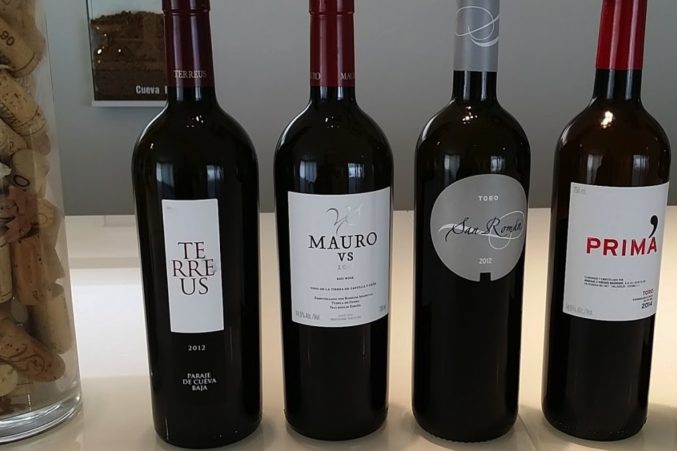 Terreus Paraje de Cueva Baja is a 100% Tempranillo aged 30 months in French and American oak for a toasty, toffee, caramel, hazelnut and black fruit filled wine with definite personality. Though not yet a part of the Grandes Pagos portfolio, the winery recently introduced Mauro Godelo to their production from fruit grown in slate, stone and sand filled, high elevation vineyards in Villafranca del Bierzo.
If you are an Albarino fan from Rias Baixas, you will be a Godelo fan. Fresh and crisp, the refreshing white is a perfect pair with grilled octopus, fresh clams and mussels, and white fish. Sadly, the Godelo is still in its production infancy, but the robust Terreus is available at Sigel's for $150.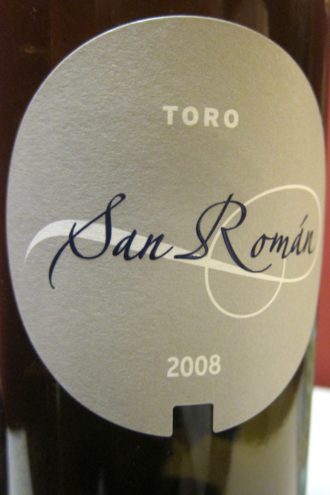 A few years ago Garcia, along with his two sons who have stepped in to take over day to day operations and winemaking, expanded their portfolio with the acquisition of Bodegas MAURODOS, producer of San Roman in the Toro region, again with the goal to produce premium quality wines. At the very first sight of the rocky, rocky 100 year old vines Garcia knew he had found his next home. With a focus on structure and complexity, Garcia rigorously controls the yields, respecting the grapes and preserving the characteristics of the terroir and the variety.
Wines are full bodied and intense, yet elegant and finessed. The first wine produced from the 240+ acres of Tinta da Toro and Garnacha vines in Toro was the 1998 San Roman, a dense, powerful, concentrated wine from the oldest vines on the property, followed by PRIMA, a lighter more approachable wine with juicy red fruit, spice and freshness. We had a chance to try both the current release 2012 San Roman and an older 2008 San Roman. The 2008 had softened just enough to showcase the earthiness, tobacco, leather and dried fruit characteristics of the wine, melding into velvety smooth tannins. $55, available here.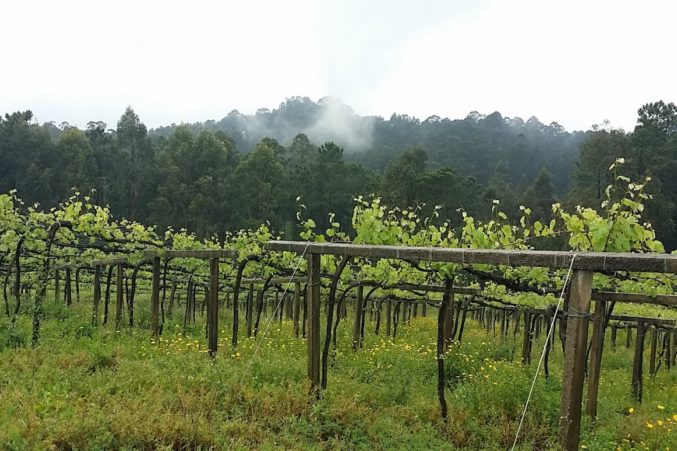 Though hot, dry, dusty, arid vineyards are often the most common sight in Spain, if you hop over to the north-western portion of Spain, near the Atlantic Ocean and Miño River, you will arrive in the cool, green, vibrant region of Rias Baixas. Located in Galicia, the region perhaps best know for the Camino de Santiago (or the English "Way of St. James" holy pilgrimage) to the shrine of the apostle St. James the Great to Santiago de Compostella, this is the home of fresh, aromatic Albarino wines paired with briny shellfish and seafood. Though the small region boasts over 45 different wineries, many led by female winemakers, the single, high quality Grandes Pagos winery is Fillaboa.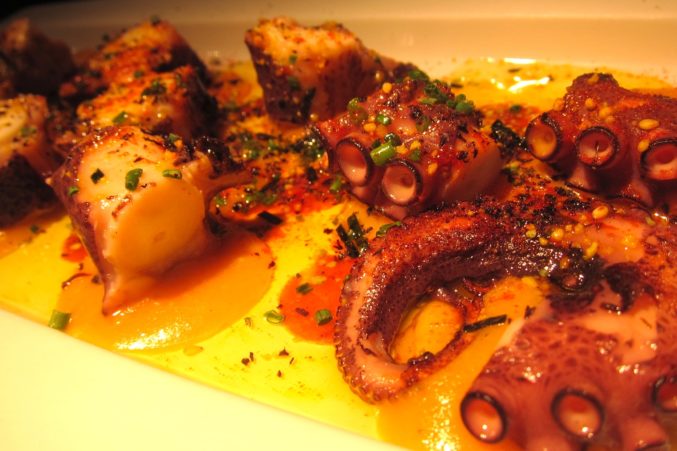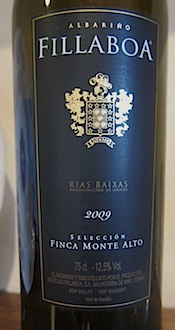 Meaning "good daughter" in Galician, Fillaboa is one of the oldest in Galicia, known for their small production Albarino wines produced from vineyards lining the southern boarder of the Tea and Miño Rivers, just over the boarder of Portugal, known for its rich, well draining soils. Owned by the Masaveu family, the wines produced are from 175 acres of estate-grown fruit, broken up into 11 vineyard blocks producing distinct, personalized wines.
Bodegas Fillaboa Albarino is smooth, luscious and refreshing, the ideal wine to quench your thirst on a summer day. Aromatic and bright, with layers of pineapple, citrus and stone fruit. $15, available at wine.com.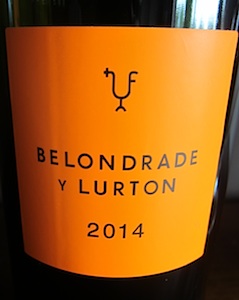 Perhaps Spain's favorite white wine, Verdejo isn't traditionally known as a white wine grape that you would age in barrel, as typically they citrus filled variety is fermented in stainless steel and bottled shortly after harvest. However, 20+ years ago Dider Belondrade changed the perception of the grape grown in rugged rock, clay and limestone filled Rueda soils.
The former Director of Communications for Air France founded the Bodegas Belondrade in 1994 with the goal to make a barrel fermented and aged white wine in Spain. Today, the organically farmed vines produce fruit that is barrel fermented on native yeasts, aged on the lees for 1 year prior to bottling, and another 6 months in bottle before release, the elegant, well-integrated, and silky white wine is complex, textured and refined, showcasing the different terroirs of the estate.
Belondrade has about 90 acres of vines spread out between 19 different vineyards which provide for different terroirs depending on the specific soils, the grapevine´s orientation and rootstocks at elevations around 2500 feet above sea level. Though the daytime temperatures in the summer can be very hot, the evenings are rather cool, allowing the grapes to retain vibrant acidity while expressing flavors of green apple, pear, lemon and a hint of pepper spice with creamy lemon curd and almond notes. Belondrade Y Lurton an incredible wine to enjoy from now on hot summer days, but also as your favorite white wine in the fall, winter or spring, as it is a great white wine for food pairing with anything from fresh seafood or white fish, to pork or poultry dishes. Available here.
In 1998, after writing about wine for years, journalist and wine writer Victor de la Serna teamed with winemaker Rafael Orozco to create Finca Sandoval. The property. Located in Manchuela not far from Madrid, was planted with old vine Syrah and Touriga Nacional vineyards, and over the years additional native varieties like Bobal, Monastrell, Garnacha have been planted to round out the robust red wines the winery is producing. The wines are created as a celebration of region, and as the vineyards and wines have developed through the years, have proven that quality and distinction is created in each wine produced from their quality soils. Their wines are made to reflect the personality of the place, with the goal to effortlessly display the character of their limestone rich vineyards and cool continental climate.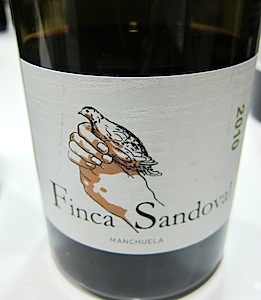 Finca Sandoval is a Manchuela D.O. wine made from a blend of Syrah, Monastrell and Bobal. Spicy, slightly smoky and earthy, the mineral intense, forest floor filled wine is ideal for pairing with grilled steak or lamb, accentuating the palate filled with pepper spice, blueberries and blackberries. It is a dense wine, with texture and complexity, but also quite approchable, even shortly after bottling
Get the SideDish Newsletter
Dallas' hottest dining news, recipes, and reviews served up fresh to your inbox each week.