I'm not going to sit here and list off all the local burgers I feel should have made Texas Monthly's 50 Greatest Burgers in Texas feature. I'm not going to scoff at Dallas-based writers Daniel Vaughn and Mike Hiller's North Texas patty choices because undermining the decisions of fellow, experienced food writers for the sake of appearing more knowledgeable is, in my opinion, a petty move.
Putting together a "best" list is no small feat. (We ate our way through hundreds of burgers last year.) The task requires days, weeks, and sometimes months of research and then when everything is finalized there's that nagging feeling, deep inside of your gut (that is probably already feeling pretty terrible thanks to the amount of burgers, barbecue, or sugary cocktails that you've consumed in the process of ranking) that you could be forgetting something or somebody. It's not easy.
That said, let me dismount my high horse for a minute and point out one very special burger that's missing from Texas Monthly's otherwise thorough list. A burger I have driven 80 miles round trip for on multiple occasions. A burger so alluring that it has literally appeared in my dreams. What is this tantalizing hunk of beef, you ask? The B&B Burger from Barley & Board in Denton.
The kitchen tosses two 4-ounce, hand-formed Certified Angus Beef patties on a griddle over some thinly sliced onions; the meat absorbs the flavor of the onions as they caramelize in the grease from the beef. The patties are flipped and topped with American cheese. The burger is smeared with house-made Thousand Island dressing, loaded up with tangy and sweet house-made bread and butter pickles, and sandwiched between a toasted, golden brown brioche bun. Heaven. On. Earth.
When I didn't see the burger on the list I reached out to Vaughn and Hiller. Here's what they had to say:
Vaughn: "I loved it, but not as much as my other choices."
Hiller: "Same here. We chose eight but we could have easily chosen 28."
OK. Fair enough, I guess. But before you start planning your weekend burger adventures to eat your way through the list, take your copy of Texas Monthly in one hand and a Sharpie in the other and scribble Barley & Board into the margins.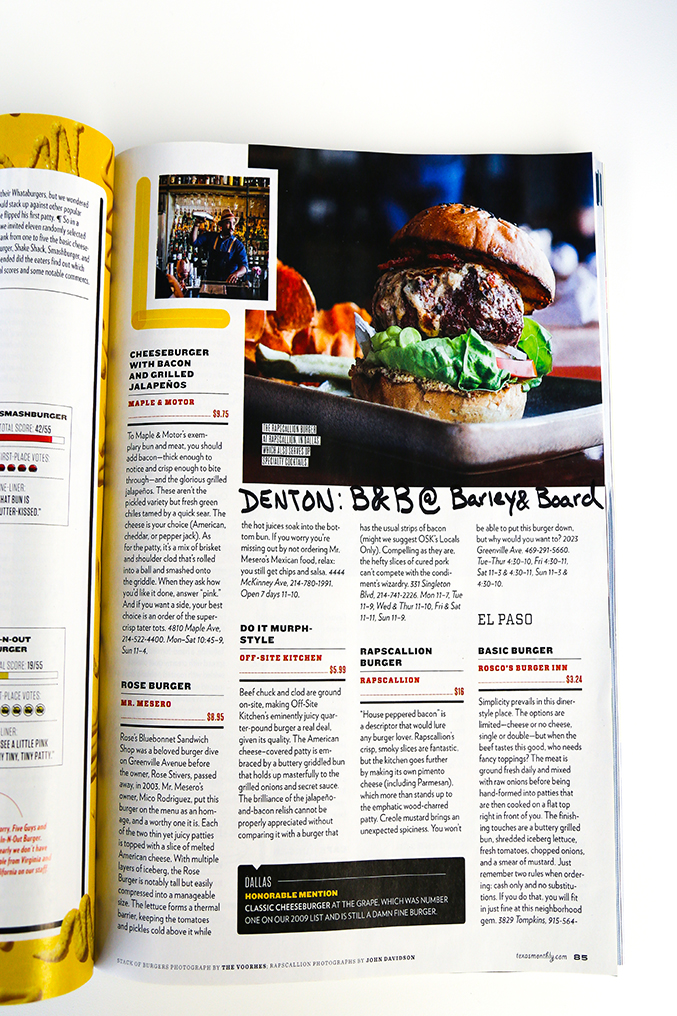 And while you're at it, pick up the August issue of D Magazine, which happens to be the Best of Big D issue, and read more about what makes this burger (and everything else) the best in Dallas.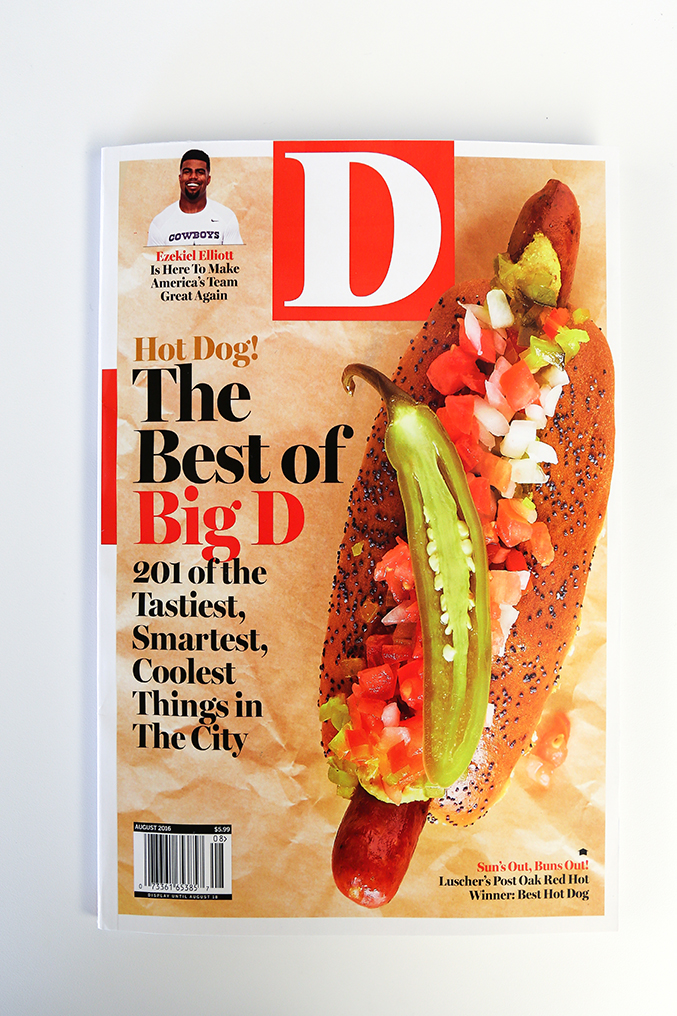 Get the SideDish Newsletter
Dallas' hottest dining news, recipes, and reviews served up fresh to your inbox each week.