Mention the Silk Road and my head immediately fills with visions of Turkic and Mongol horsemen sweeping across the steppes of Central Asia, leaving in their wake, among other things, great swaths of cuisines that share kabobs and dumplings and roasted vegetable dips, all served with red spiced tomato sauces and minted yogurt sauces that mingle spicy and cool. We have so little of this cuisine in Dallas, it's always nice to see one more.
Laili's owners Afifa Nayeb and Nevin Kaya, from Kabul and Istanbul, respectively, add a background in pastry. They met in pastry school before working together on their new Farmers Market venture. Which is why you'll find a savory puff pastry tart with tomatoes, feta, and pesto, the puff pastry handmade. And why, among the things I rarely leave without, are not just the smoky eggplant dip, but also the crème brulee, and a square of perfectly wonderful baklava.
You can follow this up with Turkish-style coffee, which comes in a lovely Iznik tile-patterned cup, its silt layer an inch and a half thick, as traditional as any coffee you might find in Istanbul.
The kabobs at Laili aren't glistening with fat rendered by fire. Everything on the menu—from the kabob wraps to the bolani (stuffed breads) to the weekend French toast—is grilled or baked in the high-tech oven that is the kitchen's primary tool. This is partly because of their penchant towards the health-conscious and eco-friendly (the oven is energy-efficient, part of a "green" kitchen concept), and in part due to the location's space constraints.
The vegetarian version of mantoo, steamed dumplings usually filled with lamb or beef (there's a beef version here, too) cooked with onion and spices like paprika, turmeric, and coriander, has a tofu-spinach filling wrapped in bright-green spinach dough, with tomato sauce and Nayeb's signature cilantro sauce giving the plate lots of bright, garlicky, tangy flavor.
The yogurt sauce's cooling effect was welcome the day my friend ordered a chicken kabob that was too salty, the seasoning seeping into the football-shaped pocket of bread, like pita in flavor, but with a bit more loft. (For this, they outsource to a local bakery.)
But I'm eager to return for things like the Turkish version of dolma, red bell peppers stuffed with rice studded with slivered almonds and pine nuts, the rice a family recipe. It comes on a plate with pretty swishes of red puree and yogurt sauce, a side of puffy Afghani bread, and a salad of baby greens.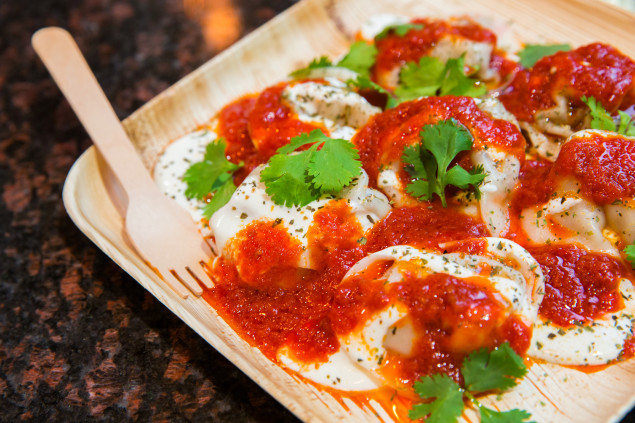 Get the SideDish Newsletter
Dallas' hottest dining news, recipes, and reviews served up fresh to your inbox each week.