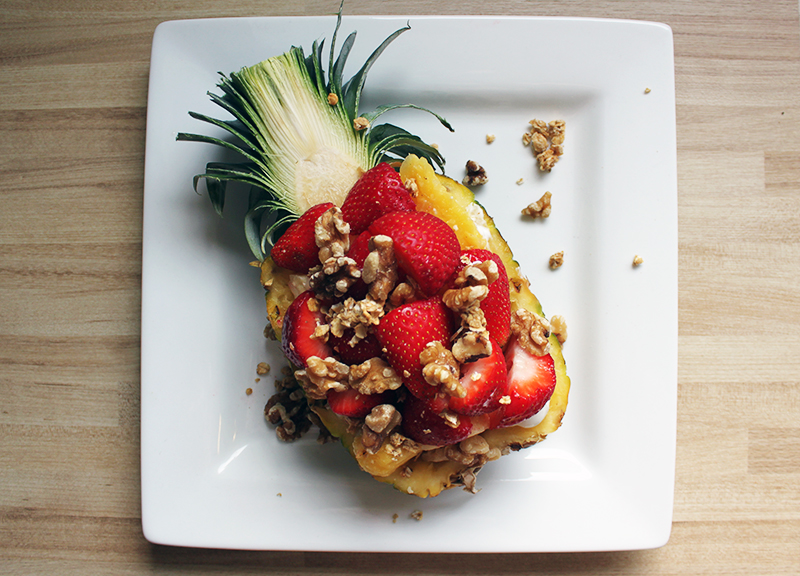 Dish Pirate: Yolk's South Beach
Want to enjoy the best that Dallas restaurants have to offer without ever leaving your home?
Want to enjoy the best that Dallas restaurants have to offer without ever leaving your home? Our new recurring feature, Dish Pirate, will help you bring the city's robust dining scene to your kitchen.
We tend to eat healthier as summer approaches (or at least I do). Brunch is one of those meals that tends to be laden with fatty foods like biscuits and gravy or chicken and waffles. Yolk, located in One Arts Plaza in Dallas and Sundance Square in Fort Worth, definitely has its share of the heavy stuff but they also have some healthy options. One dish that stands out is their South Beach. The meal is so beautifully prepared that it is almost to hard to eat, and it's so healthy that you want dig in as soon as the plate hits the table.
Inspired by owner and Chicago native, Taki Kastanis, the South Beach is half of a fresh pineapple hollowed out and then filled with house-made Greek yogurt, pineapple chunks, fresh strawberries, house-made granola and chopped walnuts. South Beach may look complicated and you could quite possibly be intimated by cutting an entire pineapple in half but this dish is absolutely doable in your own kitchen.
Dish Pirate: Yolk's South Beach
Inspired by founder Taki Kastanis
Recipe (Serves 2)
Ingredients:
1 whole pineapple
1 cup fresh strawberries
1 cup Greek yogurt
1 cup granola
1 cup walnuts
Preparation:
1. Cut pineapple in half. Lay whole pineapple on a large cutting board with stalk facing against you. Take a large knife, insert in the middle and then push down. Cut down to the end facing you. Take knife out and turn pineapple so that the stalk is now towards you. Reinsert knife where your previous cut started and finish cutting through to the stalk. The stalk is the toughest part so be careful and take your time here.
2. Open your pineapple and finish cutting any areas that remain attached.
3. Take a small knife and hollow out both sides of the pineapple. Leave about 1/2 inch of pineapple around the edges. Set aside.
4. Cut the extracted pineapple into chunks.
5. Wash strawberries, cut off stems and cut in half.
6. To assemble your dish spoon half cup Greek yogurt into one hollowed pineapple. Top with pineapple chunks, strawberries, granola and walnuts. Repeat with other half.
This is the perfect dish for a summer brunch and one that is sure to impress your dining companions.