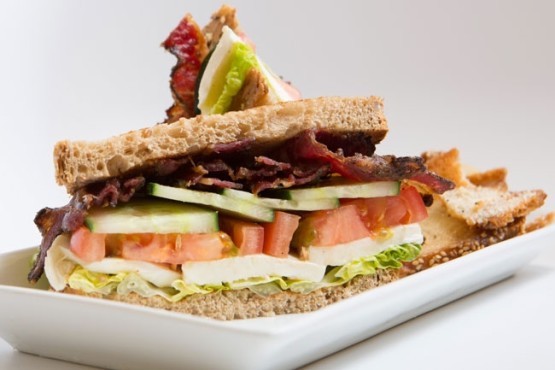 Celebrate National Beef Month With Bold, Beefy Schmacon™
There is a thing called Schmacon™. This Saturday from 11 a.m. to 3 p.m. at five North Texas Central Market stores, you can put it in your mouth hole.
There is a thing called Schmacon™. This Saturday from 11 a.m. to 3 p.m. at five North Texas Central Market stores, you can put it in your mouth hole (Fort Worth, Coit, Lovers, Preston, Southlake). What is Schmacon™? Well, have a look at the press release, which reads like it was written by the Onion staff. [My remarks are in brackets.]
(CHICAGO) — May is National Beef Month and people across the U.S. are looking for fun new ways to use the versatile meat. [Yes, I am one of those people! Beef is truly versatile. I've been using it for years as a flooring material. But I'm looking for a fun, new way to use it. Beef pants, maybe?]Schmacon™, "Beef's Answer to Bacon™", is a delicious way to incorporate beef into any meal of the day. [I'm intrigued. I also wonder if beef has an answer to hummus. And what about the conundrum posed by Donald Trump to the Republican Party? What does beef have to say about that?] Schmacon™ is all-natural, whole muscle, smoked and uncured beef slices. It provides adventurous eaters, beef lovers or those who don't eat pork an easy to prepare, delicious bacon alternative. [Would smokers be classified as "adventurous breathers"?]
"Schmacon is just one of the latest ways we are trying to create demand for beef," says Steve Wald, Executive Director, Innovation and Culinary, National Cattlemen's Beef Association. [Steve does good work over in Innovation and Culinary, in terms of coming up with new ways to create beef demand.] "It is exciting, innovative and most of all it's delicious. We are happy it is becoming more widely available so more people can try it." [So pleased they mentioned its deliciousness. Excitement and innovation are necessary elements in creating heightened beef demand — but they are not sufficient. Deliciousness. Most of all.]
Not only is beef a tasty, hearty protein, Schmacon™ also has less calories, fat and sodium and more protein than most pork bacons. [Eff pork bacon!] With a crispy finish that rivals that of traditional bacon and a unique, smoky flavor, Schmacon™ is perfect with any meal of the day. [How about every meal of the day?] Below are three beefy recipes for National Beef Month. For more recipes, please visit Schmacon™'s website.
"Schmacon is a fun take on a classic food favorite and goes well with so many dishes," says Howard Bender, inventor of Schmacon™. [Howard is a liar.] "We encourage our fans to try using Schmacon in adventurous new ways this May to celebrate National Beef Month and are excited to see what they come up with!" [What happened to the ™? Sloppy.]
Schmacon™ is available at select grocers and retailers across the country, including Jewel-Osco, Fresh Thyme Farmer's Markets andCentral Market locations as well as local independent grocers. Please visit Schmacon's website for a full list of retail locations.
ABOUT SCHMACON™
Schmacon™ is a smoked, uniquely seasoned, crispy whole muscle beef product. It is easy to prepare, cooks in half the time of raw pork bacon and has less calories, fat and sodium. Schmacon™ can be used anywhere traditional bacon can be used — as a breakfast protein, in side dishes and sandwiches, or as a topping. For more information, please visitSchmacon.com.
[Bacon, are you going to put up with this crap?]