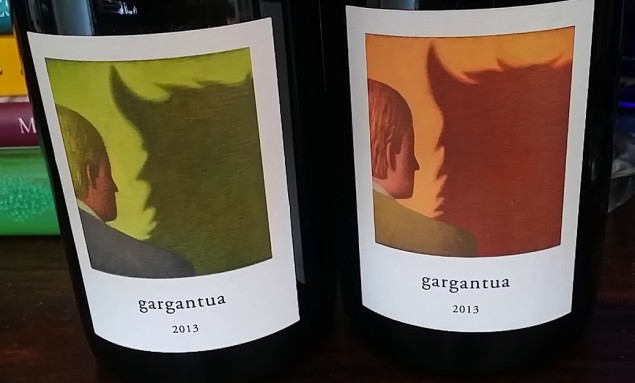 Syrah is one of the most beautiful varieties in the world, but is often misunderstood. The characteristics, like any variety, are greatly influenced by  everything from the soil, to the slope and elevation of the land, temperatures, and amount of sunshine. Flavors can range from smoky, meaty, and bacon-fat-filled to very fruity and juicy. Also, there are a lot of bad wines out there with the Syrah name on their label. Here are a few good ones. (Some wines were sent for editorial consideration.)
Since it is Rose season one of the key varieties in many Rose wines, especially those from France, is Syrah, often blended with Cinsault, Grenache and other Rhone varieties. And, when you think of Rose you may think of Provence as the region is celebrated for their stellar Rose wines. Maison Saint Aix blends their refreshing "AIX" Rose from vineyards in the AOP Coteaux d'Pix-en-Provence subregion of Provence, near Aix-en-Provence, a vibrant city known for both their stellar wines, and an inviting lifestyle. The actual domain was a former truffle orchard, founded in the 1800's, and was converted into a vineyard in the early 1900's. $19 at Pogo's.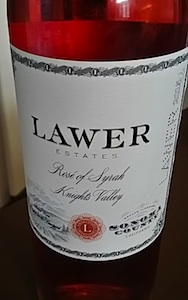 From Calistoga, Napa, CA family owned Lawer Estates grows vines with a focus on sustainability and small, high quality production with a focus on the real things that matter, community, family and preserving the land, a key focus of founder Betsy Lawer. Growing up in Alaska Betsy learned the importance of sustainability, as well as working smart. The daughter of an Alaskan banker, Betsy Lawer started the winery in 2002 with her husband David. Their Lawer Rose of Syrah is surprisingly light for such a rich 100% Syrah Rose wine. Filled with ripe apple, red cherry and berry notes the wine is a great pairing for grilled salmon or shellfish. $22 available via their website.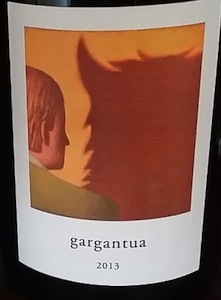 With a reputation for making some of the best Pinot Noir in Oregon, Josh Bergstrom of Bergstrom Wines set out to bring the same recognition and respect to the Syrah variety, creating a new wine and brand with fruit from both Oregon and California. His gargantua Syrah was created to prove the quality of this beautiful varietal. The wines, with the gargantua name left in lowercase intentionally, are created identically, starting with hand-picking the fruit, then fermenting in a traditional whole cluster style and aging in large format French oak demi-muids and ovals for two years, yet fruit from California is very different from that of Oregon, as Bergstrom has proved with two very different wines. And, Bergstrom believes these bold wines will easily last in your cellar until 2026. However, if enjoying now you are in for a treat (though take a bit of time to decant it for an hour or two now before enjoying.) The gargantua California Syrah is from fruit grown in the Santa Maria AVA at the Bien Nacido Vineyard. I have had quiet a few Pinot Noir wines from this area, and adore them. The Syrah follows suit, showing black cherry, pepper and savory balsamic and dried herb notes. The gargantua Oregon Syrah, from vineyards in the Eola-Amity Hills AVA in Willamette and the Rouge Valley in Southern Oregon, expresses more of the aromas and flavors of France, where the fresh growing herbs de Provence and wild raspberry and blackberry notes take root. Both showcase the regions, and variety, and are available in a 6 or 12 pack case by request via their website.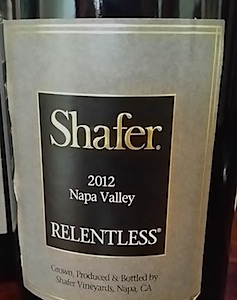 Though they hang their well regarded hat on Cabernet, like their famed Hillside Select, Shafer Vineyards masterfully crafts their stellar Shafer Relentless Syrah, proving the elegance and balance of this variety, while also celebrating it's unique flavors and qualities. Black fruit, smoked meat and toasted spice fill the palate of this expressive wine that is aged for 30 months in new French oak barrels. This wine will easily aged for 10-15 years, or decant it for about an hour or so before enjoying now. $100, available at Pogo's.
In 2012 Paraduxx, sister winery to Duckhorn in Napa Valley, crafted a special blend of 86% Syrah with 14% Grenache in a nod to Rhone and the gorgeous wines of Chateauneuf-du-Pape, but very much from Napa Valley, with fruit coming from their Stout Vineyard on Howell Mountain. The wine, influenced by the high elevations of the vineyard, is filled with ripe black and blue berry and plum notes with white pepper, spice and the masculine earthiness of the Mountain's volcanic soils. $55, available via their website.
The Central Coast of California is perfect for growing Syrah as warm days allow fruit to fully ripen, yet cool breezes off the Pacific allow acidity and freshness to remain in the fruit throughout the season. One of Santa Barbara County's most iconic and beloved wineries, Qupe, has hung their hat on producing great Syrah for years, as the winery was one of the prominent ones in the 1980's and 1990's helping establish the region as an AVA. From Bien Nacido Vineyard in Santa Maria Valley and Sawyer Lindquist Vineyard in Edna Valley Qupe Santa Barbara County Syrah leaps from the glass with blueberry, black plum and black pepper notes, melding with woody herbs and floral notes. $30 via their website. Their Central Coast Syrah is also available for $20 at Pogo's. And, though we root for the Texas Ranger's in this house, we are also huge Dallas native, Clayton Kershaw fans. If you are too and need a wine to enjoy when the Dodger's aren't playing the Ranger's, Qupe makes a Dodger's Club Series Santa Barbara Syrah for $24, available on their website.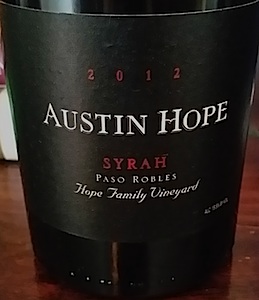 Austin Hope has had a passion for the Rhone varieties for much of his life, even before he was making wines from their Paso Robles vineyards. He and his father were long time vintners in the region, growing fruit for producers like the Wagoner family (owners of Caymus, Conundrum and others.) Hope began his Austin Hope Wines with a focus on these Rhone varieties with the goal to celebrate this much misunderstood variety, and create a wine you just want to sip and enjoy with friends over a great meal. Though much attention is given to his sister brands, Liberty School, Treana and Troublemaker, Austin Hope wines are the true artisan products of the winery. Austin Hope Syrah blends four Rhone Syrah clones, hand-picked from sustainable grown Paso Robles fruit to create a leather, black fruit and smoky spice filled wine with great texture and weight and a long finish. $55, available via their website.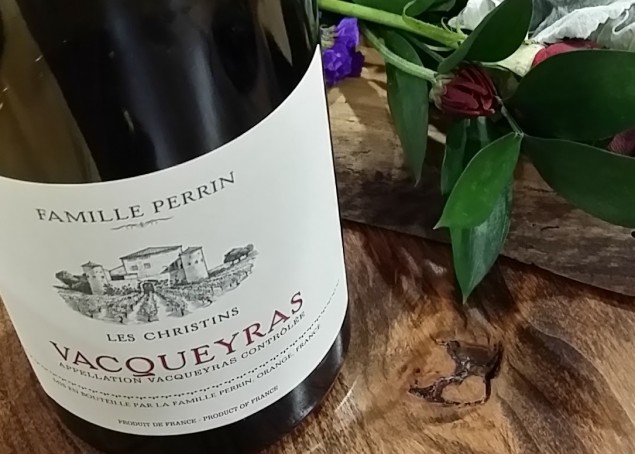 Blends are a requirement in the Rhone, happily giving winemakers the ability to create a rather perfect wine. Famille Perrin Vacqueyras "Les Christins" from the Rhone Vacqueyras AOC blends predominantly Grenache with Syrah for a black licorice, dusty earth, dark chocolate and black fruit filled wine ideal for pairing with grilled ribeye steaks or braised meats. This pretty wine is a favorite on the wine list at Parigi.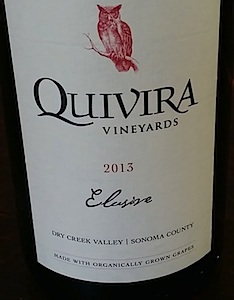 Textured and balanced, Quivera blends Syrah, Grenache and Mourvedre for their Dry Creek Valley, Sonoma Coast red blend "Elusive." Concentrated and distinct, the wine is filled with floral and spice notes, melding with black and red berry, smoked spice and toast notes, with a luscious, juicy finish. $36 via their website.
Texas gets into the GSM blend mix quite a bit, as red and white Rhone varieties both do well in the state. Pedernales GSM offers a layered mix of Grenache, Mourvedre and Syrah blending the best of black and red fruit flavors with chocolate, spice and pepper notes. $25 available at Pogo's.
From the Adelaida AVA within Paso Robles Adelaida Cellars celebrates Rhone varieties, producing family grown wines from mountainous elevations ranging from 1400-2000 feet above sea level, about 14 miles from the Pacific Coast. With hot days, cool nights, varying elevations and soils filled with chalk and limestone, earthy, fresh and layered wines are produced. Adelaida Reserve Syrah is filled with toasted caramel, woody rosemary and sage herbs, and crushed stone wrapped around ripe blackberry and raspberry. Distinct and delicious, $60 available via their website. Slightly more subtle, yet equally as impressive, the Adelaida Version Red Reserve, blending Syrah, black fruit filled Mourvedre and juicy Grenache is slightly brighter, with more red fruit and spice than the straight Syrah, perfect for barbecue feasts on the patio. $50, available via their website.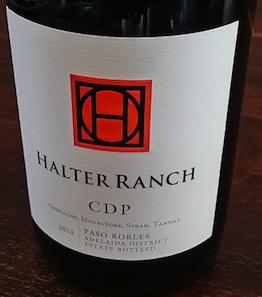 Also in the Adelaida district of Paso Robles the Halter Ranch Vineyards adds an unusual and distinct addition to their Syrah/Grenache/Mourvedre blend, Tannat. The high tannin, and high acid red adds that extra pop of texture, freshness, weight and flavor to their Halter Ranch CDP (Côtes de Paso) Red Blend, available for $32 via their website.
Though there is much debate about the lineage of Syrah and Shiraz, essentially they do originate from the same place, with Australia celebrating the later.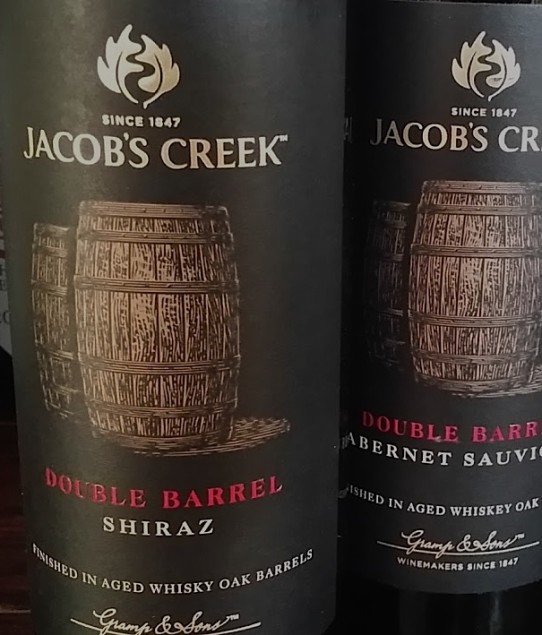 I was a part of a fascinating web-tasting a few weeks ago with Jacob's Creek Winery, one of Australia's leading producers with roots dating back to the 1800's and formally started in 1976. They recently launched a project that was 2 years in the making, a Double Barrel Aged Shiraz and Cabernet Sauvignon. The Shiraz, first aged in traditionally toasted oak barrels was finished in Scotch whisky barrels. Of course, we know Scotch is aged in old Sherry casks, but to have a wine aged in Scotch barrels is a new concept, designed originally by the winery as a test to see the affect the oak and the aging would have on the wine. The result, similar overall flavor profiles, filled with black licorice, black fruit, toasted spice and dried fig, orange and plum fruit, however an overall softer, more appealing palate with a smooth and balanced finish. The limited release wine is available via wine.com for $25.
Get the SideDish Newsletter
Dallas' hottest dining news, recipes, and reviews served up fresh to your inbox each week.