"Be forewarned," I was told, "it will make you deeply hungry."
This was in reference to the new memoir by Padma Lakshmi, Love, Loss, and What We Ate, out since March.
Last week, I attended a lecture the former supermodel, Top Chef host, and cookbook author gave as part of the Dallas Museum of Art's Arts and Letters Live series. Since then, as the above suggests, I've been thinking about papadums, kumquats, and women in the industry.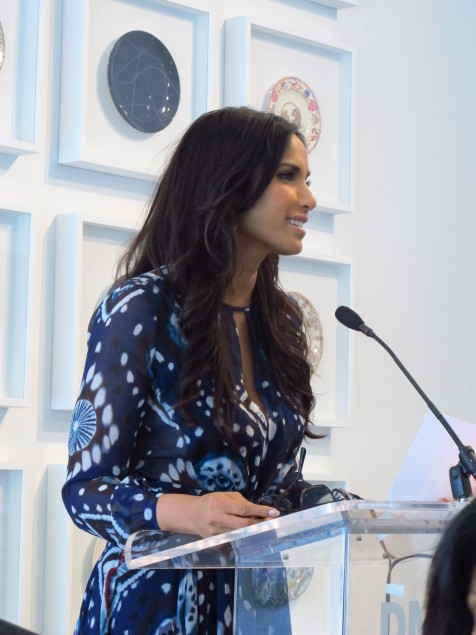 The first because of the dinner that preceded the talk, in which crisp papadums that accompanied a salad reminded me of the supremely addicting, supernaturally upstaging power of these paper-thin savory wafers, more delicate and addictive than any chips and salsa, key players in the vast pantheon of Indian snacks. (If you haven't had them recently or at all, it's a situation worth remedying. Those with favorite spots for papadum, weigh in.) The kumquat-ginger chutney that accompanied them is one of six in Lakshmi's memoir, and I dearly wanted to drop everything and make it this weekend, hoping I might catch the last of the season.
Lakshmi's book begins with a rain of kumquats and includes scenes with a fabulous narrative grip, like the passage she read in which, as a child, she creeps out of her grandparents' house in the midday heat of Madras and scampers across a scorching stretch of road to the All-In-One to buy ice cream for her grandfather, the same grandfather she later learns is severely diabetic. Like much in the memoir—and the talk—the scene is full of a sweetness that is also bittersweet.
Lakshmi (not a trained chef but someone whose life has been steeped with food) described the hierarchy in her grandmother's kitchen, the way one graduated from peeling vegetables or shucking peas to using a knife, then lighting the stove, then making dosas, and finally learning the secret of the house curry powder, the passages mirrored by the wearing of no longer children's clothes but half saris, then full saris. So that cooking, she said, was always associated with femininity. And proving oneself. Statements I've pondered since then.
I remember seeing Lakshmi during the first seasons of Top Chef and thinking here was a woman, her seven-inch scar prominent on her arm, who was holding her own in a realm dominated by men. I was certainly not the only one. The conversation in Horchow Auditorium was facilitated by Meghana Moya, herself a young and enterprising founder of a Dallas-based spice subscription business, Spice Madam. Moya made no secret of the fact that as a woman born in Kerala, India and raised in Bahrain, she has looked up to Lakshmi as a role model. I'm reminded of how powerful such role models can be.
There are many people currently making the Dallas dining scene pulse. If I think of women, there is Misti Norris, blazing a trail at Small Brewpub, in the notoriously male world of butchering and charcuterie, no less, daring anyone to say girls can't. There is Angela Hernandez, the incredibly promising new chef at Top Knot. And Danyele McPherson at Remedy and Andrea Shackelford at Harvest in McKinney, both on my list of best new restaurants for last year, both, like Norris, pushing Dallas' dining scene forward. And, I hope, being role models for others.
Get the SideDish Newsletter
Dallas' hottest dining news, recipes, and reviews served up fresh to your inbox each week.