My first assignment for D Magazine that was located outside of Dallas proper came in 2014 by way of an establishment called Grace. To my delight, I was introduced that evening to a restaurant that rivaled the best I had experienced in New York City, San Francisco, Los Angeles, Chicago, and Miami. I recall Executive Chef Blaine Staniford being friendly, yet unapologetically progressive in a seemingly conservative town. And you will not find a more welcoming host than owner Adam Jones. From the fare, the service, and the aesthetics — an elegant combination of glass, steel and marble — Grace has consistently fired on all cylinders on every subsequent visit.
I was recently invited back for a gratis sampling of the spring menu, which only served to reinforce my opinion that Grace remains one of the finest dining experiences in Dallas and Fort Worth. The sampling also demonstrated that Chef Staniford continues to flex his creative culinary muscles.
As a starter, the fresh sourdough is paired with handmade burrata, cheese rind butter, radish-top salsa verde and petite chopped radishes from Tassoine Farms in Stephenville, Texas. The butter's preparation style is quite inventive, as various types of cheese rinds are soaked in heavy cream and left to sit for a couple of days. The mixture is then blended and churned, with the curds being separated from the whey. The resultant product makes for the most delicate and flavorful cheese rind butter in existence.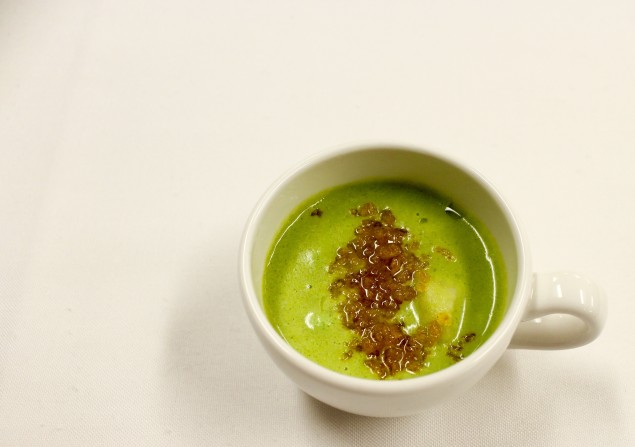 Progress then to spring pea soup. Staniford shells English peas and makes a stock that is blended with cream, butter and ricotta cheese. Texture and flavor are provided via whole fava beans, potato gnocchi and individual peas. Just prior to serving, the soup is finished with a chorizo-infused fried panko crust which acts as a savory iteration of caramelized sugar atop crème brulee.
For those disposed to enjoying a mid-course cocktail, I would suggest the "Bee's Knees" featuring Bar Hill gin, jalapeño-infused honey, fresh lemon juice and egg whites. Another excellent option is the "Summer in Italy", a creative play on the classic Negroni using Hendrick's, Aperol, grapefruit juice and a half-rim of Grace's proprietary cayenne salt.
The winter season of heavy coats and hearty meals having passed, Grace embraces lighter dishes consisting predominantly of fish and pasta, which pair nicely with a sauvignon blanc, Muscadet or White Burgundy. One such dish is the King Salmon crudo, which is cold smoked over hickory at approximately ninety-five degrees, a process that seals in flavor but leaves the salmon rare with a buttery texture and pink hue. The fish itself is seasoned with fleur de sel and Aleppo pepper; a Middle Eastern spice that provides a bit of heat. A sunchoke puree provides the base for the dish, garnished with smoked trout roe, shaved cucumber, fried quinoa and raw chickpeas. While a bit heavier, another recommendation are the sweet prawns that are poached in shrimp-stock infused butter and deglazed with vermouth. Charred romaine provides a crispy and smoky texture. The dish is topped off with Texas grapefruit completing an umami experience that hits multiple flavor profiles simultaneously.
Spring entrees with not disappoint the fish enthusiasts: the Idaho Ruby Red Brook Trout is poached in butter and served atop a butter-cream blend with rock shrimp, tips of baby white asparagus, savoy cabbage, saffron poached Yukon potatoes and a dill crème fraiche; and a
steamed black bass filet from Maine served as a play on pho with glass noodles, fermented chili oil, and a ginger-infused broth. I recommend selecting one or the other for sharing.
For those more compelled by chicken, pork and beef, Grace continues to satisfy. Chef Staniford offers an intensely flavorful bird from Windy Meadows Farm. The leg and thigh are completely de-boned, and an Italian-style chicken sausage is created which is first rendered in its own fat and then flash fried. The breast is skinned and then poached, while the dish is elegantly plated on an English pea puree with a mushroom cream sauce with fresh whole morels.
For those still clinging to the hearty comforts of colder months, the pastrami beef short rib will not disappoint. The ample beef rib is brined for three days, smoked over hickory, and then braised for over twenty-four hours. The feature is served over a rye berry risotto with smoked gouda, cider braised cabbage and Thousand Island dressing.
For dessert, choose between the lemon meringue pie and the chocolate hazelnut tart. The former has a cashew crust, Italian meringue, a macerated blackberry puree and candied lemon zest. The latter has a coco-powder crumble, an avocado mouse (for texture), house made marshmallows, huckleberries and chocolate ice cream.
Without question, the culinary environment in Fort Worth has evolved dramatically since I first entered the city limits over two years ago. That said, I have yet to encounter a restaurant that displays as much class, creativity, and consistency as that found at Grace.
Get the SideDish Newsletter
Dallas' hottest dining news, recipes, and reviews served up fresh to your inbox each week.