I've long awaited the arrival in theaters of City of Gold, Laura Gabbert's documentary about LA Times dining critic Jonathan Gold, who began his career as a classical music critic and went on to become the first to win a Pulitzer Prize for food writing.
There are many reasons to see the film, which opened at the Landmark Magnolia on Friday.
There are the cityscapes of Los Angeles, the long shots bathed in that very particular tender sunset gold.
There is the food, glimpses of Ethiopian stews and Korean grilled meats and gorgeous, glistening moles coming out of taco trucks and hole-in-the-wall eateries Gold became famous for reviewing, one of the first critics to bring his curious, democratizing eye to a class of establishments, often overlooked, that in both his mind and writing figure as not only relevant, but the beating heart of his city—far more, ultimately, than places with flashier names, greater cachet.
The film is framed around the notion that Gold, more than merely a food critic, is a cultural anthropologist, and that that is what lends particular power to words that have a reach beyond the plate, beyond the page. ("There's something about food that makes it a great prism for looking at all kinds of things," he says over the phone. That notion is everywhere evident in the film.)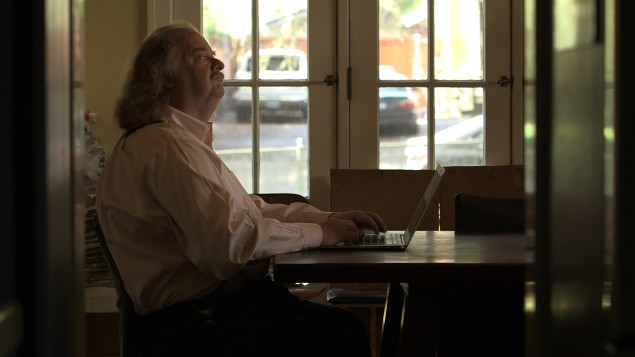 Gold is an expert on his city. He can drive down a stretch of mini-mall and tell you why each place is interesting. The film mentions his Pico Boulevard project, a period in his early career before he became a food writer, when he was just a curious Angelino who made his way, restaurant by restaurant, down one of LA's longest boulevards, taking in encyclopedically the city's kaleidoscope of cuisines, forming both his palate and sense of place. (What street in Dallas would I pick for such a project, I've often wondered. What street would you?)
He is a singularly compelling character to follow, this unlikely guide with a leonine mane and a way of surprising you with the most beautifully articulated impromptu insights that stay with you long after the film. The movie is also beautifully edited to incorporate swathes of his reviews in voice-over. The layering of text and image highlights the way his reviews paint word-pictures, enticing, palpable.
"I love physical description," he said over the phone. "I love the idea of knowing where you are in a room, in a physical space, in a city." Which is why it doesn't matter if you know LA. His descriptions are marvelous either way.
So there is the writing, and if you don't read his reviews regularly, the film may make you want to. But perhaps most of all, City of Gold is a love letter to a city, a glimpse of LA through a lens that isn't the one we get via the usual celluloid avenues. It's not just about the food; as any food critic will tell you, it never is. Through Gold's eyes, you see what it means to love a city. That is what I leave feeling. I also leave reminded of how much our city—young (in city years), much stereotyped, criss-crossed with freeways, laced with enclaves of culture—is in many ways a sister city to his.
So go see City of Gold. And then to out and love this city of ours—eat of its Korean and Thai and Salvadoran treasures, eat of its barbecue.
Get the SideDish Newsletter
Dallas' hottest dining news, recipes, and reviews served up fresh to your inbox each week.