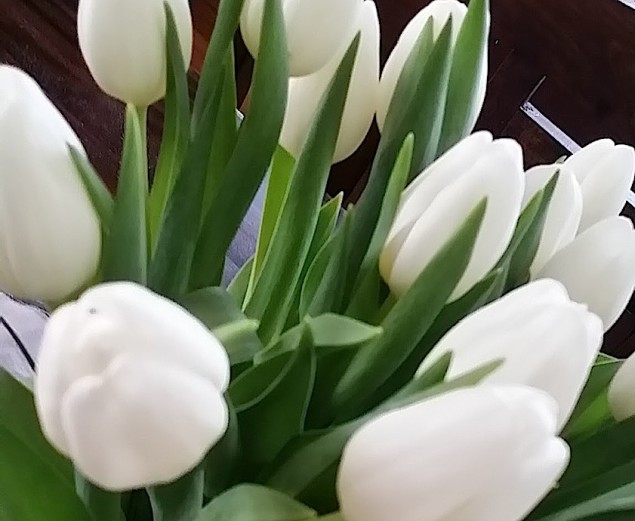 Some people might say that Christmas is "the most wonderful time of the year," but for me, it is spring. The beauty of the season includes blooming trees and fragrant flowers, birds nests filled with baby blue eggs, and perhaps the best part of all, the the new Rosé wine release.
Traditionally, Rosé is meant to be enjoyed in its youth, within the year of its release. The wines are often bottled shortly after their fermentation, which is predominantly done in stainless steel, keeping aromatic floral and fruit notes in tact and freshness high. With that, each spring signals the new release from the previous harvest. Here are a few 2015 vintage wines to keep your eye out for this season. (A few selections were sent for editorial consideration.)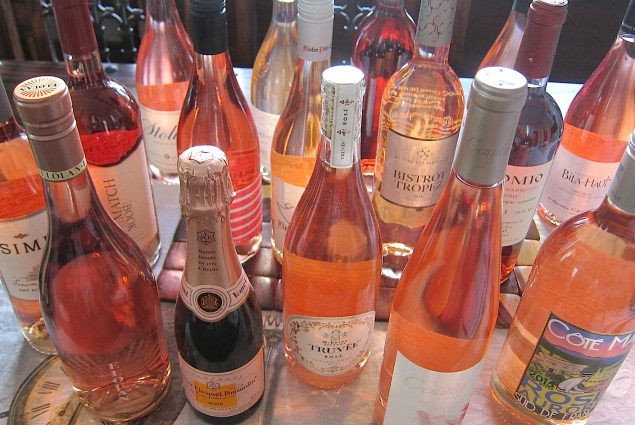 The fresh, very dry, blushing pink wines of Provence leap to the front of the mind when the topic of Rosé comes up. The region is well known for the wine, of which 85% of the Rosé made in Provence stays in Provence, sold directly out of tasting rooms to tourists visiting the region seeking sunshine, sea breezes and celebrity sightings.
Produced from a blend of Rhone varieties including Cinsault, Grenache, Syrah and sometimes Mourvedre, the wines are filled with soft herbal, wild flower, orange blossom and stone fruit notes, the wines are often as beautiful as the place they are from. A few favorites include Domaine Ott ($50,) and their entry level Les Domaniers ($20,) Miraval ($25) and Chateau de Berne Impatience ($20), each with their custom designed perfume like bottles, that are as pretty to look at as they are delicious to enjoy. Sister to Chateau de Berne, and a part of Les Vignobles de Berne, Chateau des Bertrands was a former hunting lodge that holds over 200 acres of carefully managed vineyards, producing stellar Rosé, Rolle (France's Vermentino) and red wines with a Mediterranean influence from their close proximity to the sea. Their Bistrot Tropez Cotes de Provence blends 60% Cinsault with 40% Grenache for an inviting wine filled with mandarin, golden peach and strawberry notes. $15, available at Central Market stores.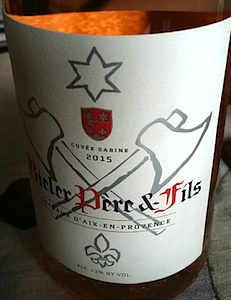 Perhaps no one is happier with the acceptance of the dry Rosé wines of France than Charles Bieler. In 2009 he was asked by his father revive their struggling Provence winery, Chateau Routas. It was a time when no one outside of France was really enjoying a dry Rosé, or better yet try it, as everyone thought the juice in the bottle would be sweet. Happily, minds and palates opened over the past few years, making his Bieler Pere et Fils Coteaux d'Aix-en-Provence Rose one of the top selling Rosé wines of the region. Grenache based, with Syrah, Cinsault, Rolle and Cabernet Sauvignon (not the traditional blend for the region,) creating a well integrated, fresh wine with wild flowers, woody herbs and citrus notes. $12, available at Spec's stores.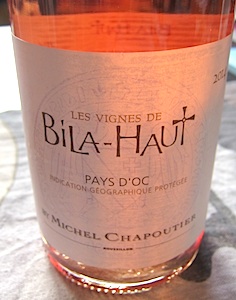 Provence isn't the only place to celebrate Rosé in France, the equally beautiful regions of Languedoc and Roussillon just slightly northwest of Provence, but still with close proximity to the Mediterranean, along with influence from the Atlantic, produces hearty, robust red wines, that through the subtle art of saigne, or bleeding the first press of the grapes, produce lush, lively Rose wines. Michel Chapoutier, famed Rhone winemaker, purchased a the neglected Roussillon property, Domain Bila-Haut in 1999 with the hope of reviving it and reinventing the wines of the region. With a decided Spanish influence, as it is just across the boarder, with very hot summer days, very little rain, blustery Mistral style winds and rocky terrine dotted with woody wild tyme, rosemary and sage bushes, the winery has proven ideal for growing concentrated, low yielding Rhone style reds. This is also the base for their Rosé. M. Chapoutier Les Vignes de Bila-Haut Rosé Pays d'Oc blends Cinsault with Grenanche for a mineral driven, herbal and purple flower filled wine with red berry and citrus. $15, available at Goody-Goody stores.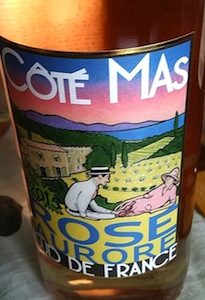 Domaines Paul Mas, led by the charming, former French race car driver, Jean-Claude Mas, thrives on crafting modern, yet classic, high quality wines in the Languedoc. Domaines Paul Mas, Vin de Pays d'Oc Coté Mas Sud de France Rosé Aurore blends 50% Grenache with 30% Cinsault and 20% Syrah from clay and limestone filled soils in the northern part of the region for a juicy, red cherry and wild strawberry filled Rosé. Balanced and crisp, with great acidity making it an ideal food wine with complexity and a smooth finish. $10-$16 in a 1L size, available here, and, is on the spring menu at HG Sply Co.
The Rhone varieties also thrive in California's Central Coast, as showcased by the new Rosé release from Truvee Winery. The sister owned brand, created by long lost sisters and winemakers Andrea and Robin McBride, who found each other in their early adulthood never knowing they needed to look, as the children shared a father but grew up with their different mothers in different parts of the world. As luck, or genes would have it, both were in the wine business and joined together to create Truvee in celebration of their finding each other. Truvée is derived from the French verb "to find," and the launch of their brand just a few years ago makes them one of the very few African American female owned wineries in the country, if not the world. Their newly released Truvee Rosé is predominantly Grenache with a touch of Syrah, Tempranillo and Roussanne, from Paso Robles vineyards to create a juicy red raspberry, ripe peach and strawberry filled wine with lovely texture and structured, helped by the Syrah and Tempranillo. A great wine with an even better story. $15, available via their website or will be hitting the market this month so keep an eye out.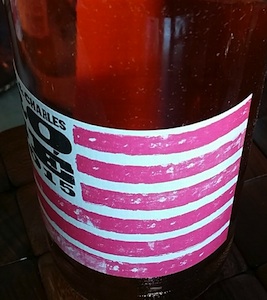 Charles & Charles Rosé is a collaboration between Charles Bieler of France and Charles Smith of Washington, started in 2008 with the goal at that time to prove that quality dry Rose wine could be produced in the United States. Then, and still today, their Syrah based Rose is meant to showcase the elegance of the fruit, the expressive characteristics of the wine, and the simple celebration of enjoyment. Crafted completely from Columbia Valley fruit that is grown specifically for the production of Rosé, the wine is filled with cherry, red raspberry and soft herbal notes. $12, available at Central Market stores.
More robust red varieties can also make beautiful dry Rosé wines. Simi Winery in Sonoma celebrates Cabernet Sauvignon from vineyards throughout Alexander Valley in their Simi Sonoma County Rosé. Adding a touch of Merlot, Malbec and 1% Syrah from Sonoma Coast vines, the pale pink wine leaps from the glass with layers of ripe strawberry and cherry, lemon zest, orange blossom and lemon thyme. $18, available via their winery.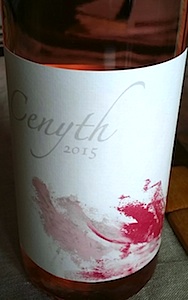 Cabernet Franc is often not made into a single variety wine outside of Loire's Chinon region, however, the Right Bank, Bordeaux beauty can shine on its own when managed property creating a fresh, floral wine that is elegant and inviting. This is highlighted even more in the new wine released by Cenyth Winery in Sonoma. Winemaker Helene Seillan elevates the winery's Chalk Hill estate Cabernet Franc fruit, picked early in the harvest season to ensure acidity and freshness were maintained in the fruit, to create a vibrant, yet elegant wine with a low alcohol (especially for Sonoma, about 12.5%) filled with soft herbs, fresh rose petals, pink grapefruit and tropical passion fruit. $25, available via the winery.
Lange Twins Winery & Vineyards takes Italy's Sangiovese variety and proves Lodi can grow the variety just as well as Chianti, and they have had plenty of practice as the 5 generations of Lange family growers have been farming in the area since the 1870's. In 1974 the 4th generation Lange Twins, brothers Randall and Brad, began working their own vines, farming sustainably focusing on their stewardship of the land as well as growing high quality grapes. Their light bodied, fresh, and relatively low alcohol (about 12%) Lange Twins Rosé of Sangiovese wine is a perfect opener for a warm afternoon filled with juicy red apple, raspberry and tangerine flavors. $15, available via their website.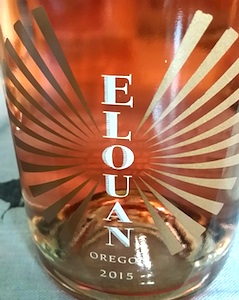 Pinot Noir shines in Rosé, highlighting layers of juicy mandarin, ruby red grapefruit and strawberry. I recently tried a Rose of Pinot Noir that blended Oregon regions, including Willamette, Umqua and Rogue Valleys, with the majority of the fruit coming from the warmest of the three valleys, Rogue Valley in the southern part of the state. Elouan Rosé of Pinot Noir is clean, fresh and balanced, highlighting flavors of ripe apricot and yellow peach, watermelon and cranberry. Made by California winemaker, Joe Wagner who ventured to Oregon to produce Pinot Noir from one of the best places in the world for the variety and create wine with depth, vibrancy and suppleness. $22, available at various Tom Thumb and Spec's stores.
The Dunnigan Hills AVA in the northwest corner of Yolo County, CA is the home of Matchbook Winery. Though other parts of the inland region see much drier weather condition, Dunnigan Hills has a Mediterranean type climate, allowing light bodies red wines to shine from the area. The Matchbook Rosé of Tempranillo is crafted from three types of Tempranillo clones grown on the estate, Rioja, Duero and Tinto de Toro, each slightly more robust than the other, but when blended create a lovely, complete wine with character. Watermelon, cantaloupe, golden peach and apricot notes open the wine, followed by red berry and spice notes. $12, available via their website.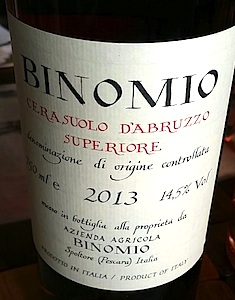 Though Italy makes Rose wines, they aren't known as much for them. However, in 1998 two incredible producers in their own right, Fattoria La Valentina and Azienda Agricola Inama, came together to form Azienda Agricola Binomio with the goal to produce a great, structured yet modern Montepulciano d'Abruzzo. In addition to their powerful, robust and intense, yet also beautifully balanced Binomio Montepulciano d'Abruzzo, they craft an aromatic, bold and structured Rosé, Binomio Cerasuolo d'Abruzzo Superiore. Produced from 100% Montepulciano, the wine is filled with raspberry, pomegranate and red currants with a long, inviting finish. A perfect opener for an evening or paired with Iberico, Prosciutto or other charcuterie, smoked fish and pasta. Because of the style of wine this is, they are a vintage behind, so the 2014 will soon be released to the Dallas market so keep an eye out for it. $20
And, a Rosé bubbly is always the perfect pairing for a springtime celebration.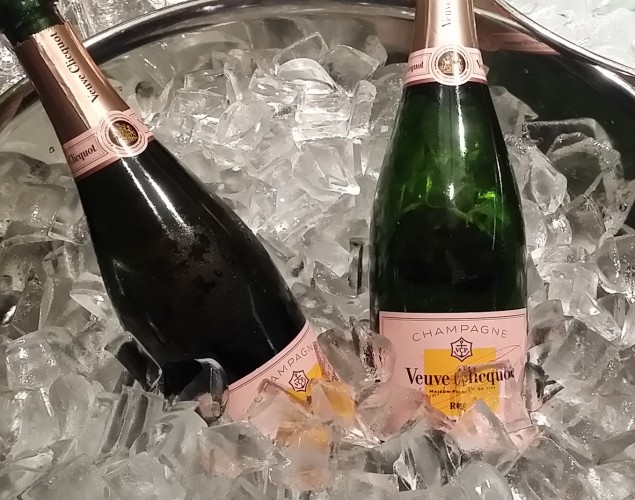 Melding fun and festivity with incredible taste, Veuve Clicquot Rosé Champagne is the ideal pairing to any gathering, morning, noon or night. Whether it be your Easter Brunch or Spring Break relief the classic sparkler from the heart of Champagne will please any palate, especially your own if you don't have to share it. And Veuve always creates fun items to make sure that friends and family enjoy their bubbles as much as you do, as highlighted with their new message in a bottle, or box, that allows you to create a personalized note to your favorite Champagne lover. They also created a Rose mailbox package, similar to their Brut mailbox, to gift to anyone who needs a little more excitement in their mail than the grocery store mailers. A perfect house warming gift or for a friend you haven't connected with in a while. $65, with special mailer packages available at retail locations like Sigel's and Pogo's.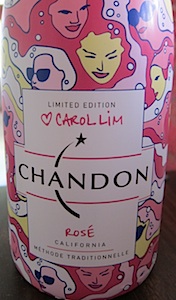 Chandon recently launched a new limited edition bottle designed in collaboration with Designer Carol Lim of Opening Ceremony. The Napa winery has worked with other designers in the past to create items to pair with their sustainably produced, estate grown sparklers, but this is the first bottle to be designed by a collaborator. They selected Lim to create the Limited Edition Chandon Rosé Sparkling Wine because she embodies the exact style, authenticity and freshness that the brand hopes to capture in each and every bottle of their traditional method sparkling wine. The design, inspired by one of Lim's Opening Ceremony designs called "Girl Talk" features a swirl of female faces filled with excitement and energy, highlighted by pink, blue and yellow. This is the energy the brand wishes to embody and showcase in their wines. The limited edition sparkler is available through April via their website for $24.
Sea Smoke 'Sea Spray' Sparkling Wine isn't technically a "Rosé" wine, but it is a simply stellar traditional method Blanc de Noir made from 100% Pinot Noir fruit. Hand harvested fruit from their estate vineyard in Santa Rita Hills from hand selected clusters to create just the right nuance of flavors. Fermented and aged sur lie in French oak for 9 months, then another 24 months on the yeasts in bottle prior to disgorgment, creating a wonderfully textured, well rounded sparkler with layers of honey, fresh fig, cream filled pastries and purple flowers. Refined and rich, a lovely way to toast to spring. $80, available via their website by allocation.
Get the SideDish Newsletter
Dallas' hottest dining news, recipes, and reviews served up fresh to your inbox each week.