Though we didn't have much of a winter in Dallas, the spring season has officially started and nothing embodies springtime more than a light, refreshing glass of white wine. One of the most refreshing, easy drinking options is from the northern part of the beautiful country of Portugal, the region known as Vinho Verde.
I recall the first time I tried a Vinho Verde wine. Several years ago I picked up one of the inexpensive bottles to enjoy with friends on a sunny afternoon. It was very cold, highly chilled by the purveyor, and with the twist of the screw cap the bottle gave a slight hiss, similar to how some soda bottles sound when you open them. "Fun" I thought pouring the first effervescent glass. Not long after that I realized the bottle was empty, quickly consumed by all.
Vinho Verde has hung its hat on its approachable, fresh style since its beginnings, with the first official demarcation of the region occurring in 1908, yet production of wine in the region dates back over 2500 years.
Low alcohol, high acid, balanced by a touch of residual sugar left during fermentation and a hit of carbonation, each white wine blend is filled with floral, pear and apple aromas, melding into tropical, stone fruit and orchard fruit flavors. An easy wine, that still today is also incredibly inexpensive (often between $5-$12 a bottle,) making it an ideal go to for enjoying on hot days, or with friends well into the evening over meals filled with seafood and shellfish, pasta and light summer fare.
Recently, the wine and region have gone through a number of changes with the goal to maintain their tradition and identity with the fun, summertime wines, but also reveal that there is a lot more to this picturesque region than meets the eye (or the palate). Not long ago I had a chance to visit as a guest of the Wine Commission of the Vinho Verde Region, the overseers the region, traveling across the expansive northern region, meeting some of their 19,000 growers in some of the nine sub-regions of Vinho Verde including Monção and Melgaço, the Alvarinho grape dominant northern part of the country, to Lima, Cávado, Ave, Basto, Sousa, Baião, and eventually Paiva and Amarante near the Douro River. My traveling companions and I tasted with a handful of the 600 wine bottlers of Vinho Verde, many sharing a similar story of their desire to show that the region can produce more serious wines with richness, depth and character.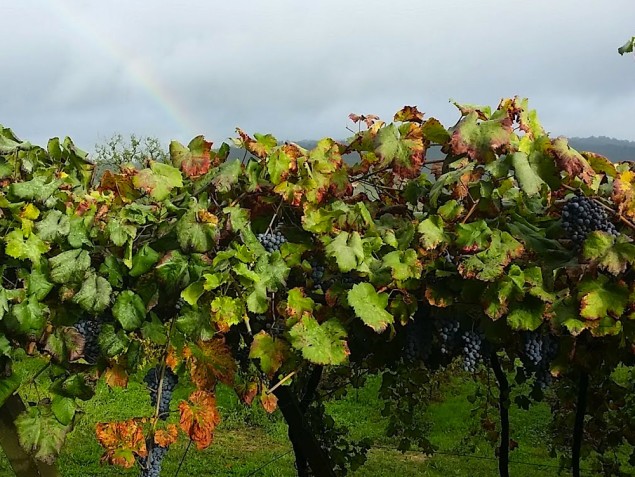 The region, covering 51,000 acres extends from just outside Porto to the south to the northern boarder of Portugal along the Minho River, dividing Portugal with Spain where wines grow in the highly mineralic granite and schist filled soils. Vinho Verde, literally translated to "green wine," speaks to both the land (which is quite green, much like the Rias Baixas region of Spain,) as well as the style of their wine that is young, crisp, vibrant and best enjoyed within the year of their release. These wines are quite different from other Portuguese wines, with much of the rest of the country focusing on their hearty red grape varieties like Touriga Nacional and Trincadeira used to make both the celebrated fortified Port wine of the country as well as bold red table wines, and bone dry whites from the sun baked Alentejo region in the south.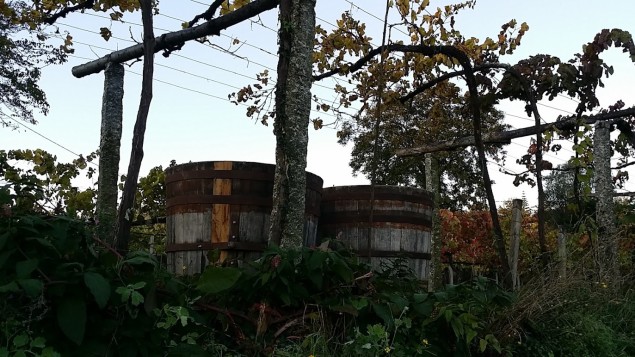 There are similarities to these regions though in that originally grapes were planted in a similar field blend style, with every home planting a handful of vines around their boradora (meaning a square boarder around your garden. )  These vines, comprised of a selection of some of the 250+ different indigenous grape varieties of the country. Vines of  Vinhao, Trajadura, Loureiro, etc. were trellised on granite stakes, pillars, posts and fences in an enforcado, literally meaning "hanging man," but with wine means vines trained up stakes planted around the boradora. Inside the boradora families grew their vegetables and fruits, like fields of cabbage and corn used in every part of their diet, potatoes, greens, lemon, orange and persimmon trees, chickens, pigs and goats.
Each harvest families would pick their grapes and ferment the wine in basements and garages of their homes for their personal consumption, or take the grapes to the local coops.  Over time, as wine bottlers and producers grew in the region, families began selling their grapes, adhering to growing standards set forth by the producers. With this, there has been a concentrated effort for the 19,000+ growers in Vinho Verde to find the best mix of varieties for each part of the region, testing what will grow well in one area verses another, replanting when necessary to remove mature vines. This is one of the few wine regions in the world where old vines are not desired. Older vines usually equates to concentration, bolder flavors and robust tannins. In Vinho Verde the desire is to keep the lightness and freshness of the varieties in tact, which translates to youthful vines, with the optimum age 8-10 years to about 20. After 20 years producers often will replant.
Vinho Verde is a rain soaked region in the fall, with main issues coming from mildew or rot affecting the grapes. Farming organically or biodynamically is not a focus, but sustainability is, with many producers noting the desire to be good stewards of the land. The region is built from generations of farmers. Unlike some regions filled with vintners and wine makers who arrive from other parts of the world, these are people who grew up here and whose mothers and fathers, grandmothers and grandfathers were growers and winemakers. This is the same land they played in as children, and their children play in today.
Cooler, rainy conditions mean varieties planted need to be early ripening in general to ensure fruit can be picked before the autumn rain and heavy fog sets in. Over 80% of the wine produced in the region is white, with varieties like Loureiro and Azal in the south, Alvarinho (the Portuguese version of Spain's Albariño,) grown in the north, and Arinto, Avesso and Trajadura sprinkled in throughout, adding texture, finesse and depth the wines.
Traditional Vinho Verde Branco a blend of the key varieties of that highlight the particular part of the region it is from.  Each is necessary to create a complete wine, like bright acid notes of Arinto, fresh floral notes of Loureiro, and rich tropical and stone fruit notes from Alvarinho. When blended, in this classic Vinho Verde Branco wine, a well rounded, refreshing wine is produced.  Some of the best known producers of classic Vinho Verde Branco are Gazela, Aveleda, Casal Garcia, and Famega, each producing their light, fizzy wines with low alcohol levels and low price tags, each about $6 – $8 and widely available.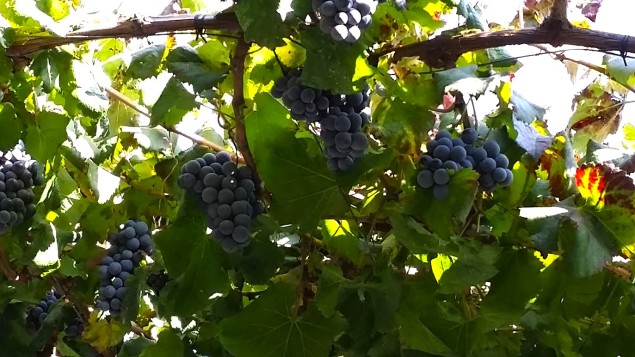 The remaining 20% of the wine produced is either a fruity, jam filled, slightly meaty red wine made from the Vinhao variety, with intense purple color from the red fruit pulp; or a Rose made from either Padeiro or Esparidela, grown specifically for Rose production, with each delivering either juicy berry or ripe cherry aromas and flavors.
Quita da Lixa was started in 1986, and today is considered a medium sized winery with production around 4 million bottles. (Yes, not the largest in the region by far.) The Meireles family had a number of business interests in the region, but also had a long history of growing vines near the town of Vila da Lixa. They set up a small firm to originally just sell their fruit in bulk to other producers, but realized how truly special their estate fruit was and began bottling under the Quinta da Lixa label.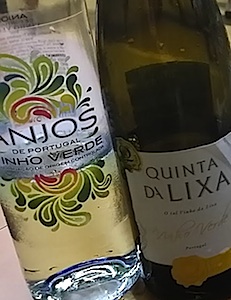 Today their quality standards are the highest focus for their team, along with smart environmental practices, responsibility to society, and over-delivering to the needs of their customers. One key way they over-deliver is with the recent addition to the winery property of a luxury wine experience hotel. Monverde, meaning relax, was designed as a place for wine lovers to rest, enjoy and appreciate. The property highlights the best of wine country living, set in the middle of the estate vineyards, with relaxing indoor and outdoor pools, a spa area, formal and casual dining opportunities, and dreamy guest rooms. Quality and consideration are the focus, melding with the quality of the wine. Quinta da Lixa Anjos de Portugal, produced from Loureiro, Trajadura, Arinto, is available for around $9 at Pogo's.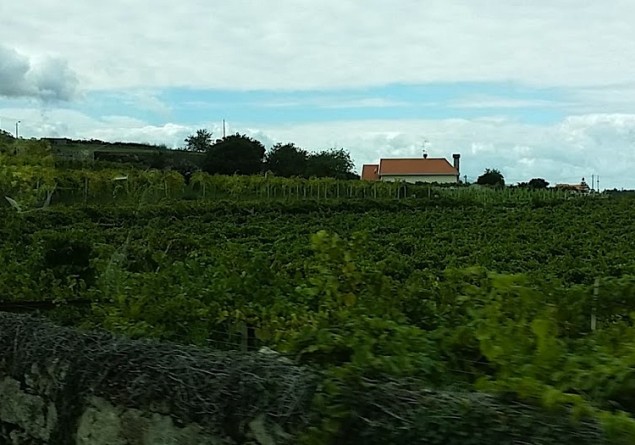 Traveling through the region you get the sense that following tradition is given constant, considerate respect. However, there is also a desire for change. A desire to be taken a bit more seriously, and for their wines to be considered more than what you enjoy at afternoon brunch, pool parties or as an aperitif.  Younger generations are beginning to take over the leadership of established properties, and with this, elevating the wines of the region. This starts in the vineyard, changing how vines are planted, reevaluating technique, pushing the limits of the individual varieties, often allowing them to shine on their own as single variety wines.
This is the feeling and philosophy of brothers Mario and António Monteiro of Quinta das Arcas, a 30 year old company started by their father, António Esteves Monteiro, a business man from the central part of Portugal who moved north when he met the boy's mother. António Esteves had grown up surround by vines, as his father was a small scale family grower, growing just what they need for their own consumption. When Monteiro started planting vineyards for Quinta das Arcas, most of which are located just a short drive outside of Porto, in an area with schist filled soils, he began to change the way farming was managed in the region. He removed the traditional pergola vines and replaced with low yielding, single vine, or Guyot, trellising, with a focus on concentrated, expressive fruit.
The result, a variety of great food wines with balance, freshness and flavor. They continue to maintain the classic, noting that a wine without CO2 is not a Vinho Verde, and Vinho Verde without bubbles is essentially dead, creating a light, zippy Vinho Verde Branco blend of flower filled Louriero, citrus filled Arinto, bringing acidity and freshness to the wine, and low acid Trajadura to balance and round out the low alcohol (10.5%) wine.
However, they also focus on the new and modern, producing a southern grown Alvarinho white (one of the few producers in the south growing the variety) that is rich and concentrated with a steely note of minerality and a hint of smokiness, enhanced by the schist soils. The well balanced wine is filled with tropical banana, passionfruit and mango flavors mingling with lemon-lime and soft herbal notes. The Vinho Verde wines are available at Goody Goody stores for around $10.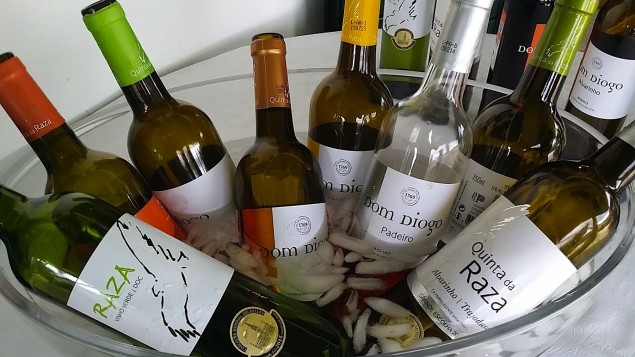 Quinta da Raza is doing great things in the southern part of the region. The small winery, sitting at one of the higher elevations of the region (about 750 feet above sea level,) is dedicated to the quality of the fruit and the freshness of the wines. Owned by Jose Diogo Teixeira Coelho and his wife, Mufalda.
Diogo is a 5th generation vine grower, today managing 100 acres of estate vineyards planted in gently sloping granite and clay filled soils that thrive in the elevations of the vineyard. Diogo believes these elevations, along with their unique location next to the north/south running Tâmega River, a tributary of the Douro River, creates the very best growing conditions for their indigenous varieties. In addition to their classic Quinta da Raza Vinho Verde Branco "Raza," a blend of Arinto , Azal, Trajadura filled with white flower, lemon and pink grapefruit notes, the winery also produces a number of single variety options, including a single variety Dom Diogo Azal. The variety, Azal, is native to the southern part of Vinho Verde, quite close to the Atlantic, with high acidity and minerlity. The resulting wine is filled with white flowers, wild herbs, juicy citrus and a hint of salinity, making it an interesting pairing with anything from oysters to pasta.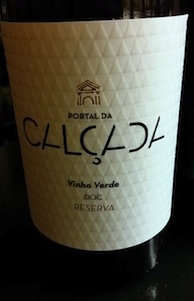 Though the history of Quinta da Calcada dates back to the 16th Century when the original Casa da Calcada was built in the town of Amarante on the Tâmega River, the story of their wine started in 1927 when their first wines were produced. Then, and today, these wines are created to show the true expression of the land, capturing the essence and diversity of Vinho Verde. Their Portal da Calcada highlights the approachability of Vinho Verde, yet unlike others in the region contains no CO2, and is also made using native yeast fermentation. The resulting wine, though fresh and lively, has a rounder, richer palate with a touch of brininess resulting from the close proximity of the vineyards to the Ocean. $12 at Goody-Goody stores. The historic Casa da Calcada is also a gorgeous Relais & Chateaux Hotel open for guests throughout the year.
From vineyards in the north near the Minho River the Alvarinho variety produces is a richer, more complex wine. In this area there are a group of winemakers who have come together to work and share ideas on the new wines of Vinho Verde. The Vinho Verde Young Projects was started by four producers, each making their own small production wine, but who each have a very strong commonality, getting back to their roots with inspiration from their ancestors, to create their own wines. Made up of Vale dos Ares, Quinta de Santiago, 100 Igual and Cazas Novas, the four properties each celebrate the tradition laid before them from generations of growers and producers in the region, but look to innovation and modern technique to establish a new take on high quality wines in the region. They are visiting New York this month to further establish import relationships, so keep an eye out for them as their goal is to appear on your store shelves very shortly.
Get the SideDish Newsletter
Dallas' hottest dining news, recipes, and reviews served up fresh to your inbox each week.