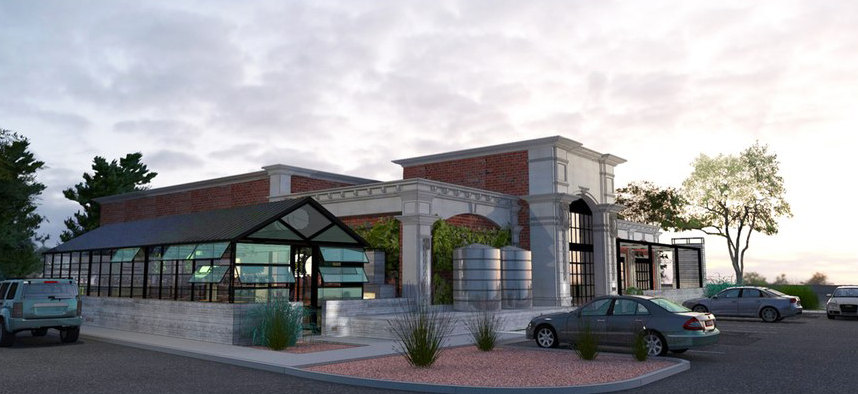 Front Burner Restaurants Talks Plans for Sixty Vines, Legacy Hall, Haywire
The restaurant group discusses ideas they've had on the back burner.
"We're always thinking about what's next," Jack Gibbons, president of Front Burner Restaurants explains as he and his business partner and CEO of the company, Randy DeWitt, hash out the details of their upcoming restaurant endeavors. We're seated in their office on the 12th floor of a tower in Addison, surrounded by bulletin boards adorned in floor plans, concept illustrations, and photography.
Front Burner Restaurants is known for rolling out popular concepts such as The Ranch at Las Colinas, Velvet Taco, Whiskey Cake, Twin Peaks, Mexican Sugar, Ida Claire, soon-to-open Sixty Vines, and more.
Sixty Vines is slated to open in Plano the first of August, next to Whiskey Cake in a remodeled space that recently housed an Abuelo's. The wine-centric restaurant will offer a menu of wood-fired pizzas, pastas, gourmet toasts, and charcuterie. "We're going to have a charcuterie bar," says Gibbons. "We're also putting a strong emphasis on veggies as a cuisine." The restaurant will offer lunch, dinner, and happy hour; serve it's own label of wines; and most interestingly, every server who works at Sixty Vines will be required to be a Level 1 sommelier.
"Sixty Vines is the ultimate sibling restaurant to Whiskey Cake," says Gibbons. "Whiskey Cake is a grill that focuses on brown liquor and craft cocktails, while Sixty Vines is all about wine and craft beer."
The new restaurant will offer more than 100 wines, with 36 of them on tap. "We really love wine and we really believe in kegged wine," says Gibbons. A company called Free Flow Wines out of Napa Valley, California is doing all of the restaurant's kegging. "Every keg is 26 bottles of wine," DeWitt explains. "Unfortunately most wine bottles are colored glass, and recyclers want clear glass. It breaks my heart that glass ends up in landfills, and then there's the energy it takes to produce the bottles, corks, labels, the cardboard box the wine is shipped in…the beauty of wine in a keg is that it gets used over and over. And it's a better product."
Legacy Hall is another concept DeWitt and Gibbons tell me they are excited about.
"The Shops at Legacy developer Fehmi Karahan reserved a special space for us," says Gibbons. "He called it the 'fun space.' He said, 'Think about what you can do with this…' We were on a trip and passing through Amsterdam and were inspired by a food hall there called Foodhallen," The two took their inspiration home to Dallas and when they presented their idea to open a European-style food hall to Karahan., Gibbons says, "He loved it."
"The best food halls and markets have more going on than just food, there's entertainment, cheese making, coffee roasting," says DeWitt. And that's exactly what the duo is going for. The 55,000-square-food space at The Shops at Legacy will soon be transformed into Legacy Hall. The entertainment center is slated to open in the fall of 2017 and will offer more than 20 food stands, a stage for live music, and a brewery.
While the names of restaurateurs involved with the project have not yet been released, DeWitt and Gibbons assure that it's an impressive lineup, even hinting at some possible James Beard Award-winning talent.
Front Burner Restaurants will also open Haywire, a restaurant the team describes as a "riff on the The Ranch [at Las Colinas]" next to Legacy Hall. The three-story restaurant and bar will specialize in Texas cuisine.
Keep an eye on SideDish for more information and a peek inside each concept.