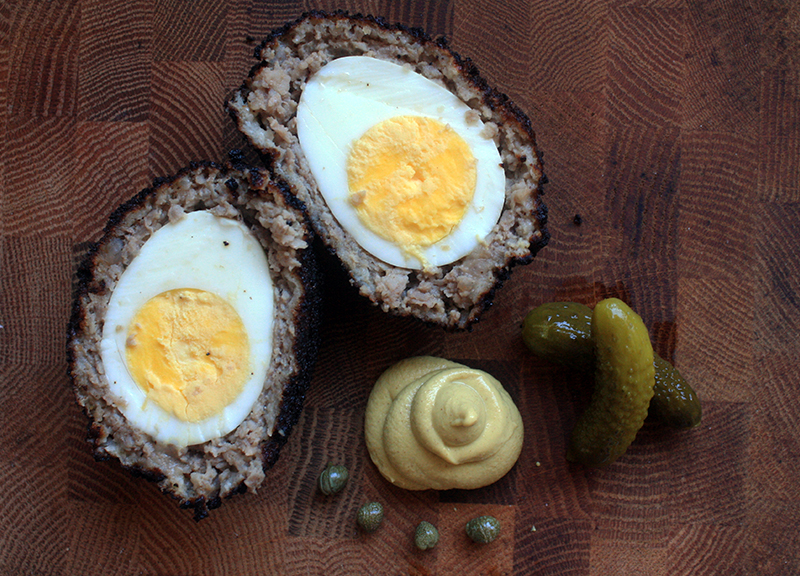 Dish Pirate: Scotch Egg from Central 214
Make this long lost dish at home.
Want to enjoy the best that Dallas restaurants have to offer without ever leaving your home? Our new recurring feature, Dish Pirate, will help you bring the city's robust dining scene to your kitchen.
We were spoiled to have Scotch eggs on Graham Dodd's menu at Central 214, and I can only imagine that after the restaurant closed a large group of egg lovers were in pursuit of the decadent dish. Blind Butcher has a great version which rotates on their menu but like I said, it's a rotation and might not be available on the day you decided to pop in.
Now, if you are craving that amazing Central 214 Scotch Egg on a day that Blind Butcher can't satisfy your needs, we are here to help. This dish is a perfect addition to a charcuterie board. It can be easily paired with cheeses and pickled items or eaten alone with a dollop of spicy mustard or sweet jam. The recipe contains several steps but all of them are easy to achieve.
Dish Pirate: Inspired by Central 214's Scotch egg
Recipe (Serves 4)
Ingredients:
6 eggs
2 cups plain panko crumbs
1 lb breakfast sausage
1 cup buttermilk
1/2 cup flour
salt & pepper
4 cups oil for frying
Preparation:
1. Preheat oven to 375 degrees.
2. Place 4 eggs in a large pot and cover with water. Add salt and bring to a boil.
3. Upon boiling, cover and remove from heat for 12 minutes.
4. Remove eggs and place them under cold running water.
5. In an electric mixer, combine 1 lb sausage and 4oz water. Mix for about 30 seconds.
6. Peel eggs and set aside.
7. Place equal amounts of sausage mixture onto four separate pieces of wax paper. Spread mixture into a circle.
8. Place boiled egg in center of sausage circle and wrap with meat. Press edges to seal. Repeat for all 4 eggs.
9. Place prepared sausage eggs in refrigerator for 20 minutes.
10. Place 4 cups of oil in a large pot on stove and bring to a boil.
11. While heating oil, combine flour with 1 tsp each salt and pepper. Set aside.
12. Combine the remaining 2 raw eggs and buttermilk. Set aside.
13. When eggs are chilled remove from refrigerator and begin coating.
14. Coat each egg with flour mixture, egg mixture and then panko crumbs, in that order.
15. Deep fry eggs one at a time for 1-2 minutes and place on a baking sheet.
16. After frying, bake eggs for 8-10 minutes.
Cut in half for easy eating and a beautiful display.
In This Post