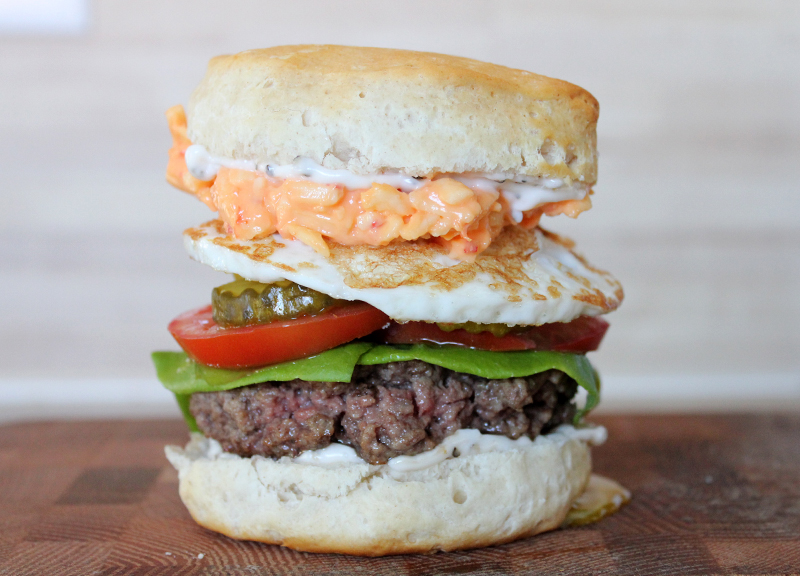 Dish Pirate: Ida Claire's Burger & Egg Biscuit
Want to enjoy the best that Dallas restaurants have to offer without ever leaving your home?
Want to enjoy the best that Dallas restaurants have to offer without ever leaving your home? Our new recurring feature, Dish Pirate, will help you bring the city's robust dining scene to your kitchen.
I vowed years ago to never venture past I-635 for dining, but lately I've been given several good reasons to eat my words. Ida Claire, which opened in Addison in 2015, is one of those reasons. The Southern-inspired restaurant's Burger & Egg Biscuit is one of my favorite dishes in town. The savory creation starts with a house-made biscuit smeared with fresh black pepper aioli sauce. The bread is topped with a perfectly grilled beef burger, lettuce, tomato, sweet bread-and-butter pickles, house-made pimento cheese, and a fried egg. Per the menu, it is intended to be eaten with a knife and fork. I absolutely agree, as it is delicious, messy, and without a doubt exactly what you need on a weekend morning or afternoon. The burger is available on their brunch menu, which is served from 10 a.m. until 4 p.m. Saturday and Sunday.
If the previous night was a little too much fun and you can't quite make it out of the house to (sate) your brunch craving, we have you covered. The recipe can be easily prepared with the exclusion of making your own biscuits and pimento cheese from scratch. Both can be purchased and will and do just fine when recreating this dish. I used Pillsbury buttermilk biscuits and Price's pimento cheese. The black pepper aoili sauce can be made easily with items you probably already have.
Dish Pirate: Burger & Egg Biscuit
Inspired by Amanda Vasquez, chef de cuisine, and John Franke, executive chef.
Recipe (Serves 4)
Ingredients:
Pillsbury Buttermilk Biscuits
1 lb ground beef
4 eggs
Lettuce
Tomato
Pimento Cheese
Olive oil and salt & pepper for preparation
Black Pepper Aioli Sauce:
½ teaspoon cracked black pepper
½ cup mayonnaise
½ teaspoon minced garlic
¾ teaspoon grated lemon peel
1 tablespoon lemon juice
Preparation:
1. Make the biscuits following the directions on the package.
2. While the biscuits are baking, prepare the aioli sauce. Mix all ingredients in a bowl and set aside.
3. Prepare the burger patties. Combine beef with 1 teaspoon each of salt and pepper. Using your hands, divide the meat into four equally sized patties. Heat a metal pan to medium/high temperature on the stove top. Drizzle the heated pan with 2 teaspoons of olive oil. Add all 4 patties to the warm oil. Cook 3-4 minutes on each side or until desired doneness. Set patties aside.
4. In the same pan, fry the eggs. A little trick I use to keep my eggs separate and guarantee they turn out beautiful is to fry them individually in a 3-inch round cookie cutter. Oil the side of your cookie cutter, place it in the hot pan, and crack your egg inside. Once that side is cooked, remove the cookie cutter and flip the egg.
5. While your egg is frying, prepare your ingredients for assembly. Cut your biscuit open, tear your lettuce into smaller pieces, and slice the tomatoes.
6. Assemble as follows: spread aioli on both sides of biscuit, place beef patty on bottom half of biscuit, top with lettuce, tomatoes and pickles. Spread pimento cheese on top half of biscuit.
7. Place fried egg atop the prepared bottom biscuit and top with other half.
Keep in mind: Ida Claire recommends you eat this dish with a fork and knife!