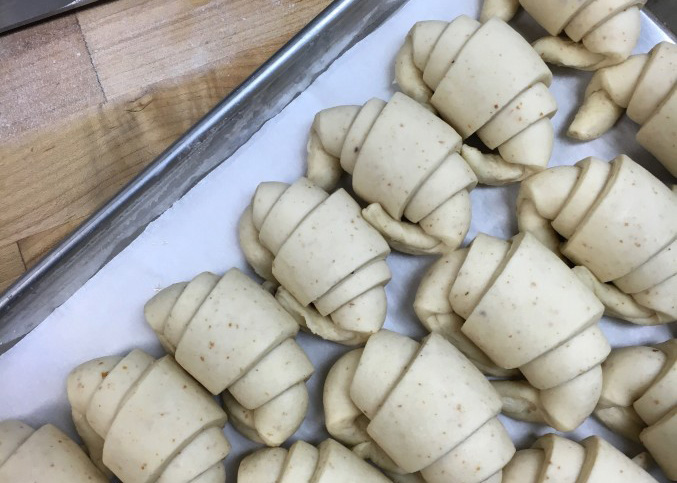 Check Out This Croissant Pop-Up on Saturday
Was coffee ever more nobly accompanied?
I feel it is my duty to inform you, though this is the kind of information one would almost rather keep to oneself and a dozen croissant-eating friends.
In my recent post about David Madrid, the artisan baker behind Wheat & Sour, I mentioned that he would soon be debuting croissants.
The day has come.
If you've been to the Saturday morning pop-ups at Full City Rooster Coffee Roasting Studio in The Cedars, you may have tasted the delicate shattering coils of Madrid's palmiers, sweet marvels of butter and caramelized sugar, or tried one of his pretty, custardy brioche tarts.
This Saturday, Madrid will finally roll out the croissants he's been fine-tuning in the new workshop space that afforded him room to maneuver beyond Dutch-oven baked bread rounds and palm-sized risen pastries to the sheets and sheets of dough and butter that, through intricate folding, become something as finely wrought as a croissant. Given what I know of Madrid's penchants (not to mention his love of fine European butter) I'm expecting airy crescents with a deep burnished top that will scatter a glorious trail of crumbs every which where.  
Katherine Clapner of Dude, Sweet Chocolate also supplies the pop-ups wth kolaches, savory and sweet. Don't forget that before she became a chocolate maven, she was executive pastry chef for Stephan Pyles and that her training in baking and pastry is extensive. Her arsenal is deep.
Was coffee ever more nobly accompanied?
So now I've told you, though believe me, I was tempted to keep mum.