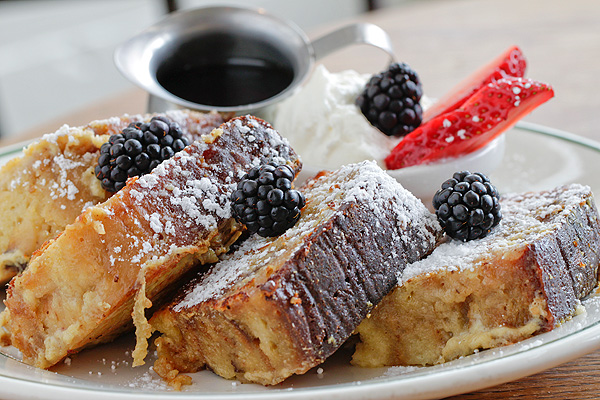 13 of North Texas' Best Spots for a Brunch Date
Settle into one of these spots for a savory weekend meal.
Whether you're just getting to know someone or you've been holding hands over the table for years, a brunch date can be a relaxing way to chat for hours with your sweetheart. North Texas is full of brunch options, so we narrowed down 16 delicious ways to spend a weekend morning. Impress your loved one with a stylish Dallas bistro or gaze at them lovingly over a no-frills brunch in an intimate coffeehouse. Just make sure you come hungry.
Neighborhood: Oak Cliff
Price: $$
Now that Bolsa is taking online reservations, it's a little easier to grab a couple of seats in this eclectic Oak Cliff restaurant. Tucked into an old auto shop, Bolsa's funky feel and farm-fresh ingredients make it a tasty brunch spot for a unique date. Try the house-made biscuits with chorizo gravy, iron skillet quiche, or the creole oysters and egg with a side of pimento grits. To finish, you and your date can share a brownie topped with ice cream—although you might prefer your own plate. Bolsa serves brunch from 10 a.m. to 3 p.m. on Saturday and Sunday.
Neighborhood: Uptown, Plano, Park Cities, Northpark Center
Price: $-$$
An Uptown treasure for more than 20 years, Bread Winners's enormous brunch menu is crammed with crowdpleasers. (That may be why our readers awarded the café Best Brunch in 2015.) Grab a "hangover elixir" to soothe last night's headache and scarf down a breakfast taco, eggs benedict, or their delightful cinnamon roll French toast. Arrive early or make a reservation online to skip the wait; the place gets crowded on weekends. Bread Winners is open for brunch from 7 a.m. to 4 p.m. on Saturday and from 8 a.m. to 4 p.m. on Sunday.
Neighborhood: Fort Worth
Price: $-$$
Fitting in with its quirky Magnolia Avenue neighbors, Brewed is a charming spot where you can share a cup of coffee and a seasonal, locally sourced meal with your date. The exposed brick, wood furniture, and animal heads mounted on the walls lend a rustic, Fort Worth feel to the gastropub/coffeehouse. Come for the cozy atmosphere, stay for the fried chicken and waffles with a side of biscuits drizzled with house-made gravy. Brewed lives up to its name by offering a huge selection of specialty beer (some spiked with espresso). Out back, you can enjoy some fresh air around the fire pit. Because of its early opening time and free Wi-Fi, Brewed is a favorite study bunker for college students and a comfortable gathering place at any time of day. Brewed is open from 9 a.m. to midnight on Saturday and 9 a.m. to 2:30 p.m. on Sunday.
Neighborhood: Lowest Greenville
Price: $-$$
For the gluten-averse and/or vegetarian, Company Café's multitude of options makes brunch less of a hassle. The restaurant's menu features healthy variations of comfort food classics, including tasty brunch dishes like gluten-free French toast bites and "the Deep Bowl" (grass-fed bison, beef, or venison served with sweet potato hash). Company Café prides itself on providing fresh, ethical, and local fare, so if you and your date want to dine with a conscience, stop by the casually cool, wood-paneled Greenville café. Meet your date for brunch anytime between 8 a.m. and 3 p.m.
Neighborhood: Uptown
Price: $$$
Brunch at the ZaZa Hotel's restaurant is a swanky affair, featuring classic Southern breakfast food with a twist. The Dragonfly made it on our list of best hotel brunches in 2012, so it's worth checking out. Wake yourself up with their morning bread basket—which includes muffins, croissants, and cinnamon rolls—and the chicken fried lobster benedict or huevos rancheros crispy tacos. Or you can charm your date by sharing the adorably named pigs in a snuggie (that's fried chicken apple sausage served with gravy and maple syrup). It's not brunch without drinks, so order a mimosa. If you're into healthier options, try their carrot-ginger-pear juice blend. The elegant décor and quietly romantic atmosphere will make your brunch date feel extra special. Make your reservations online.
Neighborhood: Uptown, Addison
Price: $-$$
Sample the locally sourced delights of this eclectic Uptown favorite. Start your brunch date with a strawberry-buttered popover or an herb cream cheese bagel. Then try the steel-cut oats, crab cakes, or an omelet with a side of cheese grits. The modern, but artsy, décor paired with relaxing music adds to the brunch date ambience. Outdoors, Dream Café's patio is beautiful on a sunny day, and the variety of dishes is ideal for vegetarian or vegan dates. Plus, it has its own dedicated parking spots out front and a parking garage close by.
Neighborhood: Bishop Arts District
Price: $$-$$$
For those who crave hearty country brunch served in an upscale setting, look no further than this Bishop Arts classic. The white tablecloths and well-executed comfort food are the perfect recipe for charming your date. Try the buttermilk fried chicken or the low country shrimp and cheddar grits for a filling Southern brunch paired with a Bloody Mary. Parking spots nearby are rare and coveted, so you might want to opt for valet. Hattie's serves brunch from 11 a.m. to 2:30 p.m. on Sunday; call to make a reservation.
Neighborhood: Oak Cliff
Price: $$
If you don't mind braving the crowds that flock to Jonathon's every day of the week, the Oak Cliff institution could become your new favorite brunch destination. Their famed fried chicken and waffles are often said to be the best in Dallas, but their menu features more creative options too. For something spicy, try the Danger Dogs (turkey sausage links dipped in pancake batter, fried, and dusted with powdered sugar and chile spices). For something sweet, opt for the specialty Pan de Jon (bread custard with citrus banana syrup). Top that off with a Build Your Own Bloody Mary Bar, and your date won't be disappointed. Get to Jonathon's early, because space is limited and the popular spot doesn't take reservations. Jonathon's serves brunch from 8 a.m. to 3 p.m. on Saturday and from 8 a.m. to 2 p.m. on Sunday.
Neighborhood: Plano
Price: $$
With such mouthwatering offerings as vanilla cinnamon pancakes and borracho hamburguesa, this Pan-Latin restaurant's brunch fare is something special. You and your date can sip a $9 Bloody Mary or Tequila Sunrise, unless you're more of a blood orange mimosa fan ($8). Mexican Sugar is open from 10 a.m. to 2 a.m. on Saturday and 10 a.m. to 10 p.m. on Sunday.
Neighborhood: Bishop Arts
Price: $
If you and your date are looking for a Texas-sized classic American brunch, brave the crowds for an Oddfellows meal. The Bishop Arts staple gets crowded during weekend brunch, but people keep coming back for a reason. You and your sweetheart can sip a $6 mimosa or bellini while indulging in their delectably thick pancakes, huevos rancheros, or a sugary beignet. There's a spacious parking lot right next door, but come early to stake out your spot.
Rosewood Mansion on Turtle Creek
Neighborhood: Oak Lawn
Price: $$$
If you're looking for a romantic, glamorous brunch experience complete with white tablecloths and excellent service (for $49 a person), the Mansion is probably your best bet; the restaurant ranked on our D Best Brunches list in 2012, and the Best Breakfasts list in 2016. The peaceful atmosphere, fireside dining and view from the windows set the stage for a romantic (late) morning. Start with the apple bacon cakes or a chestnut bisque with Alaskan king crab, and then move on to a smoked brisket benedict or their hangover special. For $15, you can sip bottomless mimosas or a spicy jalapeño and tequila mixture called the Texas margarita. Finish off the rich meal with a pear tart or a colorful macaron. Brunch is served every Saturday and Sunday. Reservations are required; make one online. Valet parking is available.
Social House
Neighborhoods: Addison, Uptown, Fort Worth
Price: $$
With $10 bottomless mimosas, Social House is an ideal spot for a boozy midmorning date. Even if you just order water, you won't be disappointed by the expansive Southern-style brunch menu. Because of its $12 carafe special, Social House is a great spot for a group brunch date. Be mindful of the restaurant's popularity, though. It can be crowded on the weekends, so come early. (If you visit the Fort Worth location, merchant-validated parking downtown is free). Grab a table on the outdoor patio for fresh air and prime people-watching opportunities.
Neighborhood: Knox/Henderson, Fort Worth
Price: $$-$$$
Come for the $2 mimosas and bellinis, stay for the Italian brunch fare. Sample the eggs benedict with crab meat and the polenta and eggs al forno, served with breakfast potatoes and garlic bread. Because of the laid-back, friendly atmosphere (and abundant cheap alcohol) Taverna is ideal for a carb-loaded group brunch date. Note: This place doesn't sell liquor, so skip it if you need a Bloody Mary or Irish coffee to kick your hangover. Brunch is served from 10 a.m. to 3 p.m. on Saturday and Sunday, but try to get there before 11:30 a.m. to avoid the crowd.
Elle Carnley is a DMagazine.com intern.