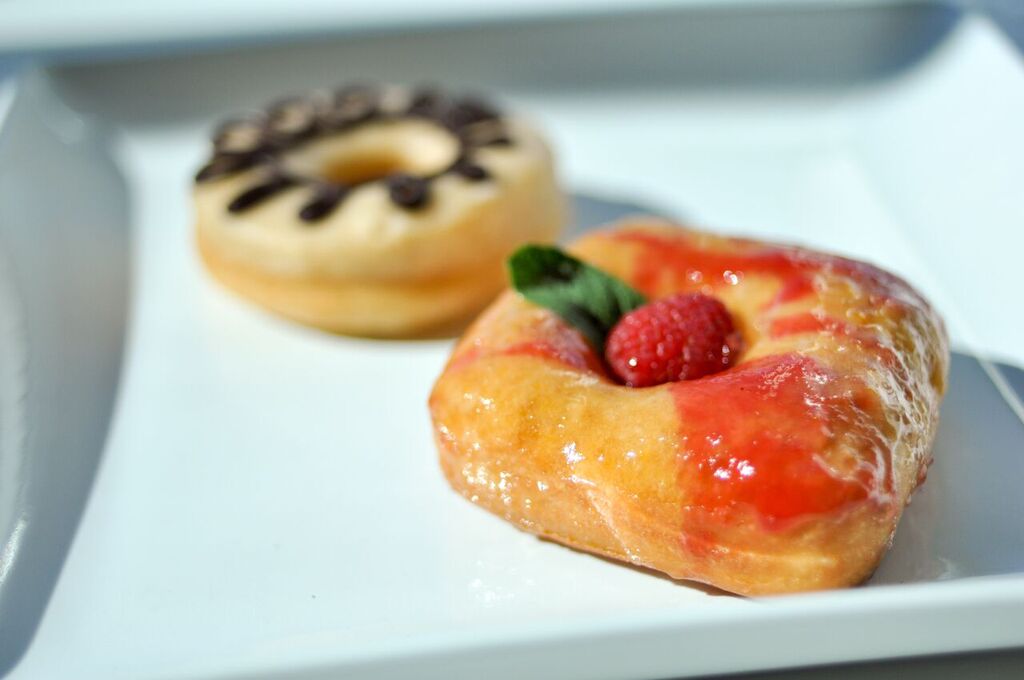 V Is For Vegan Doughnuts (Part 1)
Good news, treat-loving vegans!
When my friend planned her bridal shower, such as it was—a morning of swimming and squawking joyously and indecorously in the cold waters of Seattle's Lake Washington (she is a Seattleite and fiercely loyal)—the star attraction were vegan doughnuts. Not because my friend is a retiring violet who would rather hide behind petit-fours than take the spotlight. Nor because she is particularly vegan. But because these doughnuts were simply the best. They rocked her world, and it was her party.
I'd been hearing about them for months, actually years, and her excitement at having us try them almost overshadowed—temporarily—the next day's events. Yes, we'd all come for her wedding. But on some level, we were also there let her introduce us to these doughnuts. Cake jobs slathered in blueberry glaze, fritters slumped and craggy and oozing sweet icing. No eggs? No butter? No milk? No problem. This vegan-doughnuts-only bakery could do it all and make you love them more than the "real" thing.
So what about Dallas?
In the "haute" vegan doughnut world, there are the baked beauties from Reverie Bakery and Glazed Donut Works. Reverie, a vegan (and partly gluten-free and raw) bakery in North Dallas turns out a repertoire of simple doughnuts with cinnamon sugar or vanilla, chocolate, maple, or lemon glazes. They have fancier doughnuts such as Boston cream pie and a raw vegan red velvet. The maple-chocolate wears a maple glaze and a sash of swizzling chocolate. The cake is dense, closer to a cake doughnut—something I like. You can drive up to the vegan Mecca itself or pick them up on Fridays at Local Press + Brew in Oak Cliff, where they're the stars of Donut Fridays.
On the more ethereal end of the yeast-raised-style doughnut spectrum are those from Glazed, whose vegan doughnut program is ambitious, aiming for a different flavor each shift, which in many cases means morning and night. Like Glazed's non-vegan offerings, these are not just any old fried dough, but fanciful creations, as pretty as they are distinct. Recently, the Peach Melba had a peach glaze, mint leaf, and ruby jewel of a raspberry—fresh as can be. And the doughnut itself was a miracle of fluffiness. Take a bite; it springs back, keeping its airy zeppelin integrity. Not. Easily. Done.
And so, pick your "haute" doughnut poison. Tomorrow comes Part 2 of the vegan doughnut chronicles.