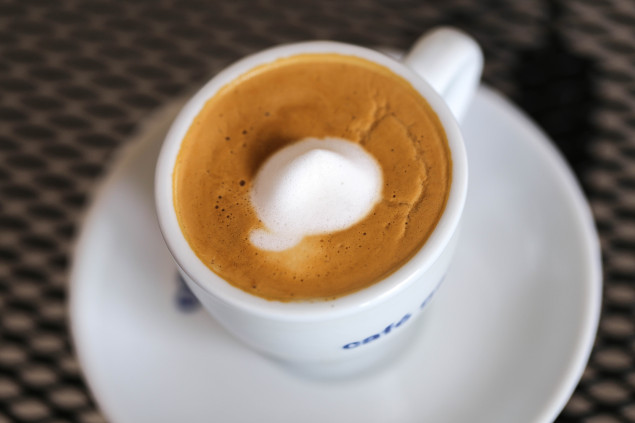 Coffee Chronicles: The Café Cubano at International Bakery Cuban Dulceria
A proper café Cubano is not for the faint of heart.
A proper café Cubano is not for the faint of heart. It's not turkish coffee, exactly, an eye-opener with a slough of barely-sieved silt. But it's sturdy and a distinct pleasure all its own.
The Vasquez sisters, Rita and Sara, who are behind the International Bakery Cuban Dulceria, recently opened a new, second location off the historic downtown Carrollton square. With silver platters, glass cake plates, and sepia-toned photos of family, it has the same soft, elegant atmosphere as the first. And a window sign still announces that they serve Gavina coffee ("Gourmet Coffee Since 1870" the medallion boasts). Two Basque brothers, transplanted to Cuba, began the still-family-owned Gavina business that evolved and moved from growers to roasters, from Cuba to California (their roasting plant is near LA; their sourcing spans the globe). The website, with photos (more sepia tones) of the original coffee plantation in Southern Cuba, reveals the same attention to heritage and family dynasty that animates the Vasquez sisters and their Cuban Dulceria.
Brush the surface even lightly here and you find in the owner sisters a nostalgia for all things Cuban that's part of what I love about coming. Ask Sara about the poster of the film Lost City on the original shop's wall and she'll tell you about her love of Andy Garcia. You'll find yourself watching scenes of old Havana that weekend. It's the same with the coffee.
Café Cubano, the very particular Cuban creation you find all over Cuba (and Miami) is a sweetened espresso. The coffee itself tends to be of a darker roast, and the sugar is usually incorporated before the shot is pulled rather than after. A cortadito, the Cuban version of a cortado, adds a softening layer of steamed milk.
"It's like sherry," Rita said the first time she pulled one for me, describing how she thinks of the roast's particular flavor profile and the way it plays with the sugar in what turns out to be a truly lovely combination. I do still always ask for mine light on the sugar, but I savor it like a fine sherry, down to the last drop.