Happy National Margarita Day! Today is the day to celebrate the joyous combination of tequila, orange liqueur, and lime in a glass with a salted rim. Or one of the thousands of other combinations made from Mexico's beloved spirit. If you aren't taking the easy route and visiting Komali to see D Magazine's Best Bartender 2015, Leann Berry (who happens to be the queen of the inventive margarita) tonight, then consider shaking one of these options up instead. (A few spirit selections were sent for editorial consideration.)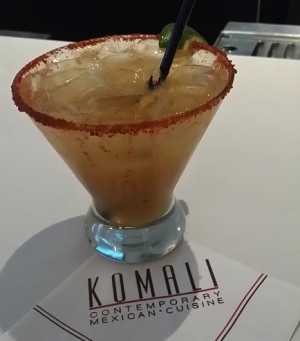 Tamarind Margarita
Adapted from our D Magazine favorite Margarita from favorite bartender, Leann Berry, Komali Restaurant, Dallas
2 parts Herradura Reposado
1 part Cointreau
1 part tamarind purée
½ fresh lime
Preparation: Add all ingredients to an ice filled shaker and shake until very cold. Strain into an ice filled margarita glass rimmed with Tajin (the Mexican salt blend of peppers, salt, and lime) or regular salt.

I am rather hooked on Mezcal right now. The smokey intensity of the spirit, melding with its natural agave sweetness is the perfect base for many sweet or savory cocktails. Montelobos Mazcal is produced preserving customs created generations before, with a nod to modernity, and focus on sustainability for the next generations future. Made in Santiago Matatlán Oaxaca from 100% organically certified agave espadín.
Smoke and Fire Margarita
¾ part Ancho Reyes Ancho Chili Liqueur
¾ part Montelobos Mezcal
¾ part Milagro Silver Tequila
1 part Fresh Lime Juice
½ part Agave Nectar
Preparation: Combine all ingredients in a cocktail shaker. Add ice, shake, and double strain over fresh ice into the glass. Garnish with a lime wedge.
Smoked Mangonada Margarita
Created by: Stephen Halpin, Parliament, Dallas
2 oz Patrón Reposado
.75 oz Smoked Patrón Citrónge Mango*
.75 oz Mango Puree*
.75 oz Fresh Lime Juice
Preparation: Combine all ingredients in a cocktail shaker and shake with ice to chill. Strain over fresh ice into into an ice-filled double old fashioned glass that has been rimmed with Tajin (a chili lime salt). Garnish with a slice of fresh mango.
*Smoked Patrón Citrónge Mango: Pour 6 oz of Patrón Citrónge Mango into a large empty bottle. Using a smoking gun, fill the bottle with smoke and swirl to combine for 20 seconds. It is now ready to be used as needed.
*Mango Puree: Peel and pit one ripe mango and cut into pieces. In a food processor, purée mango with 1.5 tablespoons sugar and 1 teaspoon fresh lemon juice until smooth.
Rosa Picante Margarita 
Created by: Jordan Corney, Bohanan's, San Antonio
2 oz Patrón Silver
.75 oz Fresh Lime Juice
.5 oz Simple Syrup
.5 oz Ginger Syrup
.5 barspoon Jalapeño Oil or a Fresh Jalapeño Slice
Preparation: Combine all ingredients in a cocktail shaker and shake with ice to chill. Strain into a chilled cocktail coupe that has been half-rimmed with rose sea salt, and top with a dash of rose water. Garnish with a rose petal, if available.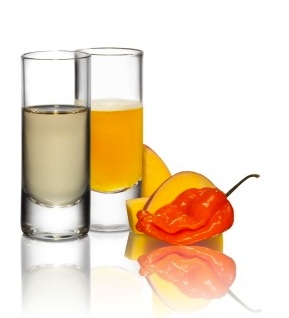 Yuzu Grita
4 parts   Milagro Añejo
6 parts   Lemon Juice
4 parts   Yuzu Juice
6 parts   Mango Juice
6 parts   Elderflower Syrup
2 Habanero Peppers
Preparation: In four shooter glasses, pour Milagro Añejo neat. Chop habanero peppers into small pieces. Blend with remaining ingredients. Steep for two to three hours. Strain into glasses, toast, and enjoy.
For traditionalist, the classic margarita is a mix of silver tequila, Cointreau and lime, as it was thought to be first created by Dallas socialite, Margarita Sames, while in Acapulco for the Christmas holiday and needed a cocktail to sip poolside with her friends in the late 1940's. She mixed tequila with Cointreau and a splash of fresh lime juice, pouring it over a salt rimmed, ice filled glass and the Margarita was born.
The Original Margarita
2 oz. Blanco tequila, like Don Julio
1 oz. Cointreau
1 oz. Lime juice
Preparation: Combine all ingredients in a mixing glass and add ice. Shake and strain into a Margarita glass. Garnish with a lime wheel and salt.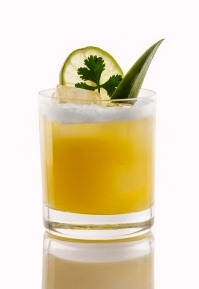 Mexican Garden
2 parts Milagro Silver
1 part fresh lime juice
.5 part light agave nectar
2 parts pineapple juice
Garnish: 1 pineapple leaf, 1 lime wheel, 1 cilantro leaf
Preparation: Combine all ingredients in a cocktail shaker and add ice. Shake, strain, and pour over fresh ice into a rocks glass and garnish.
Spicy Sage Margarita
2 oz. Avión Silver
3/4 oz. *Jalapeño-Infused Elderflower Liqueur, like St. Germain
1/2 oz. Orange Juice
1/4 oz. Lemon Juice
1/2 oz. Lime Juice
3/4 oz. Simple Syrup
3 Sage Leaves
1 Sage Leaf and Salt for garnish
Preparation: Muddle sage in a shaker. Add all ingredients. Shake. Double strain. Pour over ice in salt-rimmed glass. Garnish with sage leaf.
*Marinate one seedless jalapeño in a 750ml bottle of Elderflower liqueur overnight.
The Green Dragon
2 oz Casa Dragones Blanco
flat line 1/2 oz agave nectar
3/4 oz key lime juice
Preparation: Seasoned salted rim- the salt is soaked over night with key lime zest and then dehydrated. We season the salt with cardamon, anise seed, fennel seed and dill seed.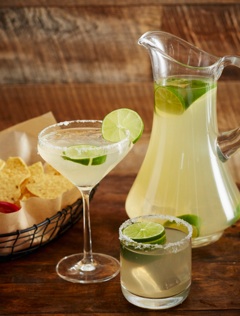 If all the mixing is just too much trouble, just open a bottle of Austin Cocktail's Bergamot Orange Margarita. A blend of Tequila, bergamot prange, Austin Cocktails Triple Sec, lime and organic agave the pre-mixed cocktail is lower in sugar than other premixed cocktails on the market, however packed with clean, deep orange and floral flavors.
Get the SideDish Newsletter
Dallas' hottest dining news, recipes, and reviews served up fresh to your inbox each week.