The Theodore's bar manager, Kyle Hilla, and his team enjoy experimenting with cocktails. The newly opened restaurant in NorthPark Center boasts a playful list of boozy concoctions. There's the Redwood, a mix of house-made jam, Carpano Antica vermouth, Campari, and rye; Badlands made with lemon, Rémy Martin VSOP, Woodford Reserve, and a red wine ice ball; and the frozen Everglades made with Green Chartreuse, lime, celery, Caña Brava rum, and ginger pop rocks.
The team is also playing with off-the-menu elixirs.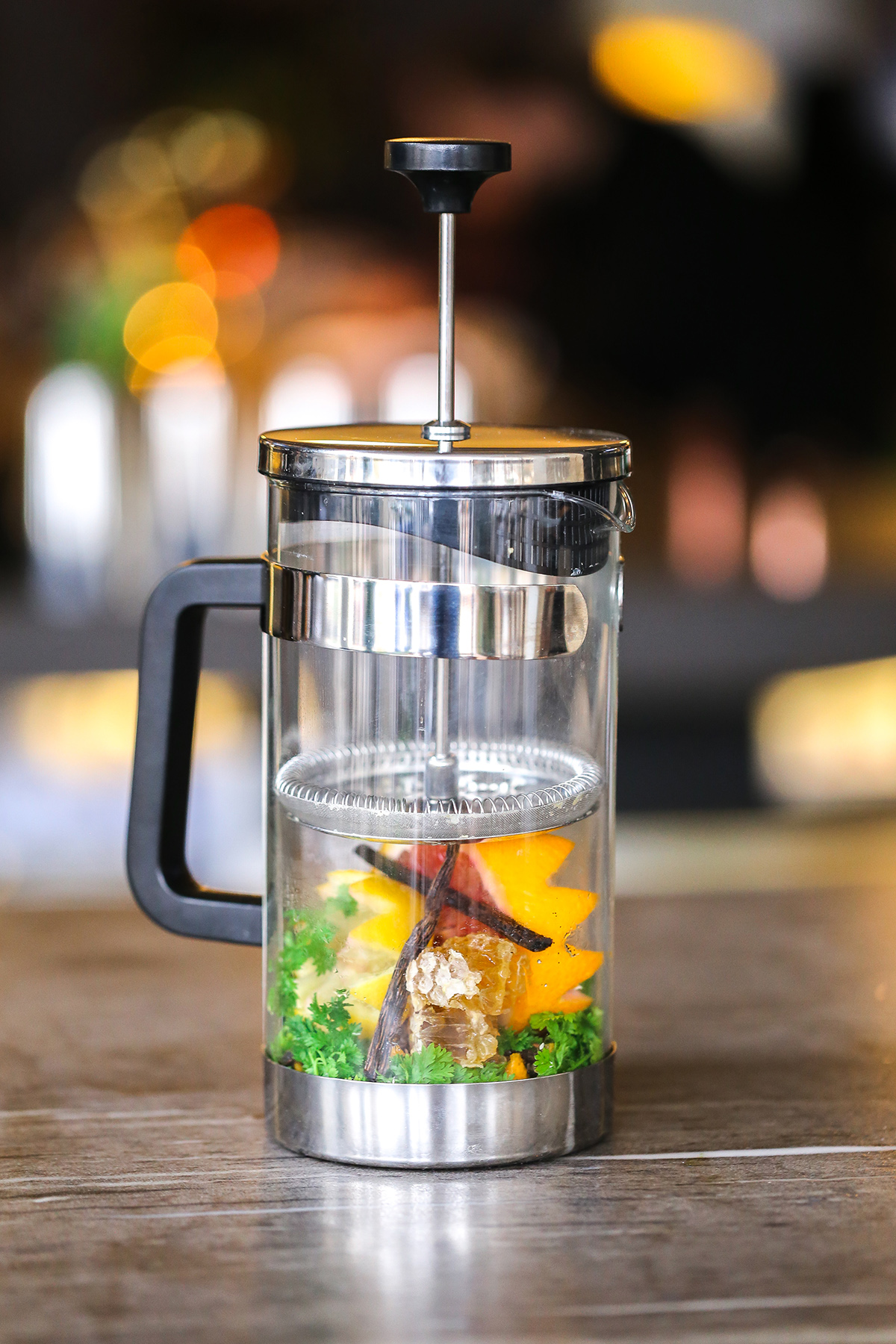 "It's kind of nice working this close to a Williams-Sonoma," Hilla says as he pulls out a newly purchased French press. The gadget that is traditionally used to make coffee has been transformed into a cocktail-infusing tool.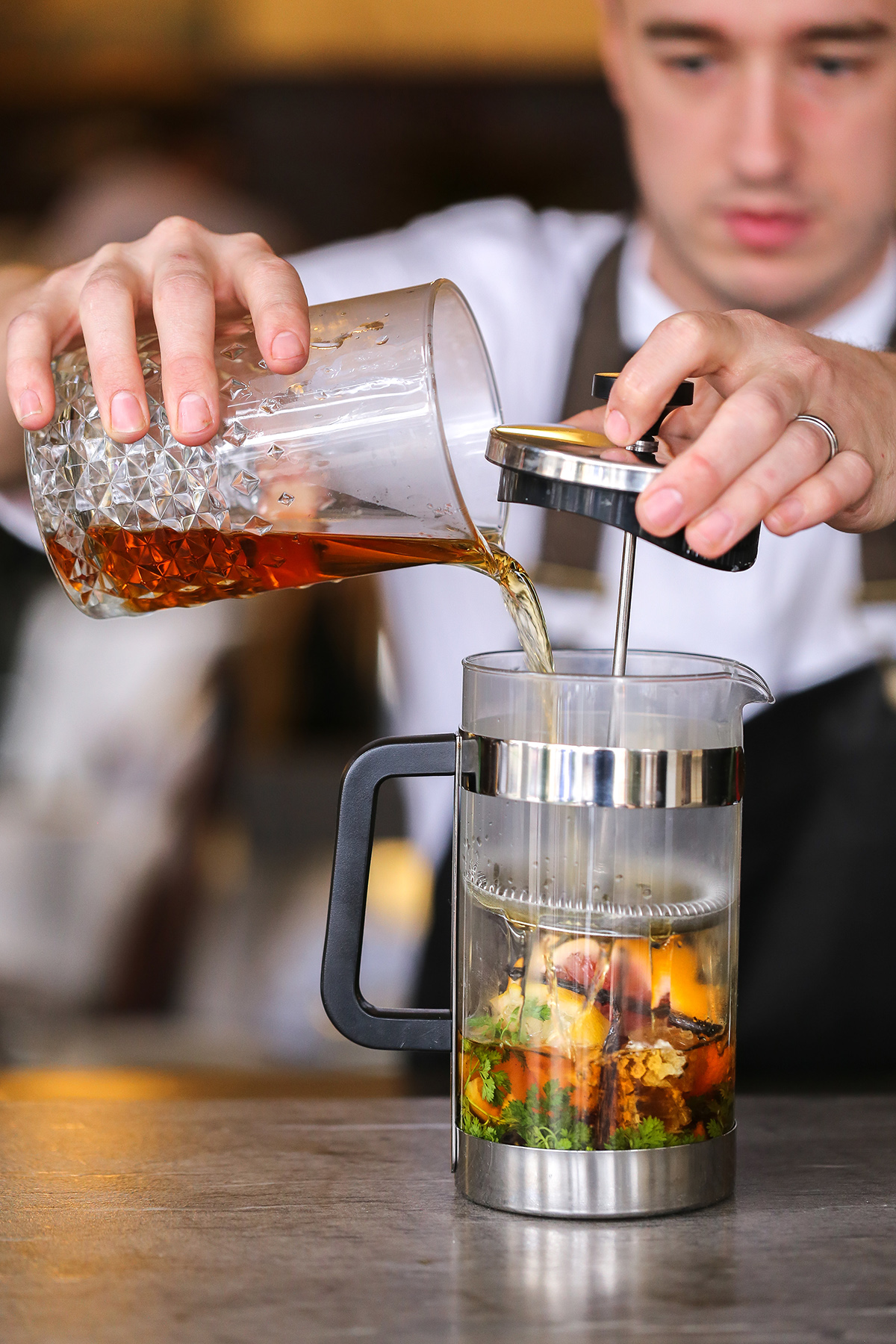 Bartender Mario Hernandez has created an off-the-menu French press cocktail called the Hot Teddy. The drink is a warming blend of seasonal fruits, spices, and spirits.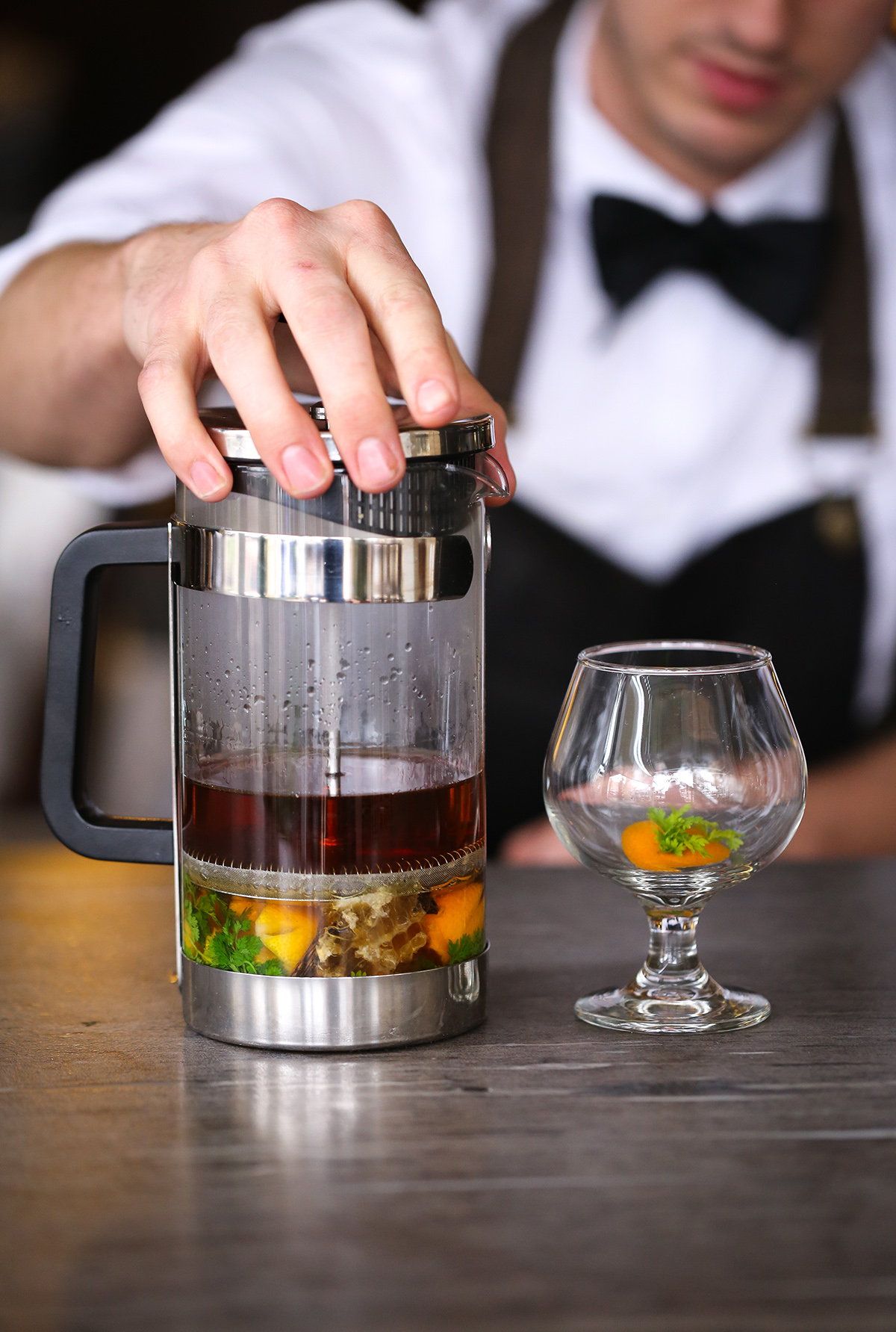 Blood orange, lemon, honeycomb, vanilla, cinnamon, and chervil are placed in the bottom of the device, and a herbaceous mix of Rémy Martin VSOP, Cynar, Grand Poppy, Bénédictine and Hot Water is poured on top. "[It's] a bitter and seasonal Hot Toddy that could be shared by a couple of people," Hernandez explains. The drink costs $25.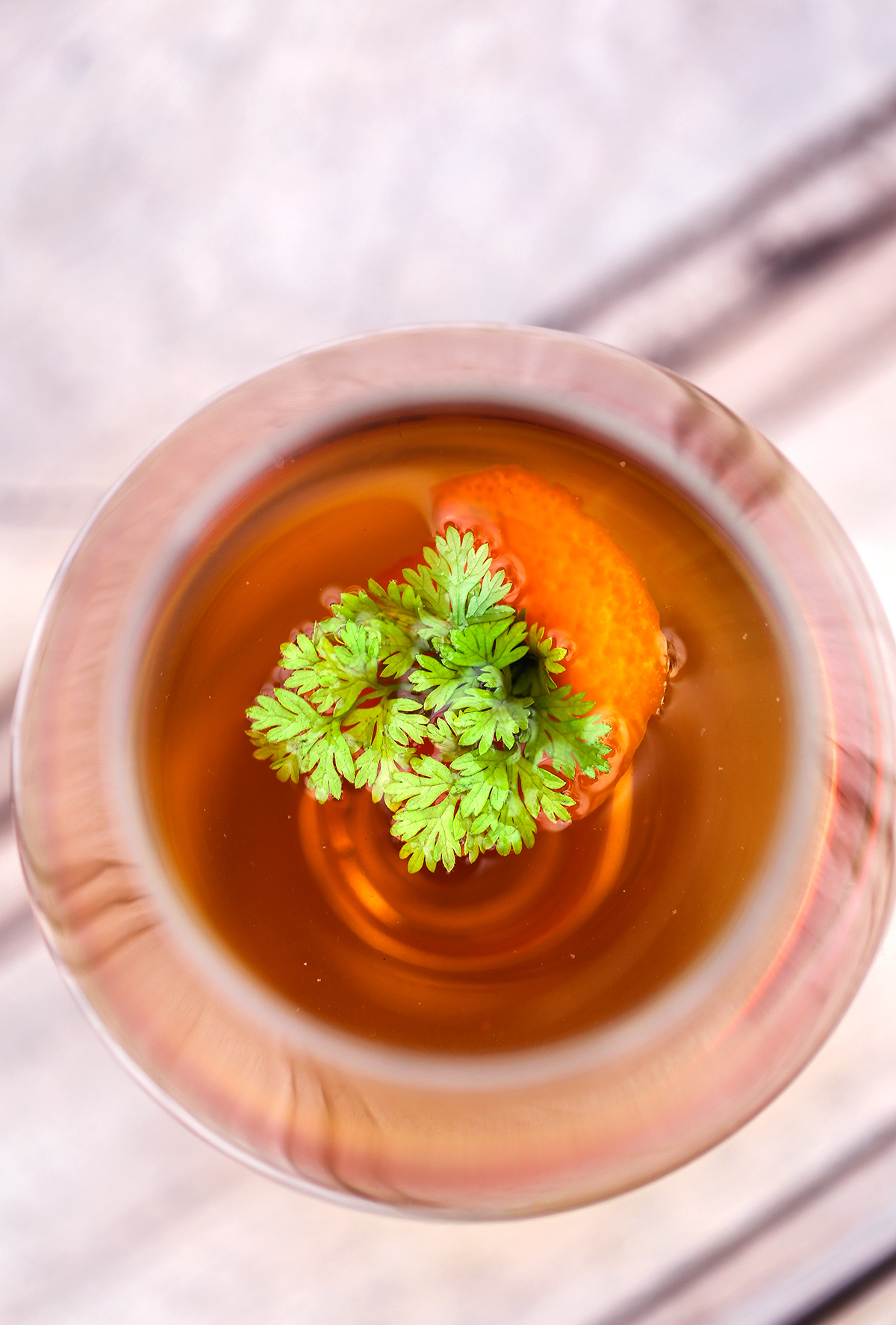 The bar is also featuring a rotating selection of Porthole-infused cocktails. Bartender Justin Payne recently dreamed up a winter warmer called Dig My Fig. The drink comes served in a Porthole and is a seasonal blend of Knob Creek rye, Rémy Martin VSOP, Cherry Heering, Carpano Antica vermouth, Allspice Dram, and Peychaud's bitters. The cocktail is infused with figs, cranberries, and ginger.
"I wanted to take the spices and smells that I associate with winter and Christmas and make a boozy cocktail that our guest could share during this crazy time of year," Payne explains. The cocktail costs $30 and is meant to be shared.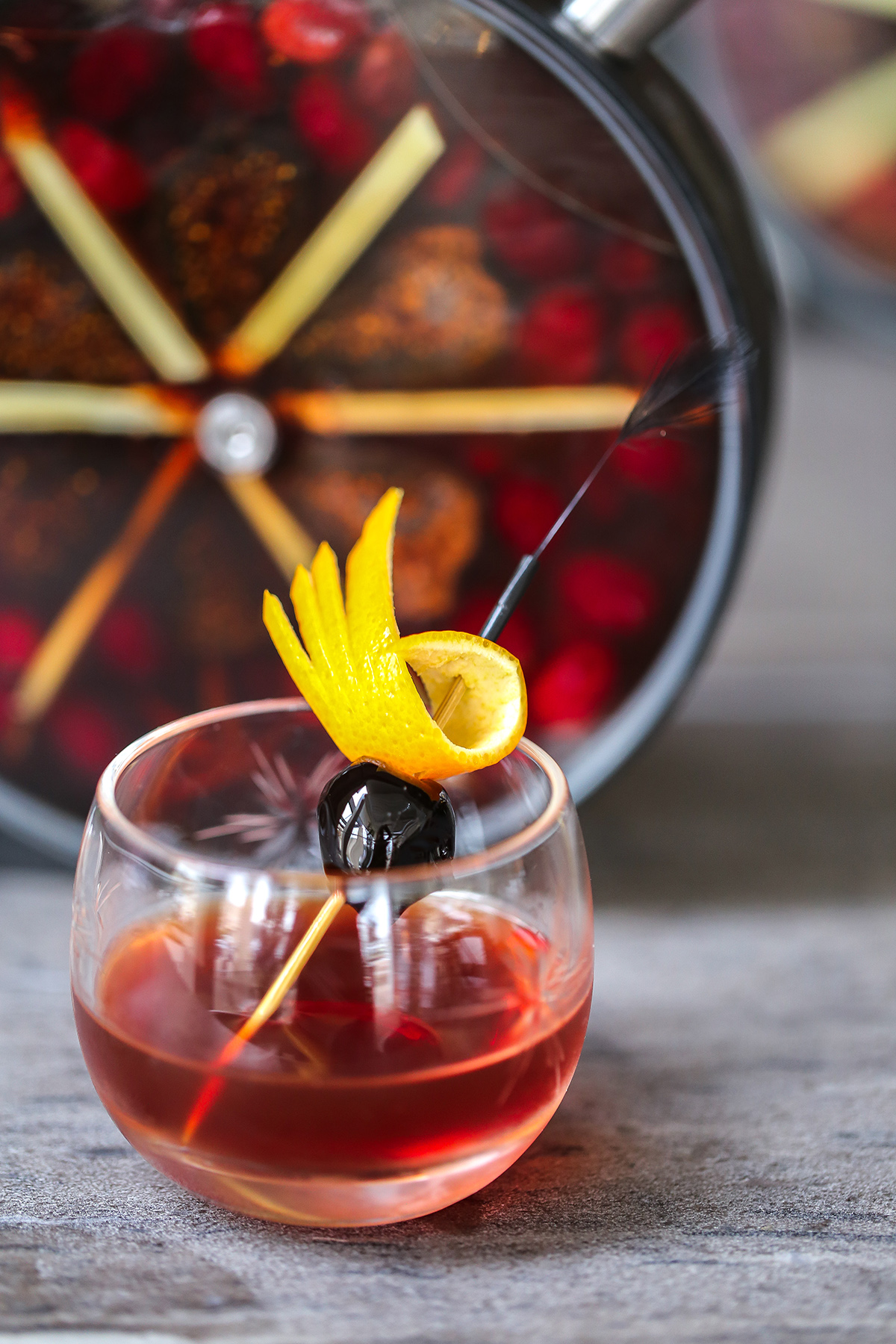 Get the FrontRow Newsletter
Get a front row seat to the best shows, arts, and things to do across North Texas. Never miss a beat.