One of my resolutions this past year was to sip the very best, explore wines from all over the world, and rediscover some that I have loved in the past while finding new favorites. From Portugal to France to South Africa to Argentina, incredible, interesting wines are finding their way to our store shelves, just in time for the holidays.  Here are a few to keep an eye out for as you look to set your holiday table, or to add as gift under the tree. Bonus, many are available at great prices. (Some selections were sent for editorial consideration.)
I had an opportunity to travel to Bordeaux, France as a guest of CIVB, the Bordeaux Wine Bureau, tasting through the region exploring some of the many options the beautiful region has to offer, from both well known Chateau to hidden gems. I will have a detailed post up shortly, but before I left I was invited to attend a virtual tasting of Cru Bourgeois du Médoc wines, also from the region, celebrating a designation of high quality.
The "Cru Bourgeois du Médoc" designation of quality for wines from the region was used for centuries, though in more modern times it had almost completely faded away. In 2009 the region, located in the northern part of Bordeaux, with the support of the French public authorities, approved a new selective quality assurance procedure for the Crus Bourgeois du Médoc, announcing the decree to once again use the "Cru Bourgeois" designation as an assurance of high quality.
Each year an Official Selection is sent for blind tasting and scoring in September by an independent body (the Bureau Veritas) on the basis of a defined set of specifications for wines from the 8 AOCs of the Médoc. The best wines from the year receive the designation. Here are a few to keep an eye out for, all of which are under $50, impressive for this quality Bordeaux. The 2012 vintages, currently available, are the third Official Selection wines since the new decree in 2009.
The Left Bank soils of the region of gravel, clay and limestone, ideal for growing earthy, graphite and crushed stone filled Bordeaux varieties melding tobacco, leather and wet stone with red and black fruit flavors. Chateau Landat Haut-Médoc blends 60% Cabernet Sauvignon with 35% Merlot and 5% Petit Verdot for an intense, yet well integrated blend filled with raspberry, blackberry and cassis on the open, slipping into leather, oak and coffee on the finish. $25, available at Total Wine and More.
Powerful, yet well rounded, Château Lilian Ladouys Saint-Estèphe shows the quality of the region at an approachable Bordeaux price. Slightly smoky and earthy, filled with blackberry, black cherry and spice. Bold, yet nicely integrated tannin for a great food wine, especially with rich meat or game dishes. $35 at Pogo's.
Softer and approachable upon release, yet still assertive, the Merlot dominant blend of Chateau Tour des Termes Saint- Estèphe melds dried rose petals and sweet spice with black plum, fig and blackberry leading to chalk and espresso notes on the back-end. $30, available here.
I also had a chance to attend a virtual tasting with some of the most prominent winemakers in South Africa showcasing the broad range of wines from the region, including those that the country has always been known for as well as up and coming parts of the country, tasting as a guest of Wines of South Africa. If you haven't had wines from the country on your radar, they should be as the vast country benefits from so many diverse terroir selections that anything can grow, from cool weather Pinot Noir and Riesling to sun loving Cabernet Sauvignon and Rhone varieties.
Wines have been grown in South Africa since the 1600's with the region of Constantia, on the Western Cape not far from Cape Town near the Atlantic, being the most historic wine growing region in the country, originally known for producing sweet wines and grapes to make brandy. Today dry wines prevail with Sauvignon Blanc being the most popular white variety consumed locally.
Groot Constantia is the oldest wine producing estate in the region, dating back to 1685. Their location allows for cool morning breezes and evening temperature drops to ensure ripe fruit, warmed by long sunny days in the summer, maintains bright acidity and freshness. The result for their Groot Constantia Sauvignon Blanc is a juicy, crisp and lively wine filled with white flower, soft herbs, juicy citrus and a touch of briny minerality. $15, available at Spec's.
Established in 1859, Excelsior Estate, in warm Robertson Valley inland from the Ocean about 100 miles from Cape Town, is filled with limestone and clay soils perfect for growing quality Cabernet Sauvignon. With a hands off approach the winery excels at letting the work take place in the vineyards, creating lush, approachable and delicious wines, also at a great value. Their $10 Excelsior Cabernet Sauvignon is simply a steal for the price. Filled with black cherry, ripe berry and chocolate notes this easy red will impress and not break the bank. Available at Pogo's and Total Wine and More.
Chenin Blanc is perhaps the most well known white wine of the country, known for years as Steen, but using its Old World name predominantly now. Ken Forrester has been making wine in South Africa, in Stellenbosch, for over 20 years and is known throughout the country as "Mr. Chenin" celebrating the variety and how well it can grow in their warm climate and clay filled soils. Though many in the region make it very fresh and fruity from young vines, Forrester opts to use some of his oldest (40 years on avg) bush-trained, low yielding vines for his The FMC Chenin Blanc, creating a concentrated, rich wine filled with dried stone fruit (apricot and nectarine), honey and white flower filled wine perfect for lobster or shrimp bisque, crab cakes or spicy Indian cuisine. $55, available at Spec's.
The most well known red from the country has to be Pinotage, created in 1925 by Abraham Izak Perold, the first Professor of Viticulture at Stellenbosch University, crossing difficult to grow Pinot Noir and robust Cinsaut. We tasted one from Lammershoek. Their Lam Pinotage is a fresh interpretation of the variety, melding light rose and violet flower notes with cigar box, spice and red fruit. Sadly it is not available in Texas but Spec's has a nice selection from wineries like Ken Forrester, Groot Constantia and Barista.

From Israel, Tulip Wines was created from love and passion, with a desire to make high quality, varietally correct wines in an unlikely place, that also provided value for the quality. The Yitzhaki family started their boutique winery in a small village in Jezreel valley called "Kfar Tikva," or village of hope, that was designed to support and provide a normal life for those battling mental illness. The winery employs many of the village members, giving them new purpose and hope. This hope, passion and purpose comes through in their wines. Tulip Winery White Tulip is a blend of Gewurztraminer and Sauvignon Blanc creating an aromatic, fresh wine with layers of white flowers, soft herbs, tropical fruit and citrus. $26 available at Spec's.
From Uruguay, Bodega Garzon specializes in growing small production, estate grown wines from their sustainably farmed vineyards. With 1150 individual vineyard blocks planted on their 524 acres of vineyards, the winery is focused on ensuring the distinct topography of the region is highlighted in each wine they produce. Their fresh and incredibly balanced Sauvignon Blanc is a perfect aperitif wine, melding just the right amount of lemon-lime citrus with honeysuckle, crushed stone and sunshine. $18, available here.
Vinho Verde, also known as "green wine" from the very green northern part of Portugal is home to some of the most refreshing, light, spritzy wines in the world, and is also incredibly affordable (with many options coming in below $10 or even $8 a bottle.) This is fun wine, easy wine, wine to enjoy with friends while relaxing. Created with a blend of traditional white varieties of the region, like Trajadura, Loureiro, Arinto and many more, with a touch of CO2, adding the trademark effervescence to the youthful, low alcohol, wine. Quinta da Lixa was started almost 30 years ago to produce quality wines from the region, while maintaining high social and environmental responsibility. Their Quinta de Lixa Anjos de Portugal Vinho Verde is very fresh, light and fizzy, with golden apple, ripe pear and lemon-lime notes with 9.5% alcohol, making it a great wine to pair with afternoon brunch dishes. $8, available at Pogo's.
The field blend of red grapes that traditionally have gone into the production of Portugal's beloved Port also makes stellar, easy drinking, food friendly dry red wine. Prats & Symington excels in this with their P+S Post Scriptum red wine from the Douro Valley. Filled with black cherry, black plum, forest floor and graphite notes with a nice balance of acidity this food friendly red is perfect with beef stew or braised lamb. $26, available at select Goody-Goody locations.

Though Esporao is best known for their wines from the Alentejo region of Portugal, their Douro property, Quinta Dos Murcas, produces stellar dry reds as well as Port. Their Esporao Quinta Dos Murcas Assobio Douro is filled with blueberry, raspberry, black plum, tobacco and spice. Robust, yet elegant, and affordable. $15 at select Goody-Goody locations.
Achaval Ferrer was started by friends with a desire to create high quality, premium wines in the high elevation soils of Mendoza, Argentina. Led by Argentinean winemaker Santiago Achaval, with friends Manuel Ferrer and Tiziano Siviero, along with Italian wine consultant Roberto Cipresso, the group came together launching the winery in 1995. With a focus on new world innovation, with old world tradition the established their three vineyards at elevations ranging from 2400 to 3400 feet above sea level, with close proximity to the Andes Mountains. With a dessert like climate, including very hot and dry summers, and very cold winters, the stressed vines are managed to produce low yielding, highly concentrated, intense fruit, specifically the signature of the region, Malbec. As vineyard location and selection is everything to the winery, their benchmark Malbec vines range in age from 15 years old to 120 years.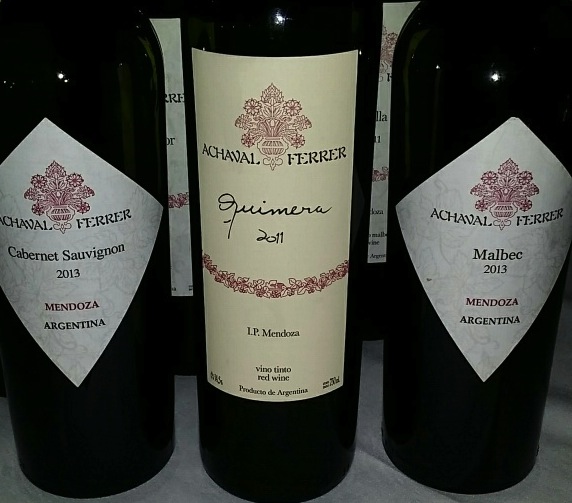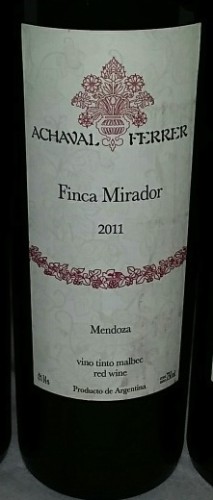 Their Achaval Ferrer Quimera ($40) is a blend of fruit from their three estate vineyards, melding vine age, soil types, elevations and varieties, including Malbec, Merlot, Cabernet Sauvignon, Cabernet Franc and Petit Verdot for a true Bordeaux-style blend from the best of the New World. Subtle wild flower and spice notes meld with red cherry, berry, chalky minerality and smoky tobacco. Their high end Finca Mirador Malbec ($140), from vines planted in 1921, is a concentrated, intense and yet elegant wine with dark chocolate, black cherry, caramel and coffee notes with bold structure and character. Wines are available at Pogo's and Total Wine and More.
Some of my favorite earthy, robust wines come from Spain. The masculine character of wines from regions like Toro and Ribera del Duero elevate the traditional Tempranillo grape, adapted to each region as Tinto de Toro or Tinto Fino, producing complex, structured, interesting wines.
Numanthia ($55) and Termanthia ($190,) with their four vineyards are located along the south bank of the Duero River in Spain in the Toro region, have been two favorites from winery Numanthia as they meld the bold qualities of the variety with a delicate touch given by winemaker Manuel Louzada. Special wines, available at Sigel's and Pogo's. Their entry level, and also delicious, Termes is available at Total Wine for $27.
From further inland on the Duero River in Spain's northern plateau is the beautiful Ribera del Duero, tracing its wine making roots back over 2000 years. Withing the region, near the town of Penafiel is Bodegas Emilio Moro, a family owned winery with three generations of history. Their vineyards, some dating back as far as 1924, are planted to a unique clone of Tempranillo, the Emilio Moro Tinto Fino clone, the oldest in the region. With a focus on tradition, innovation and social responsibility, the winery dry farms the vines, saving water and allowing the true expression of the fruit to shine.

The Bodegas Emilio Moro Malleolus is produced from vines aged 12-25 years old and aged 15 months in new French and American oak barrels. Tempranillo in particular does well with American oak, creating a wine filled with black fruit, toasted toffee, caramel and well integrated tannin. $50, available at various Central Market and Spec's locations
Cepa 21 is a project started by Jose and Javier Moro of Bodegas Emilio Moro with the goal to produce a fresh and approachable wine, ready to drink upon release, either with or without food. Their 2010 Cepa 21 Tinto Fino fruit grows at 2625-2950 feet above sea level, helping ensure grapes maintain acidity. The resulting wine is filled with raspberry, blueberry and red cherry pie notes, with a juicy palate, finishing with toasted spice on the end. $25, widely available.
I am a huge fan of Barolo, but find it can be very expensive and need extensive bottle aging to appropriately let the rough tannins soften. The beautiful variety of Barolo, Nebbiolo, is however grown throughout the Piemonte, under the larger Langhe DOC designation, and is often much less expensive than Barolo DOCG. Sometimes it is also made in a style that is more approachable early. Marchesi di Grésy Nebbiolo Martinenga Langhe DOC is produced from fruit grown in the Barbaresco village in the Martinenga vineyard facing south-west. The resulting wine is filled with sour red cherry and raspberry jam, melding with leather and forest floor earthiness. $25, available at Jimmy's and Royal Blue Grocery in Highland Park Village.

Carmenere is right at home in Chile, thriving in granite soils with a Pacific Ocean influence. Montes Alpha Carmenere from dry farmed vines on the western end of Colchagua Valley, about 13 miles from the Pacific, benefit from cool ocean breezes keeping vines dry and acidity high during warm ripening months. The result is a lush and juicy wine with plum, cassis and pepper spice notes. $25, available at select World Market locations.
Champagne is always a perfect gift and the beloved Veuve Clicquot is always stylish, playful and appreciated gift. But Veuve doesn't just deliver great bubbles inside their famous yellow label bottle, they always come up with fun ideas for holiday packaging, and this year is no exception.
Last year they created their Clicquot Mailbox to celebrate their history of correspondence. This year, they invited designers to create their own interpretation of the Clicquot Mailbox, with the winning design captured on this year's cutest gift option, the Re-Creation Awards Mailbox, complete with a bottle of yellow label Veuve. Winning designer, Canadian, Eileen Ugarkovic, created a design that represents freedom of thought, conveyed through graphic images of paper planes. The Re-Creation Awards Mailbox can be found at Pogo's and PK's stores in Dallas for $50.
Get the SideDish Newsletter
Dallas' hottest dining news, recipes, and reviews served up fresh to your inbox each week.