The Skellig, a new Irish pub on North Henderson Avenue, is the product of the owners of Blackfriar Pub, The Idle Rich Pub, and The Old Monk. More importantly, it has an epic mural on the back wall that features shipwrecked monks, floating barrels of ale, and a giant squid. I spent most of my visit here ruminating over what it all meant. (But more on the mural in a minute.)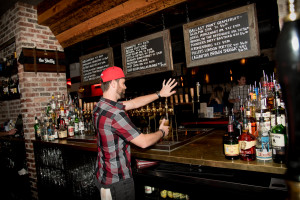 The Atmosphere: The Skellig is an expansive, beige-bricked bar with high dark-wood tables and a big, beautiful, well-staffed bar. The 20 beers on tap are announced via small, square chalkboards on the far left wall. Close by is a small clearing designated for live bands. (Pearl Earl was setting up when I walked in.) There are board games, flat screens, and a dart board. The Skellig's light-strewn patio – well-stocked with wooden picnic benches – is even better than The Old Monk's. The building has several big, open windows and entryways, allowing a melding of the outside and inside spaces.
What to Order: The taps present a good variety, offering both Irish standards like Guinness ands local brews like Deep Ellum IPA. There's also plenty of draught and bottle options. The bar's eight cocktails include classics like Mules and Old Fashioneds, plus sweeter fare like the Basil Sour and a very tempting Grapefruit Margarita. There's also a cold-brewed Irish coffee, if you like your alcohol consumption to possibly result in a 1 a.m. footrace down Henderson.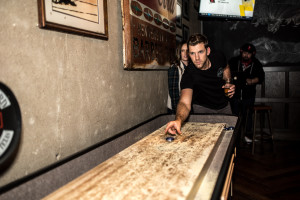 Who's There: You'll find the bar stocked with an attractive Henderson crowd (both bartenders and clientele). I noticed quite a few date-night couples (including a couple clad in plaid) and at least one rowdy ladies' night out. There were sweater/collared shirt combos at the bar and a few beards and ball caps. My favorite couple, though, was a man who'd come in arm-in-arm with a very old woman. I like to think it was a grandson/grandmother night out.
What I Liked: That monk mural. This is what I was told: The owners of The Skellig really love this certain New York bar. It serves Belgian ale, and the bartenders all dress like monks and "shush" you if you talk too loud. There's a mural that wraps its perimeter – and that mural looks a lot like the one commissioned for The Skellig. That doesn't explain what's happening in the mural, obviously, but I guess that's purposely left open to speculation. (One bartender's interpretation: "The monks are trying to save their sweet, precious booze and fighting a giant squid for it.")
What I didn't like: The Skellig has that polished feeling bars sometimes have when they're an owner's third or fourth venture. Its smoothness makes it kind of forgettable, to the point where your Old Monk experiences and times at The Skellig might kind of blur together.
The Skellig was named one of Dallas' Best New Bars for 2015.
Get the FrontRow Newsletter
Get a front row seat to the best shows, arts, and things to do across North Texas. Never miss a beat.