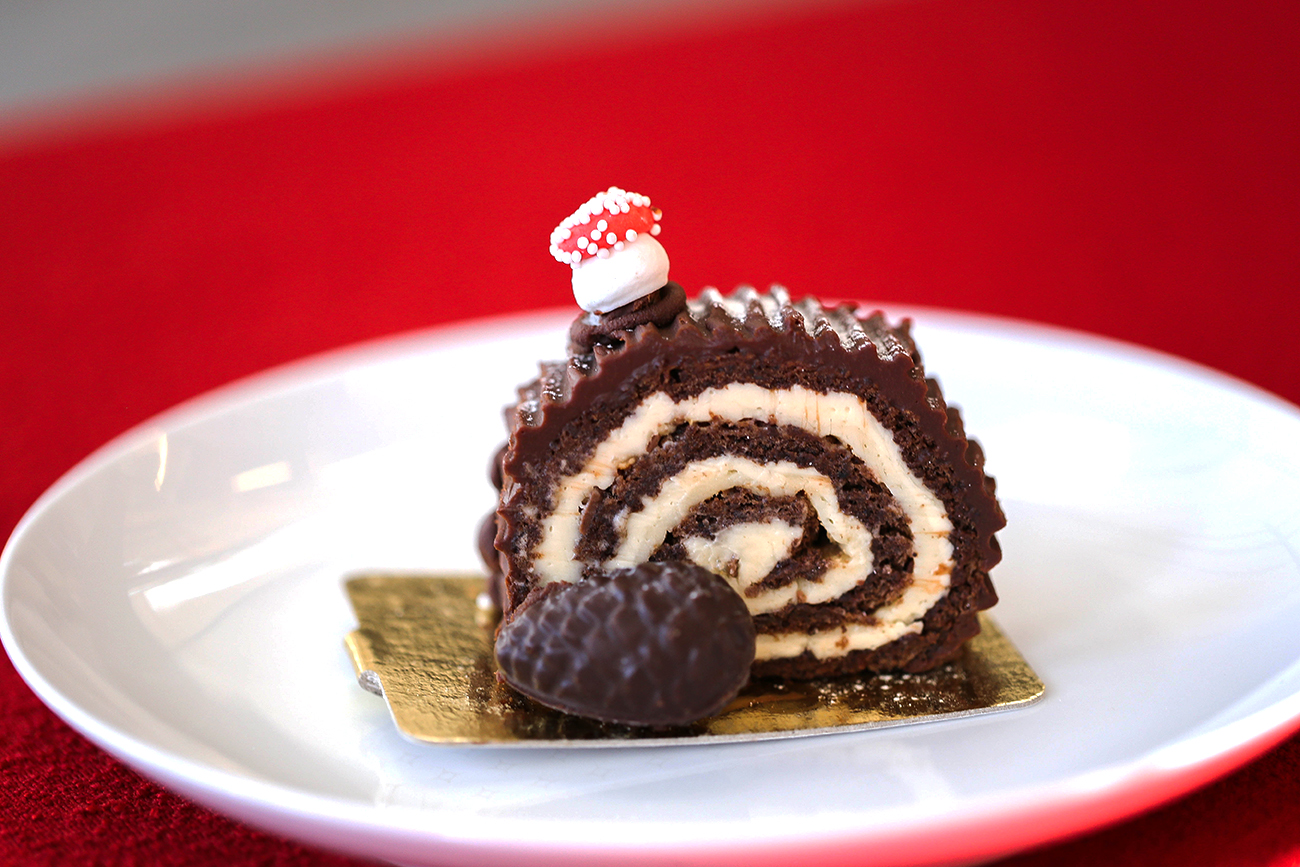 2015 Holiday Gift Guide: Bûche de Noel
Do as the French say... let them eat Yule Log.
We're turning the spotlight on food-centric gifts over the next 12 days leading up to Christmas.
This time of year in Paris, patissiers try to one-up one another in one genre: the bûche de Noel.
The Yule-log confection is a jelly-roll cake, frosted and decorated to resemble a log you've just cut from the forest. In traditional versions, buttercream frosting is scored to look like bark, a cross-section of cake placed on the top or side to simulate a cut limb, and—if the patissier is whimsical—the log is decked with meringue mushrooms.
It wouldn't be Christmas without one. As groups plan holiday festivities, you'll often hear the all-important question posed first: "Who's bringing the bûche?" Said person arrives (imagine them stamping snow from their boots and untangling layers of scarves as they balance the precious cargo) and general applause inevitably ensues. Then hungry ogling.
Traditional flavors include chocolate, coffee, praline, and my favorite, sweet chestnut. But newer versions, often cheek-to-cheek with classics, ditch the rough bark for a sleek coating and glam themselves up with colors that pop and flavors like passion fruit and yuzu.
I've seen specimens made to look like birch boughs and others sporting snowflakes and little forest gnomes. They inspire the same decorating flair as gingerbread houses. And in me, they inspire enduring obsession. (On what was then my food blog, I wrote a few years ago about the changes I was seeing in the French bûche scene, where everyone makes them, from the humble corner bakery to boutique confectioners like Laduree and Pierre Herme.)
This year, be the one to bring the bûche. If you don't want to be up to your elbows in buttercream and meringue, these places around town will help you out.
Chocolate cake; hazelnut or salted caramel buttercream studded with bits of toffee; dark chocolate ganache and miniature mushrooms, poinsettias, and chocolate pine cone with a hazelnut filling. Available through December 31. (Gluten-free on request.) Available by the slice ($7) as well as in whole-log form ($45). (It's harder to find them by the slice here; but sometimes a girl wants a gift for one!) 3700 McKinney Ave. #150, 214-613-3570
Chocolate and salted caramel—Chocolate cake with salted caramel and nougatine buttercream
Praline and cappuccino—Lady finger sponge cake, praline buttercream and cappuccino mousse
The Victoria—Key lime cake, key lime and milk chocolate buttercream, coated with strawberry gelee lightly spiced with ginger
The Beethoven—Chocolate mousse cake with crème brulee and thin crispy wafers on the inside, and a chocolate glazeon the outside
Large $38 (serves 10) or small $28 (serves 6); order before before Dec. 23
Locations in Grapevine, Plano, and Richardson
Chocolate fudge, chocolate vanilla, and mocha
$30 (serves 10-12); order 48 hours in advance; 5219 W. Lovers Lane #B, 469-335-8949
Chocolate cake with chocolate-raspberry buttercream and chocolate fudge frosting
$75 in-store or available via Nieman Marcus (serves at least 12); (available until Jan.1) with two days notice; 1546 Edison St., 214-760-9196
Chocolate, mocha, and praline ($24.99)
Chocolate ($19.99)