You know how it is to entertain a crowd, whether it be family, friends, colleagues or clients, you want to impress, but not always break the bank. You want to serve something of quality, but probably not your special occasion wines. Maybe not even your everyday wines, but something to please many different palates and personalities. Happily, impressive wines for entertaining a crowd don't need to cost a fortune. Here are a few go to sparkling and white wine options that will pair beautifully with this holiday season, all for $20 or less. I'll follow up with red wines next week. (A few selections were sent for editorial consideration.)

A bubbly to welcome guests is always appropriate, but even more so celebrating the holidays. Something light and easy as an opening for your evening. Prosecco is a perfect aperitif choice as they are often fruity, fresh and uncomplicated. La Marca Prosecco is filled with floral notes of honeysuckle and white flowers, melding with crisp citrus and green apple. And, with an alcohol level just over 11% you can easily sip this from the start of an evening to the end. $17, widely available.
Piccini has been making wine in Tuscany for over 130 years, but just in 2012 they launched their Prosecco Piccini Extra Dry DOC. A light and aromatic sparkler, with a touch more residual sugar than some, making this a lovely off dry option to welcome guests while enjoying anything from marinated artichokes (usually one of the most difficult foods to pair with,) to hard, aged cheese to crab cakes with a spiced aioli. $15, available here.
Juicy and fruit forward, Martini Rose Demi-Sec Sparkling Wine is the perfect bubbly to enjoy with appetizers, a glazed honey ham or at the end of an evening with chocolate as the floral rose, raspberry and fresh peach aromas and flavors of the wine make this slightly sweet wine one that can carry you throughout the night from start to finish. $15, available at Total Wine and More.

Winemaker Georgetta Dane developed her Chloe Wine Collection to bring a new level of sophistication to wines from around the world. Her latest introduction to the portfolio is her Chloe Procecco DOC. A lively fun wine filled with white peach, apple, white flowers and a touch of steely minerality making it pleasing and fresh on the palate. $17, available at Total Wine and More.
I find a Cava from Spain to be a little bit drier than Prosecco, and Segura Viudas Rose Brut Reserva is one of my constant go to sparklers as the traditional method process, with the second fermentation occurring in the bottle, adds just the right hint of creamy richness from the yeast aging to complete the ripe berry and cherry filled wine. And, you just can't beat the price, around $10 a bottle and widely available.

Though it is getting cooler (so the weatherman says) a light white wine is still a requirement for any kind of entertaining. I spent some time recently in Vinho Verde, Portugal, traveling as a guest of the Comissão de Viticultura da Região dos Vinhos Verdes. Vinho Verde is often thought of simply as the light, slightly effervescent, easy drinking, low alcohol wine from the northern (and very green) part of Portugal, but there is a lot more going on in the region than meets the immediate eye. Thanks to a new generation of winemakers focused on producing high quality, often single variety wines from the region (like Alvarinho, similar to Spain's Albarino, Loureiro, Avesso, Arinto and many more,) the region and the wines are proving how special this area is for making beautiful white wine. Another great thing, many are quite affordable, often less than $10 a bottle. Quinto da Raza Dom Diogo Arinto is a beautifully aromatic white filled with apple blossoms, ripe pear and juicy citrus notes for an easy and approachable wine that can be sipped anytime of day. $13, available here.
I am a huge fan of the whites from Alto Adige, from their gorgeous Gewurztraminer to their refreshing Pinot Bianco wines, however what they are best known for of the whites is their Pinot Grigio. Always juicy and fresh, yet also clean and crisp with vibrant acidity, Alois Lageder Pinot Grigio Dolomiti comes from vineyards sitting at elevations ranging from 750-almost 1200 feet, allowing for a warm summer days to ripen the fruit, but also an extreme drop is temperatures at night to ensure fruit maintains racy acidity. A touch of aging on the lees (yeasts) helps create texture and roundness in the wine on the finish. $17, available at Pogo's.

Made more in a classic Alsatian style, Raptor Ridge Willamette Valley Pinot Gris celebrates the diversity of the region's soils creating a slightly earthy and mineral filled wine that melds steely freshness with ripe fruit flavors of summer like lemon, lime, soft herbs and golden apple. A perfect wine with seafood or shellfish, salad filled with peppery, bitter greens or as the starter for an evening. $20 available via their website.
Willamette Valley Vineyards Pinot Gris, also made with a focus on freshness, and food friendliness, ensures bright acidity balances ripe fruit with a nice textural element of creaminess developed through aging the wine on the lees, stirring twice a month, for a short period of time. White flowers and honey filled, melding with lemon balm and orchard fruits. $16, available at Total Wine and More.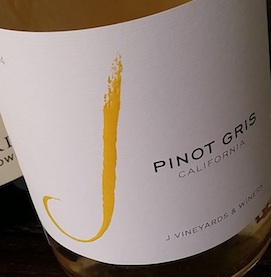 The warmer climate of California creates a touch more tropical fruit flavors in the Pinot Gris from J Vineyards and Winery, which still maintaining acidity. Aromatic jasmine and lilac open with the wine, followed by ripe pineapple, lemon and Asian pear with a mouthwatering juicy palate. Pair with spicy Thai or Mexican or even spiced charcuterie and cheese. $18, available at Spec's.
A dry Riesling is the ideal food wine, especially for pairing through the holidays and happily, the United States has come a long way in producing delicious Riesling in both the Northwest and the Northeast. From Columbia Valley, Washington, Long Shadows Vintners winemaker Gilles Nicault crafts his Nine Hats Riesling filled with floral notes, honeydew melon and crisp citrus, melding with steely minerality and a touch of petrol classic in a Riesling wine. $13, available through the winery.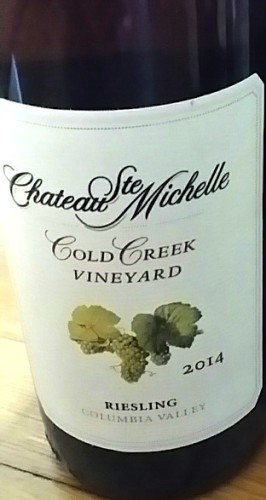 Chateau Ste. Michelle Cold Creek Vineyard Riesling comes from 40+ year old vines grown in their Cold Creek, Columbia Valley vineyard. Concentrated and rich, yet balanced with crisp acidity and freshness the juicy wine is filled with layers of ripe golden peach, apricot and spice, perfect for pairing with spicy Asian or Thai food. $16, available at Total Wine and More.
Sauvignon Blanc has become the go to wine for many white wine drinkers as the approachable, dry, food friendly wine melds easily with anything from fish to chicken to pasta, often offering great acidity, ripe fruit flavors and distinct minerality and herbaceous qualities.

Benziger Family Winery in Sonoma delivers a bright, delicious Sauvignon Blanc from their certified sustainable vineyards filled with lemon zest, ripe melon and crushed stone. A great wine with shrimp or crab salad, or airy cheese souffle. $14, available at Total Wine and More.
French immigrant Loius Mel planted Sauvignon Blanc and Semillon cuttings acquired from the owner of Chateau Y'quem in his Livermore Valley, CA vineyards in the 1870's, bringing his desire to grow great fruit to make stellar wine with him from his homeland in France. In the 1930's Mel sold his estate to his neighbor, the Wente family, where the decendants of those original vines are still grown today and produce the Wente Louis Mel Estate Grown Sauvignon Blanc. A great story can only be made better by a great wine, and this one, filled with ripe grapefruit, gooseberry and mineral notes highlights the warm climate, yet is balanced by the freshness gained from mineral intense soils. $15, available at Total Wine and More.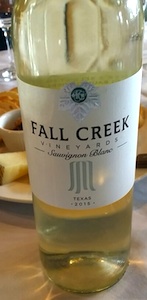 I had a chance to visit a few Texas wineries recently, tasting through their portfolios as their guest, include Fall Creek Vineyards with owner Susan Auler and her new winemaker Sergio Cuadra, who arrived at the winery just before harvest in 2013. A bit of a non-conformist, the Chilean born and trained winemaker, who arrived in the US to work with Susan after working with such wine makers as Paul Hobbs, the logical, scientific minded Caudra is determined to prove that quality wine can be made in Texas, even from traditional international varieties like Chardonnay, Sauvignon Blanc and Cabernet Sauvignon, though many in the Texas wine industry think our key varieties will be more the traditional Spanish or Italian. I will have more on my visit with them both in a post soon. Their classic Fall Creek Sauvignon Blanc is a very approachable and inexpensive light bodied white wine, filled with chalk and mineral, ripe melon, juicy citrus fruit and a touch of brininess, all for about $10 a bottle. Though a touch out of the $20 price range, a newly introduced label to their portfolio is the Fall Creek Vineyards Vintner's Selection Sauvignon Blanc 2015 ($21.99) takes this one step further creating quality wines from Texas Hill Country fruit, highlighting the earthy minerality of the sandy, clay and limestone filled soils of the region. The Fall Creek wines are available at Spec's and Total Wine and More, the Fall Creek Vintner's Selection is available via their website.
Another stop during my Texas tasting was with Duchman Family Wines, being equally and pleasantly as impressed with their Italian heritage varieties, including their stellar Montepulciano and Aglianico (both retailing for $30,) however for a crowd pleasing white under $20 their Vermentino is a constant favorite. From fruit grown in the Texas High Plains, the balanced, fresh and crisp wine is a welcome addition to any dinner party, especially paired with a seafood stew or creamy pasta. $20, available at Spec's.

Also from Wente, Morning Fog Chardonnay melds a variety of techniques in the winery during fermentation to create their slightly creamy, honey and orchard fruit filled wine. Blending a combination of 25% new French oak with 25% used American oak and 50% stainless steel fermentation creates a medium bodied, nicely rounded texture that maintains nice acidity. An easy, go to Chardonnay for an affordable cost (about $15) that also pairs well with popcorn while watching the latest Bond movie (it is on the list at Studio Movie Grill and Chardonnay and popcorn do make every film better.) Available at Total Wine and More as well.
The stellar team behind Amici Cellars in Napa Valley, including Texas born and raised John Harris (a Houstonian by birth who attended UT before heading out to Silicon Valley to pursue his career in the tech industry and his passion for wine,) also makes Olema. The Sonoma focused brand is not only producing delicious wines, but also affordable ones. Olema Sonoma County Chardonnay blends fruit from Sonoma Coast and Russian River for a apple, melon and toasted almond filled wine with a touch of creaminess from partial barrel and malolactic fermentation. $15, available at Total Wine and More.

The Other Guys started their winery to show you can make high quality wine at affordable prices, showcasing great fruit with varietal character and refinement. Their Leese-Fitch California Chardonnay was named to honor their historic Sonoma Plaza home that dates back to the late 1800's. The wine, from fruit sourced throughout the state, melds ripe tropical mango and warm spice with crisp citrus and California sunshine.
From the cool, breezy Sonoma Coast, Pali Wine Company crafts their Pali Charm Acres Chardonnay. This vibrant, crisp and intense Chardonnay is filled with aromas of orange peel and lemon zest, with yeasty bread, honeycomb and wet stone. Rich and lively texture with flavors of lime zest, juicy grapefruit and mineral. Pair with anything from chicken pot pie, to mac & cheese to deviled eggs. $20, available at Goody-Goody stores.

I always like a wine that gives back making any purchase a true win-win. Noble Vines has partnered with Random Acts, a non-profit that aims to conquer the world one random act of kindness at a time. So simple, thoughtful and easy, the pay it forward mentality that if we all followed would surely make our world a better place. Since last year the winery has donated over $30K in support of the organization, asking to tag #nobleacts and #getkind on social media when you see a random act of kindness occurring. They, of course, suggest inviting friends over and sipping their Noble Vines 446 Chardonnay together as the approachable and affordable wine will bring a smile to anyone's face. $12, available at Total Wine and More.
Get the SideDish Newsletter
Dallas' hottest dining news, recipes, and reviews served up fresh to your inbox each week.