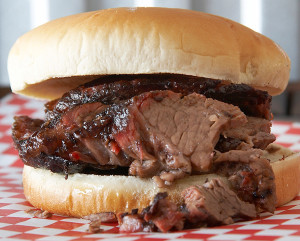 There's not always enough time in the day to skim a lengthy, re-worded press release that's been stamped with "breaking" or "exclusive." And some stories don't warrant an entire page of prose. Each week we'll gather the most important tidbits of Dallas food news and post them here, on SideDish. Because sometimes all you need is the scoop.
Lakewood Smokehouse to open in December: Lakewood Smokehouse is slated to open next month at 1901 Abrams Road in the space previously occupied by Ali Baba Mediterranean Grill. According to the release: "Bringing Lakewood this new BBQ concept are Partners/Owner Operators, Jason Hall (who owns 3 Stacks Smoke & Tap House in Frisco), John Pantenburg, and Mike Mullen who have been friends and co-workers in the restaurant industry for 20 years. Lakewood Smokehouse plans to serve classic BBQ offerings such as brisket, smoked turkey and sausages with an array of sides like macaroni and cheese, fried okra, green beans and potato salad. Patrons to Lakewood Smokehouse can expect the same quality and delicious BBQ that has made 3 Stacks a household name in Frisco, with a few exciting additions. Unlike the casual line-service most BBQ establishments employ, Lakewood Smokehouse will be a full-service restaurant."
Dugg Burger adds Thanksgiving toppings to their menu: That's right, Thanksgiving on a bun. According to the release they'll serve a different traditional topping every day from November 23 through November 29. Toppings include stuffing, corn casserole, cranberry wasabi, turkey gravy, and more. Dugg Burger is located at 9540 Garland Road #407 at Casa Linda Plaza in Dallas.
Hopdoddy serves Thanksgiving on a bun: A turkey patty is topped with sage pesto, jalapeño cornbread stuffing, ginger cranberry chutney, gouda cheese, and a bacon brussels sprouts salad. The limited edition burger is available now through November 29.
Madrina now offers brunch: Expect dishes such as Chef Peraza's French-mex version of Chilaquiles, with Huitlacoche tortilla chips, duck confit, poblano cream sauce and queso fresco; Tarte Flambée with fromage blanc, caramelized onions, lardons and poblano rajas; Pain Perdu featuring crème brûlée French toast, Mexican chocolate and jalapeño-smoked maple syrup. Brunch is available every Saturday and Sunday from 11:30 a.m. until 3 p.m.
Texas is first state to carry Suji's Korean Cuisine: According to the release: "To spearhead the national launch and roll-out of Suji's Korean Cuisine, a line of true-to-the-culture prepared meals, entrées, and sauces, Texas became the first state, and Costco the first retailer, to address the rapidly growing interest in Korean cuisine, starting with the deliciously spicy Beef Bulgogi, a dish featuring thinly sliced meat marinated in a blend of spices and soy sauce. Suji's Korean Cuisine will be available at additional retail outlets in Texas over the next few months followed by retailers in the Midwest, Southeast and California."
Have a scoop? Send it to [email protected]
Get the SideDish Newsletter
Dallas' hottest dining news, recipes, and reviews served up fresh to your inbox each week.