A handful of D Magazine staff members tasted restaurant mashed potatoes in honor of Thanksgiving. So, which homestyle version is the best according to the testers of taters?
The mashed potatoes:
A. Bubba's
B. Mama's Daughters' Diner
C. Celebration
D. AllGood Café
Tasting notes: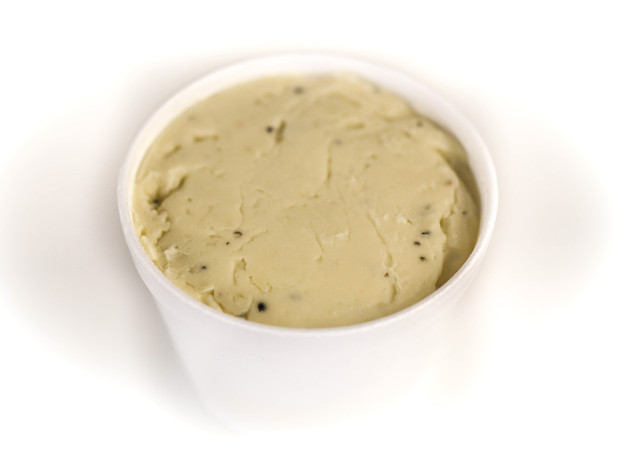 A little bit of a cake-y texture, making it feel a little box-like. But overall very tasty.
Creamy and delicious. I could eat just this for Thanksgiving and be just fine.
Super creamy. Great consistency. This is the type of mashed potatoes I could eat all day.
If you wanted to shoot some whitetail deer and there wasn't a salt lick nearby where you could set up a blind and hunker down and drink Lone Star all day, waiting for a deer to get to lickin' while you lined up the kill shot, then you could use these potatoes instead of the salt lick. They are salty, is what I'm saying.
Very smooth, no chunks, great flavor, creamy.
Yum! Thicker than the others.
Very creamy and buttery. Smooth.
So smooth. Also nice and light. Not life changing, but pretty good!
Yum! Smooth and creamy goodness.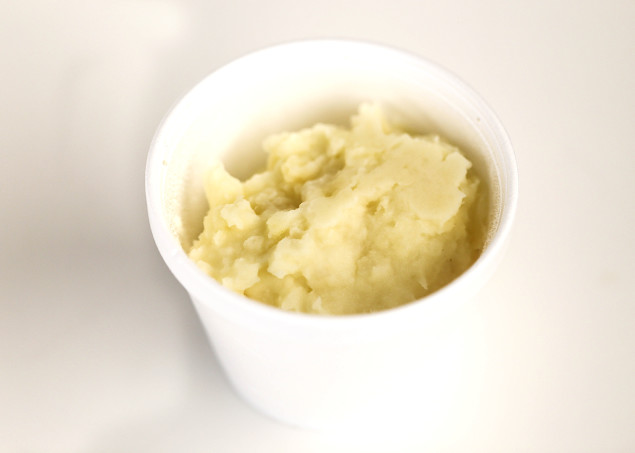 Not much flavor when you first taste it. But there's a funny aftertaste.
Too dry, tastes like absolutely nothing.
A little bland. Where's all the other stuff you mix into mashed potatoes?
My grandmother lived out her last years in a nursing home. She had Alzheimer's. A sweet, caring lady for most of her life, she turned a bit mean as her brain calcified. My mom wrote a note and taped it up in her room at the nursing home. It read: "Remember that we always love you." Beneath it, my grandmother wrote: "Poppycock." Anyway, these potatoes taste like the crap they served in the nursing home.
Tastes potato-y. No other distinctive flavor.
Plain and straightforward.
Lumpy and bland.
Like a fluffy cloud of potato dreams. Though not the most flavorful of dreams.
Too potato-y or something. I want more pepper.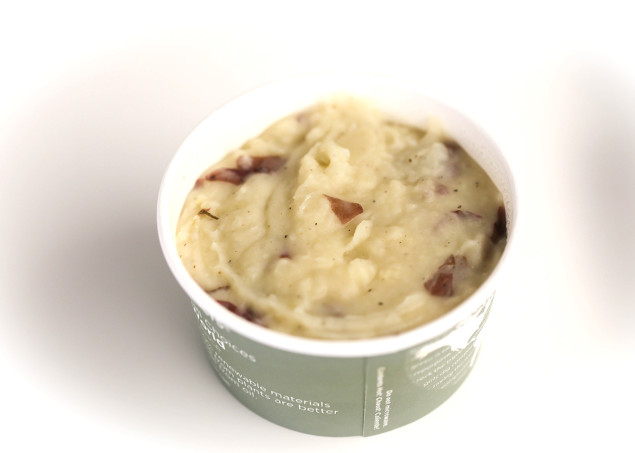 Yeah!
I like the rustic style.
I like the potato skin, but the rest is just kind of "there."
If you make mashed potatoes without using the skins, you probably hate kittens. You also probably don't wash your hands after using the bathroom. You smoke in your car and throw cigarette butts out the window. You think Donald Trump would make a good president. You take a penny whenever you need one, but you never give a penny. You dump unwanted house paint down the sewer drain. You fart in elevators. In other words, you are a bad person. Skins add texture, color, and nutrients. I like these mashed potatoes.
Like the skin chunks, but the flavor is bland.
A bit chunkier, less buttery than the others.
Like the potato peels in it.
Gotta respect those potato skins. Mad props. Wish they were a little more buttery, though.
I always loved a mashed potato with chunks. I love the red potato skins, gives it texture.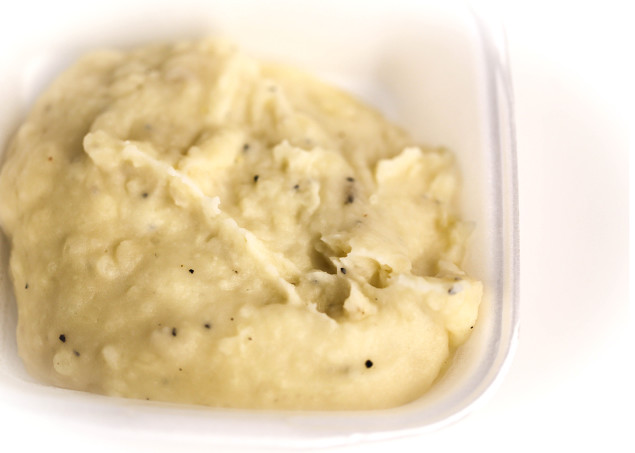 Has a lot of flavor and smooth texture. Just the right amount of texture.
Holy pepper! Great texture. I actually kind of love this.
Creamy and straightforward.
It took me a long time to describe my feelings about potatoes A through C. By the time I got to D, the potatoes were cold. But I like the prominent note of pepper.
Smooth with pepper, really good.
Really soft, melts in your mouth. More peppery.
Peppery. Nice and smooth.
Oh man. This one is really good. Light, fluffy, buttery. No skins, but I'm still giving it mad props.
Feels homemade like I'm used to.
Tally up:
Bubba's 4
The winner is:
Well, shoot. It's a tie between Bubba's ultra-creamy taters and AllGood Café's peppery mash. So, do you agree with the outcome? Who makes your favorite mashed potatoes in town? Let's talk about it.
Get the SideDish Newsletter
Dallas' hottest dining news, recipes, and reviews served up fresh to your inbox each week.