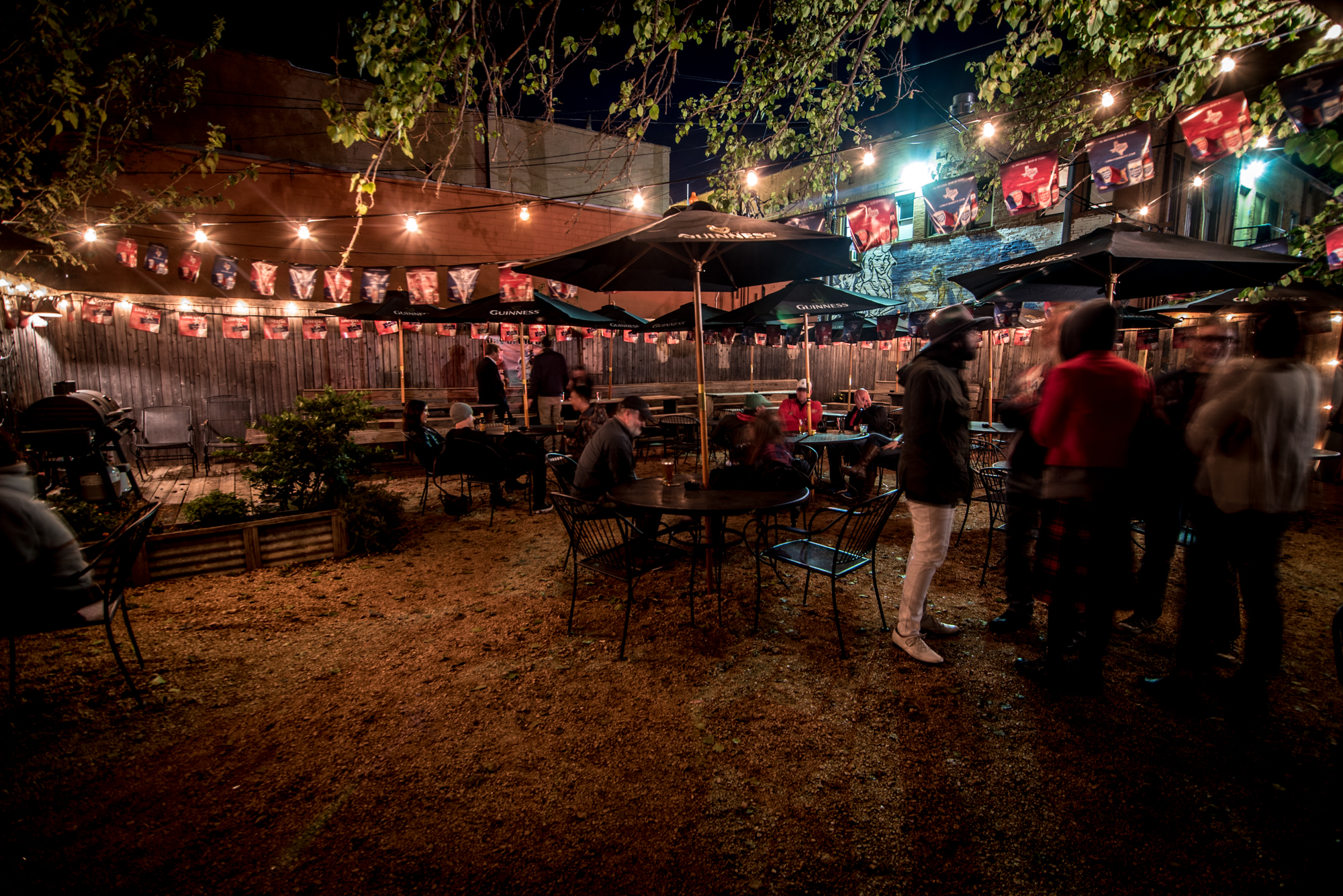 Keeping Tabs: Eight Bells Alehouse
A welcoming, friendly bar with a vague Southern Gothic style.
The Atmosphere: Eight Bells Alehouse is a welcoming, friendly bar with a vague Southern Gothic style (think exposed brick and brocade upholstery along otherwise sparse walls, little altars of battery-operated candles, a huge antique-looking cabinet, and understated Halloween décor still up in mid-November). There's also a spacious, light-strewn patio with heaters lined up and ready for winter. The cowboy hat-clad guitarist singing Texas country songs (when he wasn't blowing into a harmonica) in one corner made the ambiance perfect.
What to Order: They're still working on their drink menu, but do yourself a favor and ask for the Rosemary's Baby (good cocktail, rather dark reference). It's a Manhattan-esque cocktail served on the rocks with a burnt-rosemary rim. They'll also make most of your favorite drinks from sister site Ten Bells (in Oak Cliff), have a decent wine selection, and keep plenty of beer on tap. Also worth noting is the food menu – the front is typical bar-style snacks (including sandwiches); the back is a mix of Spanish-style fish dishes. Not my taste at all, but interesting fare.
The Bartenders: A handful of the laid-back staff comes directly from Ten Bells, so rest assured they know their stuff. You'll find the bartenders extremely accommodating – and even the burly guy who checks IDs at the door is friendly and helpful.
Who's There: It's always hard to judge what a bar's crowd will be like in its infancy. At present, Eight Bells draws a good mix of people loyal to the barstaff and chef, as well as plenty of late 20s/early 30s types looking to push out of Deep Ellum and find new, cool bars before everyone else does. Expect to see plenty of beards, and you'll probably meet some artists and musicians, too.
What I Didn't Like: This bar might eventually get busy enough that I'll vow to never again return.
What I Did Like: It reminds me of Ten Bells, before Ten Bells got infuriatingly crowded.