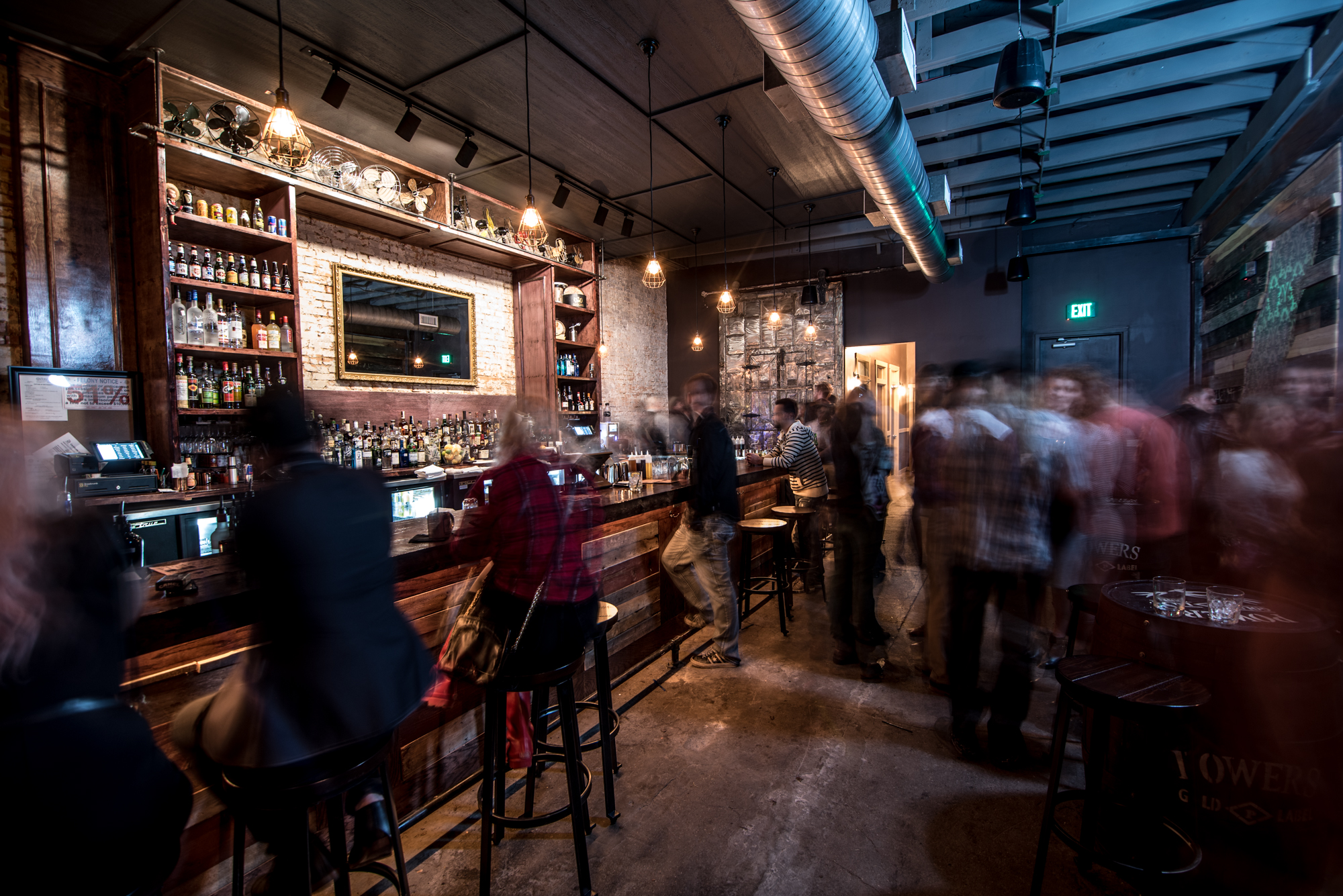 Keeping Tabs: Deep Ellum's High & Tight
The first place in Deep Ellum where you can get your hair cut and then head to the backroom speakeasy for a tipple or two.
High & Tight – presumably named for the Prohibition-era hairstyle – is a chic new venue that celebrates the style and glamor of the 1920s. It's also the first place in Deep Ellum where you can get your hair cut and then head to the backroom speakeasy for a tipple or two.
The atmosphere: When you wander through the door, you'll find yourself in an old-school barbershop – sparse, immaculate, lots of mirrors. The barbers will look at you and you'll look at them, then you'll look at the guy in the barbershop chair. Then you'll say something along the lines of, "Uh, where's the booze?" One of the barbers will point to a room in the back. The space is surprisingly large, with vintage damask-patterned wallpaper, exposed brick and wood, and an industrial-style ceiling. The bar is lovely and low-lit, with a gold-framed mirror above the bottles of booze. Big wooden barrels serve as tables, and a barber's pole spins overhead. There's also a small stage for live music on the weekends.
What to drink: The menu is Great Gatsby-tastic, designed like an old yellowed newspaper and replete with gin and whiskey classics (if you've been looking for a great mint julep, your search is over). There's also a good selection of cocktails bearing the names of back-in-the-day celebs, like the Doc Holliday, a $14 gin drink, or the Charlie Chaplin, a $10 rye-and-nut mix.
Who's there: Most bars in Deep Ellum draw a good mix of people (to be expected any time there are music venues, divey dens, and fancy cocktail bars all within walking distance of each other). Still, High & Tight tends to attract nicely dressed types who come in to slowly savor an expensive crafty cocktail in lieu of getting zozzled.
What I didn't like: The idea of drinking a decadent cocktail during the violation of my personal hair-space (I do not enjoy haircuts.) is awesome. Unfortunately (and obviously), High & Tight is a barbershop and therefore geared toward gents.
What I did like: The impressive dedication to the Prohibition-era theme – they even occasionally project black-and-white movies on the wall.
Worth noting: The "speakeasy" concept has seen a recent rise in popularity, but in this case, the barbershop isn't just a half-hearted front for the booze – it's kind of the focus. This isn't the place to come in for a quick cut, according to one of the barbers. These are expert hair-choppers who take their work seriously.