Last month, the news hit that Michelin-starred executive chef Bruno Davaillon would leave the Mansion at the end of November. To say the news "hit" is too mild. It crashed into our dining consciousness with the impact of a meteorite. It launched a Dante-esque descent through various stages of despair. I wrote a post in praise of the supremely talented chef. Nancy penned an ardent plea in the form of an open letter, begging him not to forsake the city whose culinary bar he'd raised by his mere presence.
On Wednesday, a press release gave us all reason to rejoice: Davaillon is staying in Dallas.
His new culinary home will be at 400 Record St., in a building currently under construction and owned by the Hartland-Mackie family of City Electric Supply (formerly the Belo Building). Davaillon will be both chef and partner in the restaurant, which will be located on the second floor. By their estimation, they'll open by the end of 2016.
The press release states that "the restaurant will be a casual contemporary eatery featuring refined, yet seemingly simply prepared foods using only the finest ingredients; certainly a trademark of Chef Davaillon's cooking."
More importantly, this will give Davaillon carte blanche to go where inspiration leads him. In a career marked by high-profile institutions, opening his own restaurant is still a first.
"I want the energy of a brasserie," Davaillon says, "a restaurant that's lively, while keeping the French spirit."
In a city that is sorely lacking in the domain of good French cooking, this is excellent news. It is, Davaillon admits, a niche he's eager to fill.
He'll play with classics, but as anyone knows who's eaten his food at the Mansion, he'd never be one to channel the moribund French notion of "classics" circa the '70s and '80s, heavy, fussy stuff. He sides with the ranks of French chefs—in Paris and elsewhere—who are revitalizing the tradition. (And, as he points out, these are often chefs who have traveled or worked abroad.) He characterizes his mission as doing French cuisine, but without the flaws; "the energy of a brasserie, but my own interpretation of [what I see as] the renovation of the French restaurant."
In the plate, this will translate to things "French in nature," he says, but he'll bring his characteristic lightness, and, I suspect, his exquisite sense of harmony and balance.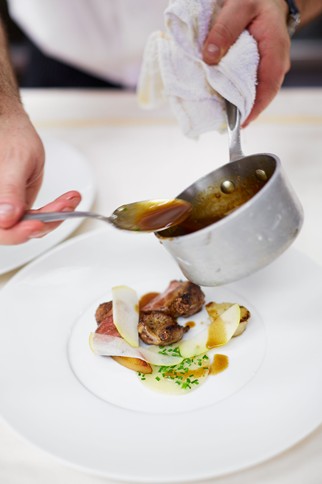 There will also be a thoughtful wine list with many options by the glass—he's into "democratizing the wine list."
When I asked about dream-dishes, Davaillon said he didn't have anything that specific in mind yet. His thoughts will evolve as the project progresses and he works with the designers, Martin Brudnizki Design Studio. (It's worth taking a gander at their work, particularly the Café Boulud that opened this year in Toronto, a gorgeous reinterpretation of the classic bistro.)
The updated brasserie, if that indeed is the general direction in which Davaillon is headed, gives him lots of latitude. These are places where the classics can be marvelously tweaked. One of my favorite in Paris serves a savory tomato tarte Tatin that makes me go weak at the knees, a duck confit with lush insinuations of honey and espelette pepper, and the most wonderful frisee salads with lardons and big slices of soft-ripened goat cheese and slabs of fine charcuterie. Daniel Boulud, the Lyon-born chef who has made his career in New York, is again a potential reference point. His elegant Michelin-starred restaurant Daniel was an initial anchor from which he's spun a small empire of iterations, all at different price points. I still remember a boudin Basque with celery root puree I had at DBGB five years ago. On the menu at Cafe Boulud, you might find guinea hen and foie gras terrine or braised lamb pappardelle with apples and Calvados cream beside dishes that incorporate chermoula and saffron.
One thing is clear: Davaillon wants his restaurant to be affordable and the atmosphere to be elegant, but approachable, the food "pas du tout 'stuffy.'
Above all, "quelque chose de 'fun.'"
As I said at the end of our phone call, "Allons-y!"
Get the SideDish Newsletter
Dallas' hottest dining news, recipes, and reviews served up fresh to your inbox each week.